Official Team Surpass Thread (37)
11-02-2009, 06:37 AM
---
Sounds like you guys are doing very well out there lately! Way to go guys! Me on the other hand am having a hard time finding the time to get any hunting in. Between rain, strong winds, and work, i haven't been able to get out too much. I hope to get back out many times this weekend. With the rut about to take off and more corn coming out of the fields, I think I will have some pretty good chances. Plus I haven't had added pressure on my hunting spots, so that is also a plus! Good luck you guys!
11-02-2009, 10:37 AM
---
Thanks Rocky,
This was kind of a fun hunt. I left Denver Friday night and drove to S. Dakota with very little weather hindering my efforts (for a change). I made good time (seven hours total one way). I had a good friend along-he's inflicted with Multiple Myloma (blood cancer)-to help push me through the miles. Together, the two of us were looking forward to hunting whities-he with his crossbow and me with the Custom Kanga Longbow. Hunting stories consumed the entire conversion on the way up...
Mark missed a nice 8 point Saturday morning-I guess he didn't have an eight foot pin on his crossbow (he caught a little from me...lol). That was his excuse anyway. On Sunday morning, he bolted a small six. Sadly, we never found it. I think he shot it that "no man's land" under the deer's spine, We tracked the deer in the snow for 3/4 of a mile. The buck showed no sign whatsoever of being injured. Finally the blood just stopped...
I killed my doe from ten feet away Sunday morning. One arrow did the job. She piled up 100 yards from where I hit her. It was funny, just prior to shooting this deer, two bucks (both nice eights) were directly under my stand. They were heading towards Mark ( I said a little prayer-I really wanted the deer to go towards him because he starts his second round of Kemo tomorrow. I so wanted him to get a deer!). I heard Mark's crossbow fire. I was like, "Dang!, but that's cool-he got a shot!". Ten minutes later my doe shows up. I drilled her good-a first with traditional gear!
Here's the pic.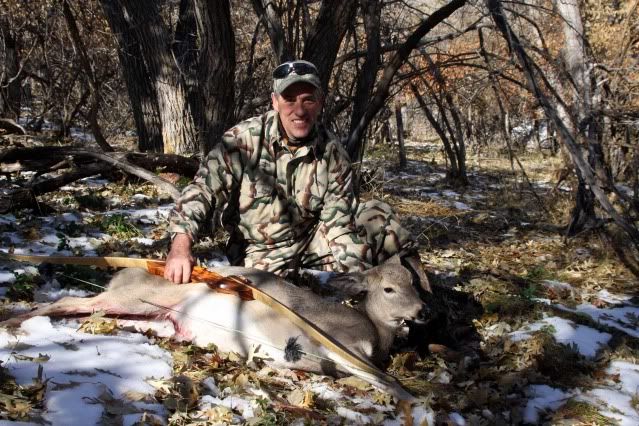 ---
Last edited by iamyourhuckleberry; 11-02-2009 at

10:43 AM

.
11-02-2009, 04:02 PM
---
Nice going Huck! It's too bad your friends didn't get his buck, I know first hand how that goes. THe good news is I saw my buck chasing does 2 evenings ago, and if I would have gotten done working a little earlier he would have passed within 20 yards of my stand. I may have another opportunity to stick another arrow in him yet!
11-02-2009, 05:05 PM
---
Hey, that's some good news there Ram! I am glad that all worked out for you! You know, I have seen enough in my life to know about a deer's toughness! They can take a lick'n and keep on tick'n! Stay after him! Don't give him another chance to get away!
11-03-2009, 04:22 PM
---
Hey guys, I haven't forgot about the contest lol! Our season opens on the 14th, and I have been seeing a few bucks around my stand... I'll post some pictures up from the animal camera if I get any.

Nice doe Huck! With a long bow to right? Or is that a recurve? Nice job!
11-04-2009, 04:13 AM
---
Yeah Hog, it is a custom longbow made by Russell Barber, the owner of Kanga Custom Bows. I received the bow as a gift this past Spring. Russ didn't like the idea that I was still using "training wheels" for hunting. I told him it had nothing to do with the bow and everything to do with the indian...LOL. I would never admit it to Russ, but the bow he gave me is totally awesome! It shoots as well as any compound I've shot-with proper practice! Although, my effective range is greatly reduced. It's a fun tool to take to the woods!
11-05-2009, 05:37 PM
---
Thats awesome! I would love to be able to shoot one of those accurately! I can keep about a 20" group at 20 yards with my fred bear magnum recurve LOL!
11-07-2009, 04:44 PM
---
!st All Day Sit Of The Season
Dang that's hard thing to do, but in 4 different stands and 3 different locations ,LOL. Had a back problem that was killing me to sit. Fixed it after 5 hours for the 1st sit. Was a brutal day and the temps were way to warm,got to +9 for the high and -2 when I went in at 5:30am. I rattled in a buck on my second try but he bedded down 63 yards in front of me for 3 hours with out me getting to see his head gear.
When he got up he moved another 3 feet and bedded again
.ticked me off any ways he did get up and walked in front of me at 18 yards and began to eat for 20 minutes
.What's up with that.He was a perfect 5x5 and about a 140 buck. I drew on him twice, and said no not on my 1st all day'er. Specially since I've seen a few wall hangers there. Ended up trying the next property over in 2 seperate stands and saw lots of activity but no animals.
Ended up trying my chicken farm at 2:30 til dark and nothing again. Scrapes are starting to open up and I also made about 10 mock scrapes and gave them the ole human **** over LOL, and left. Back out tomorrow for an afternoon sit
11-07-2009, 10:46 PM
---
Keep it up youngfart and you'll stick a big boy one of these sits! I went an sat this evening again. I had 4 bucks within 10 yards of my stand, but nothing worth shooting. My old man went out an was watchin the willow bottom where I stuck that buck and he saw the buck I had wounded. He said he wasn't moving very good, but was still tryin to chase some does. I might go sit there tomorrow evening and hopefully get another crack at putting an arrow in him. I really hate to see a deer suffer like this boy is.
11-08-2009, 05:19 PM
---
Got out For 3 Hours Tonight
Rattled in a buck at almost dark and couldn't seem to interst him with some late grunts. So I thought!!!!!! It was a dull quiet night with no movement till almost dark when I rattled in a good buck to 40 yards but he stayed in some thick stuff. After racking up some bush he wondered off the way the deer head to the fields. I called this night a learning experience as what comes next almost put my heart in my throat.
I continued to call some more to entice him back ,but it was to no avail.Oh well it was to dark anyway's
So I packed up and lowered my bow and gear and climbed down. I untied my bow and pack and then put it all on and turned to walk out from under the Spruce tree and there he was not 10 feet away from me. All I could see were his antlers in the silouette of the skyline above the trees. They were tall and big and as fast as that happened he bounded away 5 bounds and walked off into never never land. He landed with a thud each time he bounded saying he also had some weight to him.
Truthfully ,I have never heard of this happening to anyone before and I almost filled my pants thinking he was going to gore me. He must have come in from my blind side and I never heard him come in. It was an awesome experience ,now I just hope he forgets what tree he made that mistake bye,cause I'll be back there on Remembrence day,which is Wednesday. God bless team, an be safe out there.
Rocky