Official Team Surpass Thread (37)
10-27-2009, 09:35 PM
---
Wow, what a cool looking deer! I think I would have passed on him though....



NOT! LOL....
10-29-2009, 06:30 PM
---
Well.................I went out this evening, and I got bloody!! I was sitting in my box blind (since it was raining and the wind was wrong for all my other spots). I wasn't in my blind for 5 minutes and I had a doe come within 5 yards of my stand, and I ran out of jerky last week....In other words, bad move on the doe's part! I shot her and she ran about 50 yards and piled up in front of my stand.
About 20 seconds after I shot her my phone was vibrating in my pocket so I pulled it out an checked my text message, and then I seen what I thought was a cow standing about 300 yards in front of my stand. I set my phone on the floor of my box blind (first mistake), then I looked thru my binos at this deer, his head was down feeding so it was tough to see, plus it was raining. When he raised his head up, I knew I had a shooter on my hands. I was already shaking fairly badly from shooting that doe, so I fumbled around my backpack and got my grunt tube out. I gave him a few tending grunts while looking thru my binoculars, and his head instantly snapped my direction. He started coming fairly quickly, so I was moving stuff around and getting ready to make another shot. When he got to a big rub about 150 yards away he went into the willows/cattails. I knew it'd be just a matter of time and he'd be coming out of them about 40 yards from my stand on the same trail that I had shot the doe on earlier. When he stepped about, he was coming straight at my stand, so I grabbed my bow in one hand, and my laser range finder in the other. I just raised my hand to laser him and my phone started vibrating again (second mistake), the phone was laying on the floor of my blind, and my box blind was magnifying the sound of the vibrating so the deer came to full alert. I quickly set my bow down an grabbed my phone to hit the ignore button, I've got my eyes glued on the buck, and he is glued on me now. We had a stare off contest for about 30 seconds then he slowly started to turn to leave so I lasered him (38 yards). He stopped turning and was quartering very slightly away from me. I managed to control my buck fever, set my 40 yard pin low and at about the 3rd to last rib due to the angle. At the release I knew all was good. When he spun at the impact I could see about 8" of my arrow sticking right where it needed to be, the broadhead was out the opposite side.
He covered about 150 yards in 20 seconds, he was moving really slowly with his tail down and head down. I seen him spin a few times in the willows and then no more movement. I waited a good 45 minutes to get down from my stand (mainly because I thought I was going to fall if I tried any sooner). I got down and walked right up to the doe I shot and got her drug out to the edge of the field. Then I decided to slowly work my way over to where the buck ran into the willows and look for blood. I got to the trail he went in on, and it looked like someone threw an axe thru that deer.
I went about 50 yards in and found his bed where I seen him spin an go down. While I was standing there trying to figure out wht I wasn't seeing any more blood or him I seen him sneak out of the willows I was in, and go into another group of willows about 75 yards away. I then backed out and came home.
Here is the picture of the doe I shot tonite: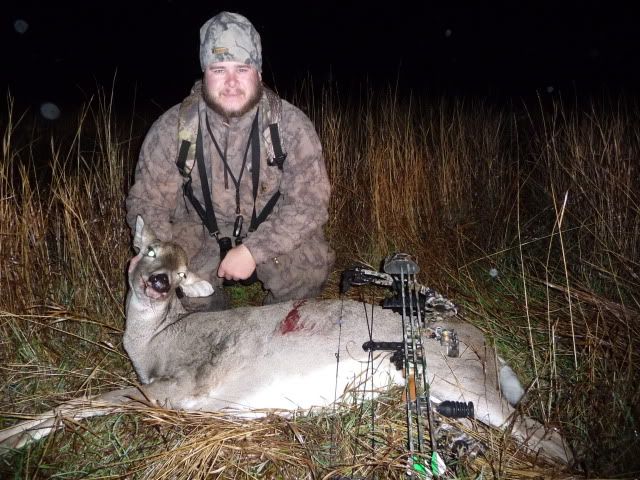 I didn't get her cleaned up before the picture because I was really frustrated at this point. That is the exit hole in the pic, both of her lungs got destroyed.
I have a picture of the buck I shot on my trail camera 4 days ago, do you think it would be a bad omen if I posted up a picture of him tonite without finding him yet?
10-29-2009, 08:10 PM
---
Ram,

A part of me wants to come up there and kick your ass for leaving us in suspense like that! Another part says you did the right thing.Look for him tomorrow and don't delay posting the pics! Get him!
10-29-2009, 09:43 PM
---
Rammer
Awesome bud,you made the right decision to let him stiffen up over night. Two in a night sit.,you can't beat that huh! Congrats and post him when you find him.
Rocky
10-30-2009, 12:10 PM
---
Im with huck...the suspense is killing me. Hope you pull him out. Cant wait for pics.
10-30-2009, 06:12 PM
---
I hate to break it to ya guys, but I didn't recover my buck. I spent the good part of today looking for him. It was raining/snowing all morning long, then it was just heavy cloud cover this afternoon. Where he went into is a really thick bottom of cattails/willows. You would almost have to step on him to find him. I might take a group of pheasant hunters through there Sunday and hopefully we'll find him if he is dead.

Sorry for letting you guys down, but the bright side is I still have a tag.
10-31-2009, 07:34 AM
---
Hey Rammer
You never let us down my friend, you might have let the game down that you hunt, but not us. We as individules will almost always make the same mistake as you have,and I'll be the 1st to admitt, I have done the same thing. Still crossing my fingers that you find him with your friends. Shake it off and get back in the stand. God Bless .
Rocky
10-31-2009, 09:45 PM
---
Got out Tonight
!st time back into another of my honey holes where I had the oppertunity last year to take Star. Star is a buck I've watched since it was a 1 1/2 and now he's a stud with a crown on his left side being 5 individule antlers coming up forming a start. He's now 5 1/2 and looking to gross in the 170's.
On my in I detoured to see if the bucks were rubbing and scraping yet. No sign on my way in but from where the farmer said he'd put up a big buck the night before while driving his grandchild around the acreage. I'd put him up tonight not 50 yards from where he told me he saw him. He had double main beam's on the right side and was wide past his ears easy. I was guessing the 180's.
Well I got to the stand that was closes to where he headed. Got in by 4pm and by 4:30 I started my 1st sequence of rattling. Nothing showed up till just about dark when I noticed movement to the left of me at 40 yrds . To hard to tell what he had for headgear as it was almost dark but he was very wide and his main beams were perfect so he wasn't the same deer I saw earlier,but big.
That was it for tonight ,getting to see 2 booners in one night says the pre rut is starting,and my hopes are high as I have been seeing bigger deer and more bucks,thats a good sign as is the does are here too. Now I need for it to get cold and snowy. Tough seeing anything in all the brown colours.
Might be able to sneak back in where Star has been for the last few days.Might be able to have a close encounter this year again with a happy ending. Talk to you's tomorrow night. Hope Holloween was a fun night for ya's.
Rocky
11-01-2009, 07:47 PM
---
Stay after it guys! I killed another doe in SD today with the longbow...a first for me! Pics coming tomorrow!
11-02-2009, 05:49 AM
---
Congrats Will
That's a tough thing to do Huck ,my season is resricted to weekends now unless I take off a few days during the rut. The time went back on Saturday night and I get off work at 4:30 so by the time I got in stand it will be dark now,which is the pits. My bud phoned me last night asking if he could sit in the stand I put him in the other night cause he saw a huge 5x5 go in there at 4:30. I had to tell him no cause the owner only wants me in there. I felt bad for him,what can I say?? I don't want to lose the property due to being stupid by not following orders .Hunt safely team.
Rocky