Official Team Surpass Thread (37)
10-21-2009, 08:30 PM
The Hunt 4 My Moose
---
Well it all started on the afternoon of the 29th hunting a selected area that I was drawn in in a 3x3 mile square public land area. I could only hunt the evenings for about 3 hours till dark and the 1st week was awsome,I called in about 5 different bulls, the same monster bull twice.
He had 16 scoreable points on the one side that I could clearly see, my bud that was hunting with me would put into the bush at opposite ends of the area .That way we could see what could be had in a short period. The 3rd evening I was calling from a great spot in between 4 dried up slews. Listened and heard a grunt only that could be made from a moose, but was on the other slew,so I got up and hustled over only to see him at 70 yards.
I grunted and he turned towards me and the breeze was blowing his way and he busted me and he flew across the slew with gracefullness. I was beginning to feel the way my buddy was feeling about moose and was hooked. I grunted and he stopped on the other side of the slew and looked back my way only to turn away and walk off .
Well now I'll fast forward it to Thursday night at 5:30 of the 9th of October. I walked back into the same area again after giving it a rest for 3 days and with in and hour I was onto a lone cow. I watched her for over an hour and was wondering if I was wasting my time . She might have been bred already and that would be the only reason why she was alone.
I started across the one slew to start to make some distance from her when I heard the bull up on the ridge looking directly at me. I stopped and snuck in behind a broken tree that was 1/2ed and grunted at him. He was 300 yards when I grunted and he covered that in 20 seconds to with in 20 yards of me standing broadside.
I had no shot ,so decided to sidestep the tree and the bull bolted to 46 yards. I stepped out again and again he walked off and turned broadside looking back at me. I ranged him at 62 yards and decided to take the shot.I aimed with my 60yard pin for the top of his shoulder and touched the trigger of my Scott release. I heard the thump and he turned and jogged up the bank 5 steps and turned to look back one last time.
I could hear him wheezing and start to falter and then he fell and rolled back down the bank. I started the hard work at 7:30 and finished gutting him and prying him open to cool off over night and also got a few tricks from my bud on how to do it alone. Got back out in the am and had him to the butchers by 4pm the next day which was Friday
In all it, was an awesome feeling taking an animal that big and now I can relaxe and wait to start my quest for one of our monster Whitetail's were known for up her in the cold north of Alberta in the Bowzone. If any of you are ever interested in going on a moose hunt.I'd recreamend it, it's a great hunt and there is a lot of country to cover. It is so much different than hunting whitetails and it can get your bowls having some unneccasary movement. Speacialy when he comes in tearing up 6 inch trees to get to your calling . LMAO, it happened to me. Hope this wasn't to long for you all. I ended up getting 462lbs of meat from him and the butcher figured he was 2 1/2 . He also guessed him at 1150lbs .
Rocky
10-22-2009, 06:54 PM
---
Thats awesome! Congrats on your moose! You'll have to post some pictures up!
10-22-2009, 06:58 PM
---
Never mind... I just saw them! Thats a nice moose! Congrats again!
10-22-2009, 09:51 PM
---
Hey Will
AKA Huck
You need to get your buck scored and entered so we can get on the board my friend. Oh by the way congrats on him and your season your having so far.Any one in their right mind would give there left arm to do what you have accomplished so far this year . Plus you need to send me your address for that roast
. I'll have one for the next time we meet. That I can promise
. Oh and thanks to Hog and Rammer .
God Bless guys
Rocky
10-25-2009, 06:53 PM
---
Got him in today Rocky...we be jamming!
Thanks for the reminder!
10-25-2009, 07:53 PM
---
Good on ya Huck
I'll have to check it out,was out for a sit tonight and was rewarded with probably one of the finest sits in a few years. Got in at 4:30pm and wasn't on sand for more than 20 minutes when I saw a black spot walking towards me!!! Another moose,this one being a 4 year old cow. If only I had a tag,I actually asked a friend before going if I could shoot one for him if I saw one. He said no
.
Well I was relaxing and doing some yardage marking with my rangefinder when I heard a twig snap below me.
Dang there were 4 does and all were mature,cept I had no chance of getting my bow of the branch and had 4 sets of eye's watching every move that should have not been there.
So I never got nailed and man I love having my stand in Spruce trees,those does decided to bed down for an hour right below me and never scented me at all. By the time I made a move to see where they were ,they were gone as if never being there!!! Man I can't believe I didn't hear them leave.
Well it was getting close to dark and I decided to rattle a bit and see what happens.I rattled lightly and for a short burst,set them down and got ready,nothing for the next 10 minutes. I tried again for a longer spurt with a little more sound to it this time
. By the time I set the antlers up I saw movement to the left of me about 40 yards out. He was running and again I grabbed my bow and got ready and this time he went straight away from and then I saw a bigger bodied animal come the same way as the other did.
This guy decided to turn and come back my way and I was ready as I spotted him at 50 yards. Right away I said I was shooting as he was well out past his ears and as he got to 20 yards I noticed his beams were as round as my forearms all the way to the tips. Only he stopped at 8 yards and directly under the spruce branch that was facing west. He stayed for 20 minutes only inching forward till he turned around and walked out of sight.
Was a great 3 hours packed of action in a stand I hadn't sat in since putting it up in August knowing it was going to be a productive stand after all the sign by it after scouting the area after the season last year.
Probably won't get out much anymore till the weekends as the nights are starting to get short,good luck to those hunting and don't forget to wear that safety belt fellas. God Bless.
Rocky
10-25-2009, 10:15 PM
---
Rocky sounds like you've had some excitement anyway!

I've been making it out at least one time a day for the last few days. I haven't had too much excitement yet, I am going to be sitting in the AM and hoping a nice mature doe comes by.

I had a buddy shoot a non-typical in his backyard that he has been after for 2 years now. It grossed 191.
10-26-2009, 03:16 AM
---
Rocky,

Sounds like too much fun! You might consider trimming a few windows here and there in those spruce trees. From the sounds of it, the deer are jump roping right in front of you and you cannot do anything about it.

Rammer,

Stay after it buddy... I'm coming back up there with my longbow this coming weekend. I went ahead and got another doe tag-and I still have my fall BH turkey tag. I hope to use the traditional equipment...

Do you have pics of your friend's deer? He must be on cloud nine!

I spent this past weekend hunting the high country for elk. I did death marches Saturday morning and evening. I never cut a single track in our fresh snow. It appears the elk have moved out of the high country. I turned my elk tag into soup last night...it just doesn't taste the same as good old fashion elk back straps. Thank God my sister's elk is more than she can handle, and thank God she's willing to share. How is your Custer hunt coming along?
10-26-2009, 08:54 PM
---
Huck,
I never got out this morning, we end up getting the combine fired up early this morning. We are way way way way behind harvest this year, so the next few days is serious go time. It's supposed to rain again in a few days, so I'll be hitting the stand up in the rain.
That's too bad about your elk tag, tag soup never is as good as the real stuff!
The Custer hunt is Nov 21, and I haven't been able to scout it out at all. I'm going to be going at it blind, hopefully the bulls are bunched up and I can find them in time.
I don't know if I should post a pic up of my buddies deer or not, so I'll post one up just for good measure! hahaha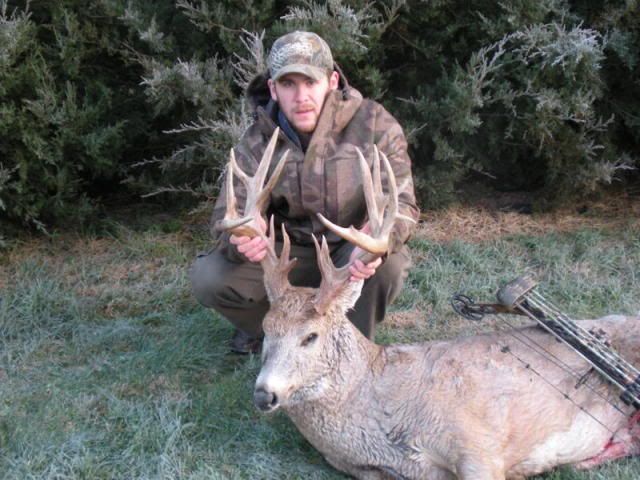 Here is the story:
He took off two tines 2 days prior to being shot (one was a 2.5 inch tine, the other was a 7.5 inch tine). He is only 13.5 inches wide but will Gross around 190. Has 23 inch main beams. Has 4 tines of 10 inches or greater. Originally a 9 X 9 but now is 8 X 8. I had been watching him since mid July and currently have around 5000 pictures of him, yes 5000. The night I shot him was his first daylight activity since mid August. Just got lucky and sat on the right night.
10-27-2009, 05:52 AM
---
Rammer
Thanks for posting your fiends deer, he did a good clean up of him before the pics, that's what more people need to do for pictures.Give him a pat on the back for me, nice when you can get the buck you've been watching all summer .
Rocky