Ground Blinds
09-30-2007, 06:58 PM
Ground Blinds
---
Quick question. I will be hunting this season for the first time, and haven't had time to buy and practice using a treestand. I've decided to wait until next year to use one, so I was wondering if ground blinds are effective. I will be using it in Indiana. Am I pi$$ing money away, or is this a viable option? Any input would help out alot. Thanks.
09-30-2007, 07:37 PM
RE: Ground Blinds
---
Sure they are effective. You can make yourself some naturaul ground blinds and be successful without spending anything more than a little time. You will absolutely need to be at least a couple ground blinds, so that you will have a choice of which to use depending on wind direction.
It can be done. Don't think for a second that you have to have a treestand to have success.
You can also use a pop up blind effectively. You will need to blend it in with the surroundings because deer will usually shy away from it if it doesn't blend in.

09-30-2007, 07:46 PM
RE: Ground Blinds
---
I love ground blinds......absoluely love em. Look into double bull, there ecpensive but worth it!
I got this deer out of a ground blind. 40 yard shot and he only went 35 yards.
Im the one on the right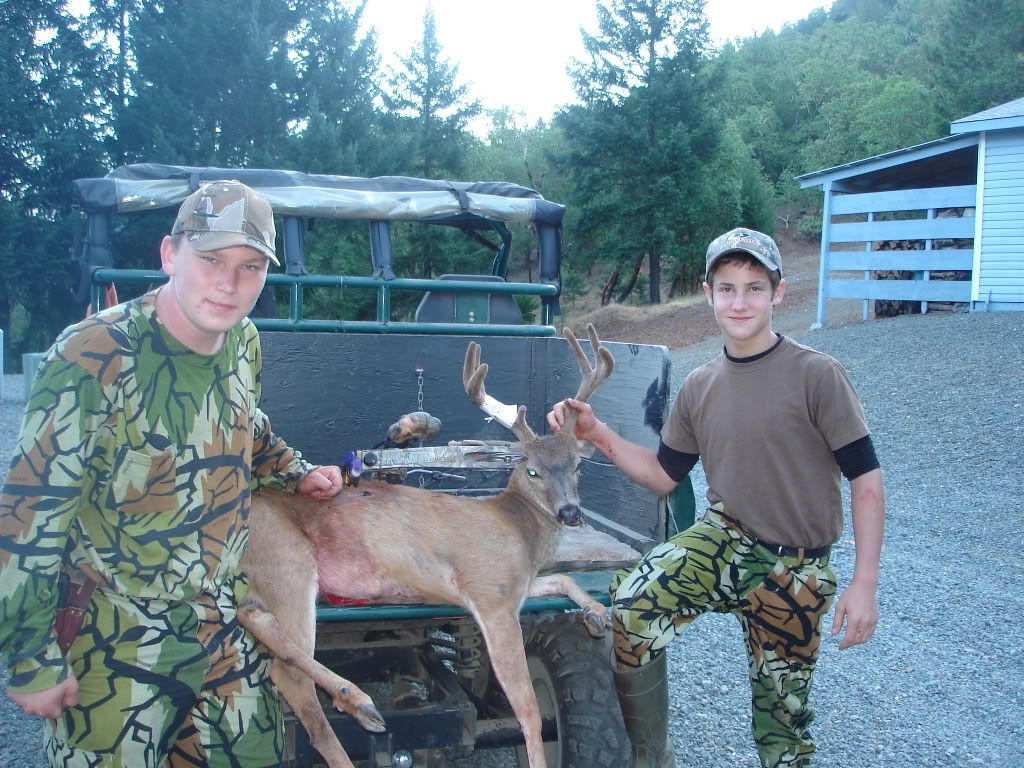 10-01-2007, 05:22 PM
RE: Ground Blinds
---
Just found out the land I will be hunting on (A friends) has a few ladder stands in different positions. I will be able to use those, but will probably look into a ground blind for out here (Arizona).
10-01-2007, 07:47 PM
Join Date: Nov 2005
Location:
Posts: 72
RE: Ground Blinds
---
I just started using one this year specifically for bad weather (warm, wet, or buggy). I've been in it twice, once when it was 84 and I stripped down to my boxers to stay cool, had a 7 pointer at 20 yards eating acorns, never paid me much attention. Another time had to start out in the blind as the rain was coming down, probably wouldn't have even bothered to go out if I didn't have the blind. Got to watch another little buck absolutely shred a sappling at about 40 yards, he didn't seem to mind me either. I keep some comfort foods and soda in it and it makes an all day hunt more comfortable.I still prefer tree stands but having the blind as an option has definitely increased my time in the woods.
Thread
Thread Starter
Forum
Replies
Last Post
Posting Rules
You may not post new threads
You may not post replies
You may not post attachments
You may not edit your posts
---
HTML code is Off
---