Diseased Deer? Pics
12-19-2006, 12:28 PM
Diseased Deer? Pics
---
Hey guys. I shot this six point this weekend ending my season in Tennessee. I lost my bow tag because it wasnt filled during the last week of bow season. But I've had my best season yet. I am extremely over joyed. The buck I shot this weekend had some very unusual growths underneath his skin. I didnt notice when I shot him that anything was wrong he looked like a normal deer on the outside. After I field dressed him, I skinned him out and then began to cape the head out. Im going to try out some taxidermy for the first time!!! Anyway as I was caping out the neck I cut into a pocket that was filled with yellow fluid and the remnants of tissue. Attached to the skin inside of this pocket was a protrusion of flesh that was colored pink. Only after this did I start noticing other details. Like a sunken hole about the size of a silver dollar next to the backbone between the front legs. Also it looked like there posion ivy all over the meat underneath the skin. I know it wasnt posion ivy but thats what it looked like. I should know.....I'm allergic, and it sucks. I was wondering if anyone knew what it is. I have never seen anything like it before. I didnt take any pictures of the deer just of the rack. Sorry, I can get a picture of the protrusion on the cape. Anyway let me know if anyone knows what was wrong with my deer.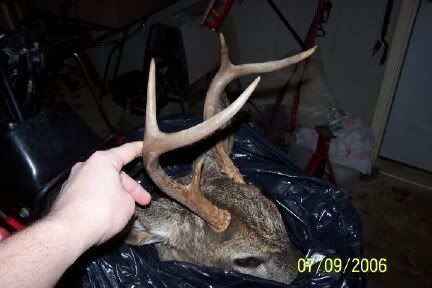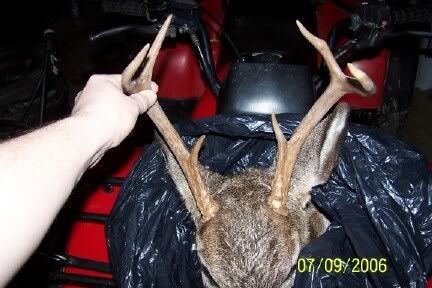 12-20-2006, 07:49 AM
RE: Diseased Deer? Pics
---
Sounds like he was shot last year with buck shot. The yellow was because of the infection.

I shot one a few year back with a messed up rack. When i went to skin him I found the yellow stuff all over his hind qtr. When I looked close he had a slug still in the meat from the year before. I scraped the whole deer.

12-20-2006, 12:20 PM
RE: Diseased Deer? Pics
---
It sounds like the meat was measled along with some type of wound infection. Unless anyone knows what there looking at, its best not to eat it. Measeled meat can be eaten after 90 days in the freezer though without any problems. You did the right thing by not takinga chance.
Posting Rules
You may not post new threads
You may not post replies
You may not post attachments
You may not edit your posts
---
HTML code is Off
---