OSAGE BOW, Hunting With it?
02-13-2005, 08:53 AM
Join Date: Oct 2004
Location: Bowling Green, KY
Posts: 295
OSAGE BOW, Hunting With it?
---
Hello folks,
Several years ago I was given some things from a deceased uncles widow. Included amid the clothes were some hunting items, mostly knives and other gear. But this bow was also presented to me. The writing on it dates it to Nov of 1992, and suggests it is a 55# pull at 27 1/2" draw length. I also received a tacklebox full of materials for the bow including some broadheads. I have used a compound to hunt with. As a kid I had a 30# Bear that I used alot for target shooting. So I'm asking if this bow will work for me to hunt whitetail or maybe even Turkey this spring.? I shot the bow a few times and it liked to break my wrist with the string. Any thoughts from you all are appreciated.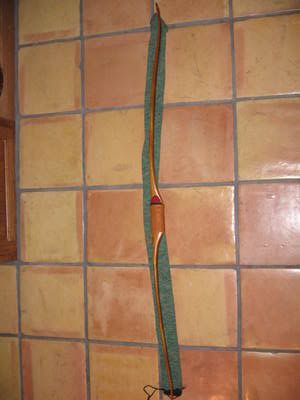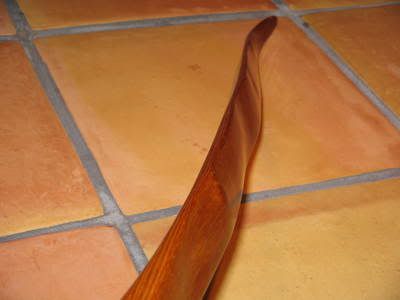 02-13-2005, 02:04 PM
RE: OSAGE BOW, Hunting With it?
---
I like your tile floor, and the bow is sweet to. The best thing to do is just shoot the hell out of that thing, i went from missing the target about a 3 mounths ago to some pritty good groups. a good book to read is becoming the arrow by biron ferguson. Dont worry about to much stuff just shoot, and if you like it you will start to love it. For all the tec. stuf of the bow that is more than enuf bow for deer and turkey. Good luck and have some fun, start close arrows are not cheap.
02-13-2005, 03:44 PM
Join Date: Feb 2003
Location: Palmyra PA USA
Posts: 292
RE: OSAGE BOW, Hunting With it?
---
Looks like you have a well made bow. Just to be sure it's in good working order, inspect the back and sides of the bow for signs of any splinters starting to raise, and check the belly for compression fractures. They look like fine hairs running diagonally across the limbs. It's osage, so I doubt it will have either, but it's best to check to be sure. Osage can withstand abuse and father time better than any wood out there.
Next, use a string that is 3" shorter than the length of the bow, as measured across the back (outside of the bow), from string groove to string groove. Twist the string so you have a brace height between 5-1/2" to 6", as measured from the inside of the string to the belly side of the grip. If the brace height is below 5-1/2", you'll likely start to get some arm slap and arrow tuning will become difficult. If you go higher than 6", it puts undo stress on the bow and can result in the bow taking additional set. Also you'll probably find you get your best arrow flight with the nocking point somewhere between 7/16" to 5/8" above the arrow rest. Selfbows like moderately heavy to heavy arrows between 8 - 13 grains per pound of draw weight. If you load up with some 50-55# spine, 550 grain ash or birch arrows with 5.5" fletchings, you'll find the bow will be whisper quiet with minimal handshock, yet will cast the arrow very well and hit with authority.
Just a couple of general care notes on selfbows:
Store your bow in a comfortable "living space" climate. Wood can absorb and lose water, so hot attics, damp basements, directly over a heater, or anywhere at floor level is out. Always unstring when not in use. Be certain to evenly bend the limbs when stringing/unstringing. A bow stringer is the safest bet, though the push-pull method works fine, too. Stringing across the thigh is asking for trouble unless you are certain the GRIP is against your thigh and not the lower limb. Since the draw length is marked 27-1/2", make sure never to draw the bow beyond that. Also, be sure to draw the bow the same from the nocking point every time. Never goof around and pull the string from somewhere higher/lower. Overstressing the limbs from improper stringing, drawing, or overdrawing can damage or break the bow.
Selfbows...especially osage selfbows...can last a lifetime if properly cared for. You'll do just fine hunting with that bow. I've been hunting with selfbows exclusively for 5 years and am very comfortable with them. Having killed ten deer and dozens of groundhogs, and sitting on the knowledge that they've fed mankind for 10,000 years has assured me of that.
http://community.webshots.com/user/akinpa
02-14-2005, 07:05 PM
Join Date: Oct 2004
Location: Bowling Green, KY
Posts: 295
RE: OSAGE BOW, Hunting With it?
---
AK-

Thanks for the advice, much appreciated. I have a client in the York, PA area. Is that close to you? wouldn't mind letting you examine this bow sometime. It was made in PA and has the initials of the maker [I presume] on it. My uncle lived in VA and to my knowledge never took a deer with it. I hope to change that this fall.

I'll take all the advice I can get. Thanks
Thread
Thread Starter
Forum
Replies
Last Post
Posting Rules
You may not post new threads
You may not post replies
You may not post attachments
You may not edit your posts
---
HTML code is Off
---