poor penetration
10-19-2008, 11:52 AM
RE: poor penetration
---
Where a deer's off-side leg is when you shoot.....and where it is when your arrow gets to the deer can be two distinvtly different places. I shot my first doe this year from 8yds. In the time she bolted to leave.....I think her front leg moving back to bolt broke my arrow off at the fletch. I can't think of another plausible reason why my arrow broke.
Here's the entrance....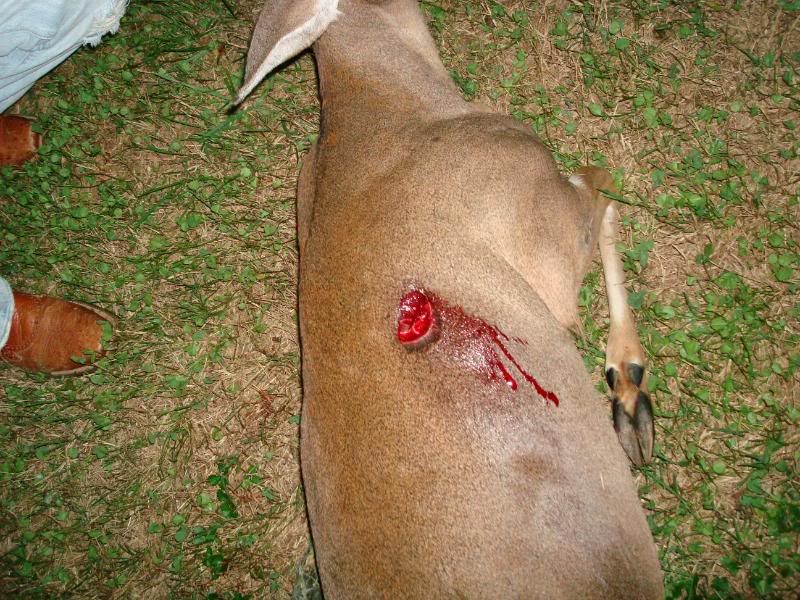 And the exit........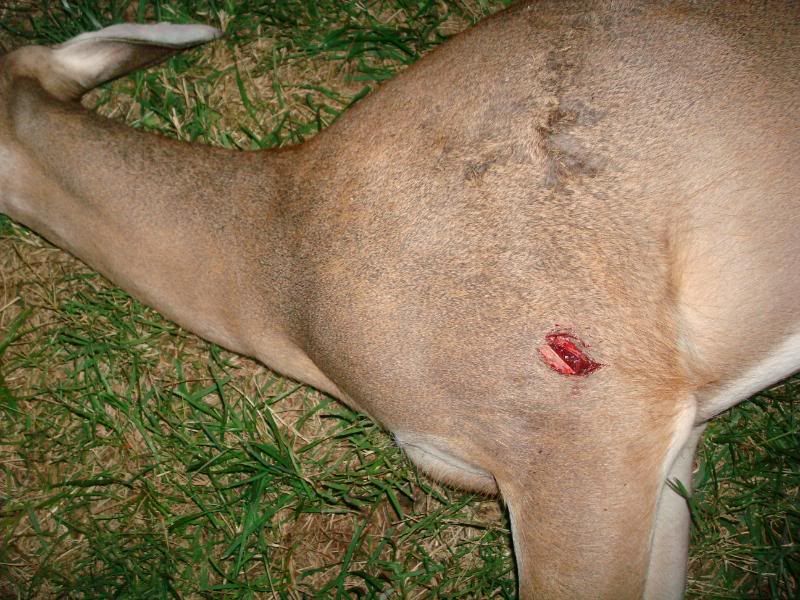 These are amazingly fast reacting animals. If alert....nothing they do surprises me. I still think she snapped off my arrow with her leg while it was going through her.
Christine....
Just so I'm clear....Are you saying that the arrow backing out is "rare"....and that the most plausible reason why you often have exit wounds is the BH working it's way through the body? Just trying to understand your last post.
10-19-2008, 12:04 PM
RE: poor penetration
---
ORIGINAL: HNI_Christine

How much do your arrows weigh? What kind of speed are you getting from your bow?

My bow is at 43lbs. I have just under 40 foot pounds of energy. I have a 26" draw (or 25.5" can't remember).
I use 125 grain, 3 blade muzzys with 1 3/16" cutting diameter. My total arrow weight is 368 grains.

My arrow passes completely through most every deer I shoot.

If I had to guess, I'd say you're arrows are not flying straight or they are way too light.
Good Point Christine, I'm seriously in doubt that it's the bow, but I'd have to see the shot placement to say for sure.
If you're 5'11" I think someone measured you wrong to put you in a 26.5" draw, unless you have really short arms, you should be at LEAST a 27.5, I'm just a hair short of 6' even, and I can comfortably draw and shoot a 31" bow of my buddy's when he's having issues and needs another set of hands to tinker. Are your arrows flying true??? I've seen quite a whip on arrows getting fletch contact, my own several times as well as others, that may make that arrow hit the deer when it's flight is erratic, which would certainly create penetration issues. Have you ever filmed your release or do you have someone that can to see if the arrow is coming out of the bow true and clean??? You could always do the foot powder or lipstick test and see if you don't have a little contact issue. That will screw up a LOT of things!!!
10-19-2008, 01:33 PM
RE: poor penetration
---
I"m only 5"6" and draw a 27 3/4 inch 400 axis at 415 grains at 70 lbs draw weight and never have had a problem blowing through deer. I have even over the year**** a couple shoulder blades andhad pass throughs. Poundage, arrows and which broad heads play a part in penetration along with many other factors. Isaw a womans arrow pass through a buck at 25 yards and skip off the ground once with a 35 lb compound, very tiny around carbon arrow, cut on impact broadheadsand a 25 inch draw. Maybe your bow is not tuned well and the arrow had not got straightened out when it hit at 10 yards and you would of got better penetration out at 15 are 20 yards. I always can remember onetime back in the 70"s hitting a buck at about 40 yards with a 65 lb recurve and the arrow got through the shoulder blade on the exit side and a week later out of state shooting a buck at15 yards hitting the shoulder and the arrow only went in broadhead deep and bounce out of the buck. You got the deer. Check your bow out and make sure it's in tune and than move on. Arrows will do funnythings some times on a hit.

10-19-2008, 01:55 PM
RE: poor penetration
---
If you're 5'11" I think someone measured you wrong to put you in a 26.5" draw,
alright, I'm only 5'10" 1/2 lol
I have always questioned that myself, but my anchor point is comfortable and consistent. I'm sure I could shoot a bit longer but it would probably screw with my form.
Maybe my form is causing a short draw length? I have shot in front of a few guys who claim to be techs, but I'm not sure, T.O. doesn't have a huge hunting culture, especially bow hunters; I'm a bit of an anomoly up here.
I'll see if I can get my house mate to take a pic of me at full draw, I'd appreciate any comments.
Thread
Thread Starter
Forum
Replies
Last Post
Small Game, Predator and Trapping
Posting Rules
You may not post new threads
You may not post replies
You may not post attachments
You may not edit your posts
---
HTML code is Off
---