I just some new land
07-21-2008, 08:54 AM
I just some new land
---
A woman from work overheard me talking about putting up treestands and asked where I hunt. I told her Sandilands provincial forest ...... I have no private land to hunt. SHe asked if I would like some? My jaw dropped....... and said of course.
Turns out a friend of mine hunts some of this guys land already and took a massive buck there last yr...... in velvet. The land is open for archery and muzzleloader/shotgun but bucks may only be taken with archery gear. Heading out there today to take a look.
Here's a pic of my buddies buck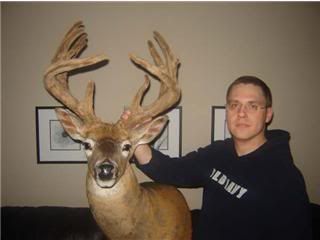 And another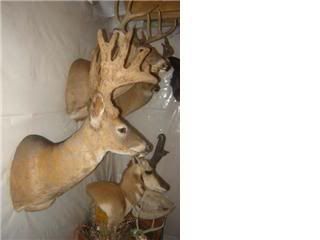 To say I'm excited would be an understatement
07-22-2008, 04:39 PM
RE: I just some new land
---
I'd be sure to call your friend and let him know you will both be on the land this fall and organize when you will be scouting, clearing lanes, etc. So you can keep scent and action on the land down to a min. Congrats on the land. It's a blessing to be on private land. Make sure you keep it clean.
07-22-2008, 10:50 PM
RE: I just some new land
---
ORIGINAL: CNYhunter

Congrats, Hope that it works out for you and your buddy.

Well said. I found out the location of the farmer's land. I figured it might be close to my buddy's land so I called him when he was on vacation. Turns out to be the same farmer. He owns a tonne of land so when I spoke to him I mentioned my friends land and said I wanted....... if possible land other than what he hunted. The farmer said why wouldn't just hunt with your friend. I said its a respect thing........ asnd the land seems to be busy as there are 3 other groups that hunt the same 80 acre pc of land.
The pc of land I will hunt is about a mile away. Its not along a river bottom but I'm happy with the lay of the land. Mostly field with big oaks and other hardwoods mixed in. on the edges. I know for a fact that there is only 1 other hunter that uses it during the doe season.
I was out there the day after I posted my luck with finding new private land . It was great. I scouted for about 3hrs. In that time I saw 3 bucks........ b/w the hrs of noon and 3pm. They were all in the feilds when we saw them.
Great land I'm glad it found me.
Thread
Thread Starter
Forum
Replies
Last Post
Small Game, Predator and Trapping
Posting Rules
You may not post new threads
You may not post replies
You may not post attachments
You may not edit your posts
---
HTML code is Off
---