2011 Turkey Contest Braggin Board
04-09-2011, 09:09 PM
---
Here's a pic of the bird I entered. He was part of a group of 5 toms. It was late afternoon and windy. I had set up at 5am, in a small clump of trees over looking a small field with a stock tank in it. No luck, so I left for an area below I had heard other gobblers the day before. After lunch, I realized that I was missing one of my fave slate calls (QB Finisher).

After checking out a few other places, that turned out to be dead, I returned to the morning spot, hoping to find my call in the grass. As luck would have it, it was there. Just then, I noticed some hens through the trees, feeding across and over a hill about 75yds from me, with a tom in tow. I dropped down the hill towards the truck, and out of their line of sight. I circled around to the right, to get behind them. Once they crested the hill, I walked at a crouch towards them with the wind almost in my face. There was a shallow bowl between me and the crest that the turkeys had gone over. I looked it over, in case there was a pheasant or quail I might bump. Nothing, but just as I looked up at the far crest (60yds away), I see 5 white heads on red necks, looking my way. I froze and so did they.

All of a sudden, one tom resets his wings, and starts walking downhill at an angle to my left, but in my direction. As soon as the others followed, I ducked down behind the slope I was on, and worked my way left. I only went 15-20 yds, before getting downslope of the left edge of the bowl.

I got my feet planted under myself, and the tom farthest on the left just got his head to where he could see me. I popped up gun ready...bead on leftmost bird at 20-25yds...CLICK! I hadn't shucked a shell into the chamber. The other toms startled for a quick .5secs, and spun around to make tracks. I put the bead on the bird second from the right...BANG! At 33yds, the Rem Wingmaster HD punched his ticket.

If I hadn't lost that call and noticed it.... Maybe I should lose calls more often? Naahh!
---
Last edited by JoeA; 04-10-2011 at

06:24 PM

. Reason: typo
04-15-2011, 12:28 PM
My Best Gobbler yet
---
I went to a new area I believed would hold turkeys, I parked at 730 and got to where I was going to hunt just after 8am. I Heard a hen calling after walking just 100 ft. or so I followed her believing she may have a tom with her, shortly I could see two turkeys then later I saw a very nice gobbler strutting and several more turkeys. I was trying to use cover and get ahead of them but it was impossible and at one point several jakes busted me but never putted, I froze until they moved on.
They eventually went up a mountain the hen calling and gobbler strutting all the while. I set up by one of many roost areas and they came back down the mountain but not to me, they went into a small area( you can see in the picture behind me) and into the trees. I got out of their line of sight and ran about 125 yards closer to the trees on the left just inside of the area they where in. When they came out I took a 40 yard shot and took down my gobbler!
Merriam
19 lbs
9 inch beard
1/2 inch spurs.
---
Last edited by RockyMtnGobblers; 04-18-2011 at

07:15 AM

.
04-16-2011, 01:57 PM
---
My April Fools Day bird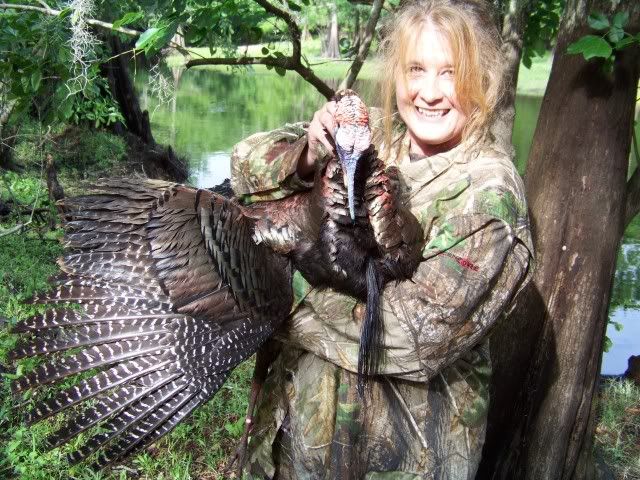 I had to measure for another turkey contest and I mismeasured the first time, the beard was 10 1/4''.....every 1/16th counts, lol.
Your score is 15.5 + 7.5 + 7.5 + 20.5 = 51
---
Last edited by huntnma; 05-14-2011 at

07:39 AM

.
04-24-2011, 03:51 PM
---
I guess I will brag about my day on Friday April 22nd. I started the morning hearing 4 birds gobbling a long ways off. They were on another property. I set up close to the property line to see if I could call one of them in. Just as I sat down, one gobbled behind me about 200 yards away. I set up on him. I eventually called him in. It was a jake. It was fun watching him strut and hearing him gobble. This is when I realized I was sitting on a Copperhead. Read the "I sat on a Copperhead" thread. After I realized I was a lucky man, another bird gobbled about 200 yards to my right. I set up quickly and started calling. He was very vocal at this point. When he came out, I discovered it was another jake. I started to let him walk, but this was my last day of the season and I wanted some more meat, so I decided to take him. I normally don't shoot jakes, but I love fried turkey strips. This was my third bird of the season. The shot was 40 yards. He was a little closer than that at first, but I was hesitant in shooting him when he first came out. He weighed 15 lbs, 1/2 spurs, and had a 5 inch beard. His spurs were pretty long for a jake, but he was a jake. The wind started blowing about 25 mph. I debated whether to go out in the afternoon. Mind you, I'm in Texas, so it's legal to take more than one bird in a day. I get out there about 5:00 and do some calling. At about 5:30 I call in a hen, and she is really talking to me. No gobbler shows up. At about 6:00, I hear a gobble way off, but because of the wind, I couldn't exactly tell where it came from. I had an idea it was to my left, so I went that way. I called some more, and I was correct where the gobble came from. I set up, but the bird was coming no closer. I moved closer to him. Eventually I could tell he was closer and coming my way. I finally see a bird coming, but it's another jake, but I see the Tom about 75 yards behind him. The jake eventually comes on in, but the Tom is hesitant. By now it's about 7:15. I've been working these birds for about an hour and the Tom is about 80 yards out. I made a few soft calls and he goes into full strut and slowly inched closer. At about 7:20, he is what I'm guessing 50 or 60 yards out. I can tell he is now getting a little nervous. I have my sights on him and am asking him to walk about 5 or 10 yards closer. Of course he doesn't oblige. He starts to turn and walk off. I knew it was now or never. I squeezed the trigger and down he went. It was about 7:25. The shot was around 50-55 yards. The Rem. HD's are awesome. He weighed 20 lbs 12 oz., had matching 1 inch spurs, and a 10 inch beard. Bird # 4 ended my season on a great note. The day could have been a disaster, because of the snake, but the good Lord blessed me. My season is now over and I already miss it. Now it's time to fill the freezer with some fish. These are the pics of my two last day birds.
04-26-2011, 05:51 AM
---
Woke up Friday morning it was foggy, misting, and the wind was blowing. It had just got done storming about 3 hours earlier. The wife was sick in bed, so she didnít go. My brother and I went to our spot and kinda laughed about the weather. It got about 6:08 and I told him lets make something happen, so I hooted. A turkey gobbled about 80-90 yards straight in front of us. So we set up, in the same spot my wife and I did the first day, put out the decoys and waited. This bird gobbled his freaking head off for 15-20 minutes before pitching down in a small field to our left. It was foggy and I couldnít see the bird but I could here him strut. Finally he come walking in gobbling every step, stopped when he seen the decoys and began to strut. Crossed under the fence and displayed for the ladies some, then I couldnít take it no more he got shot in the face. This bird weighed 25 lbs. had a 10 inch beard and had a whopping 1 3/8 rt.spur and 1 11/4 left spur. He was a dandy for sure, and he read and played the script right.
After I shot we heard another turkey gobble about 150-200 yards away. So I grabbed my bird, tagged it right quick, put it behind the tree we were at and we took off after the other bird for my brother. Grabbed the decoys and went about 50 yards and he gobbled right in our face. Put the decoy about 10 yards to our left, should have stayed where we were, and called . We heard 3 gobbles and they were getting close. 2 lookers and 1 strutter came walking down the edge of the field, walked on feathers of the one I killed, and seen the decoy. That was it they came in and my brother smoked a 22 Ĺ pounder had a 9 ľ inch beard and 1 inch spurs. By far the absolute best turkey hunt I think Iíve ever been on and done it with my little brother.
04-26-2011, 08:15 AM
---
I found this gobbler at daylight but he was a good distance off and by the time I had hiked to his location he had flown down and was already on the ground. He was gobbling a lot as I made my way to him.....so much so that I didn't have to use any type of locator calls to keep tabs on his exact location. Knowing he was already on the ground, his frequent gobbling led me to believe that he may be alone and I was right. I got within 200 yards of him and had to set up there because the woods I was in was a big stand of mature Oaks.....just beautiful open hardwooods. I didn't want to risk getting any closer so I set out my decoy 15 yards to my left and slightly in front of me. I knew the decoy would play an important role because the woods were pretty open and I knew he'd be looking hard for the hen.
Once the decoy was in place, I backed up to a great big White Oak which more than broke my silhouette. With gloves and headnet on, I gave a soft series on lonely hen yelps and he cut me off. I called once more just so he could get a good fix on my location and again he cut me off with a big, full roll gobble. Then, I shut up.
Within 2 minutes I saw him crest the ridge at 120 yards. He was displaying as he slowly inched my way. He took his time and was really looking hard for the hen he had heard when walking from 120 yards to 60 yards. At 60 yards he spotted the hen decoy. Once he saw the decoy he fanned up and stayed that way as he closed in. Once he closed to 24 yards I let him have a load of Nitros and the hunt was over.
Although he never gobbled when in sight, he put on a beautiful show of displaying as he silently made his way to the decoy.
The only call I made after spotting him was a cluck to get him to raise his head just before firing. On the walk out I even found a bunch of Morels which I will fry up and eat with this gobbler's breast. It was a great hunt on a beautiful, spring, West Virginia morning.
Here are his stats:
20 pds 2 oz
Beard = 9.25
Right Spur = 1
Left Spur = 1