Official Team Death From Above Thread (4)
10-18-2009, 05:20 PM
---
Looks like my son and I will be heading ou tin the morning. Should be around 25 degrees with a heavy frost. Hoping for a great hunt. I will let you all know how it goes.
10-19-2009, 03:22 AM
---
Well i sat out with the bow lastnight and it was a big bust. Didnt see a damned thing.....always happens this time of the year. Did a little riding around the woods yesterday and found close to 30 scrapes on one road. The scrapes down by my river stand are being hit pretty hard. instead of the 3 large ones, theres the 3 large ones and about 5 smaller ones damned near in the same spot...Im assuming theres more then 3 bucks making these scrapes. Im hoping to hunt that spot tomorrow nite if the weather and wind cooperate. With the west wind we are goign to have today its not a good wind for that stand. I need a straight south, east or north wind. Go figure....
10-19-2009, 04:59 AM
Typical Buck
Join Date: Feb 2003
Location: Chapin, Illinois USA
Posts: 561
---
Saw 12 more does and buttons last night but no shooters. Kind of a dead time right now. Things should really start up this weekend! I always see bucks around Halloween.

Good luck all!
10-19-2009, 05:03 AM
---
Got a doe for the freezer yesterday evening. I was hunting over a hayfield sitting in my corner stand. At 5:10 a doe bolts out from the woods and stops directly in front of me at 5yds. There was a limb hanging down blocking my shot. She kept looking to my left and a minute later another pops out and walks broadside at 18yds. When she stopped, she turned to her left and I had a hard quartering away shot. The Rage hit her behind the ribcage and the arrow lodged in the heart. The rage 3-blade pretty much cleaned her clock all the way through. She ran 55yds and hit the dirt in the field.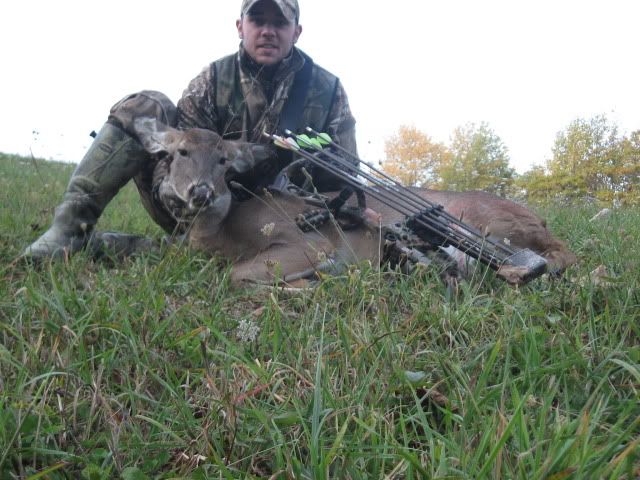 10-19-2009, 09:55 AM
---
Good job on the doe buckeye. Got out this morning and only seen one 8 point. Scored around 100", could've of had him but he's probably 2 years from making ny list. One of the bucks on my list was shot Saturday night on the one farm I hunt but he was probably number 4 or 5.
10-19-2009, 01:27 PM
---
Went out this last Saturday, Saw 8 toms, 6 deer and 1 bear. It was a very interesting sit, about a half hour into the hunt the turkeys came out and walked around for about an hour in the field. About an hour after they left a doe came out into the field and walked around for a while, didn't come in. After she walked around for a while two more does came out from the other side of the field. Fed for a while and a buck came and started chasing the does around. A little while after the that, the same place the buck came out from the bear come out and scared all the deer out of the field. So I thought my hunt was over so I got out of the stand about a twenty minutes before dark and as I was walking down the trail here comes a doe walking down the trail I was hunting...kinda pissed me off so she ran away I walked about twenty more yards and two more deer run away...needless to say I was very disappointed with myself for getting out of the stand to early I will never do that again.
10-19-2009, 08:00 PM
---
This evenings hunt (Monday) was really interesting. I was running about an hour and a half behind but i decided to go anyways. I got in the stand at 5:30. I immediately began to see deer. Only had a shot at a button buck. But, I saw 4 different bucks that were either 1 1/2 - 2 1/2 year olds, all passers. I seen so many does and fawns I couldn't even keep up counting them. All the fawns were standing on their back legs fighting with each other. Some of them took some pretty swift kicks to the face LOL. I will be going back out Tuesday morning and evening if all goes well. I will let you all know how it goes. Then Wednesday I will be leaving for Georgia so I probably won't be back on until Saturday. C'mon everyone, let's get one on the board!!!!!
10-19-2009, 08:49 PM
---
congrats on the doe buckeye! nice job!



i had sit #6 this evening....while coon hunting last week we caught a shooter in a yard across from woods i can hunt...he was heading that direction...so today i decided to get in there as the wind was perfect for the spot i wanted to get into...snuck in an realized that the trail the spot i wanted to hunt off of is completely overgrown..i couldnt even locate the spot without trashing the area without being able to see that trail...so i opted to sit at the top of a big ravine where theres a pile of oaks surrounded by thick nasty stuff...

not a deer seen.....this is getting old fast...

debating when i want to head to my buddies camp...tomorrow or wed...will likely go up wed afternoon and hunt thurs-sat...gotta come home for a dr apt monday then i'll likely head back up when the weather gets better..going to be a little warm this trip...but its about the same weather i seen a bunch of deer in 2 years ago when i killed my first up there...we'll see what happens...hopefully it goes better than hunting around here has been going...

they will be heating up soon and i dont even have hopes or spots im hopeful in at this point...not even seeing sign of deer...its a very odd year...with all the sub-legal bucks i seen last year, i figured this year would been great with 2.5yos plentiful...i cant even find a deer.......
10-20-2009, 03:23 AM
---
Had a perfect west wind lastnight for the stand i was in and didnt see a hair except 1 tree rat....it was pretty warm, but they still didnt find the corn i put out the other day.....2 days out there and they havent found it????? Im starting to think some wolves went through again and pushed the deer out again...If weather is decent im hunting my riverstand tonight. With the east wind I cant really go wrong..
10-20-2009, 06:09 AM
---
I was out this morning and the movement was great. I seen three very large bucks come in from behind me but I just could not get a shot at them. They were all scraping at the same time in this one huge scrape. I had never seen that before. Then about a half hour later I heard some more crunching and this is what I seen scraping in the same scrape those other bucks were scraping in.I had to shoot through a very small hole because I did not have a lane cut here. The hole was probably only about 4 inches. I let it fly and here are the results.
Attached Thumbnails