13-Team "Lung Busters" Official Thread
10-23-2006, 08:44 AM
Join Date: Feb 2003
Location: Logan Ia USA
Posts: 678
RE: 13-Team "Lung Busters" Official Thread
---
Seeing the same thing around here, nothing. Don't know what is going on except they must have went back into the corn. More and more is coming out every day so should get good soon.
10-24-2006, 01:31 PM
RE: 13-Team "Lung Busters" Official Thread
---
I've been seeing deer every time I go. Just no shooters. I did see a shooter Sunday night but he was busted up on his right side. His G2 was broke about two inches up and his main beam was broken off about 3 inches in front of his G2. He would have went about mid 120's if he wasn't busted up. He would have been an eight. I had seen him approx 60 yards away and grunted at him. He came in on a string, right up under my tree. He stayed around for about 10 minutes before he wandered off. It was the first time I had seen him. Maybe the older bucks are starting to move during daylight hours.
10-26-2006, 11:40 PM
RE: 13-Team "Lung Busters" Official Thread
---
Things are starting to pick up here, I seen three does Wed. that were on edge when they came in and that was because a little seven pt was on them. No grunting, but he was checking them out and they didn't want anything to do with him. I passed on him and when he was gone for about five minutes I grunted a few times and he came back around. He was about 10 inches wide and broke off his main beam on the right side about two inches after his G-2.

I love this time of year and I will be off work and hunting Nov. 6th thru the 13th, hopefully prime pre rut time.

Good luck all and congrats to everyone whos put venison in the freezer.

10-27-2006, 04:56 PM
Fork Horn
Join Date: Oct 2004
Location: Illinois
Posts: 286
RE: 13-Team "Lung Busters" Official Thread
---
Went out Tues. and Wed. after work this week and saw nothing. We've had steady rain the past two days. My son and daughters soccer seasons are over so I plan on going out several times this weekend. Hopeful to see my first mature buck of the season. Good luck to all my team members this weekend.
10-30-2006, 09:57 AM
Join Date: Feb 2003
Location: Logan Ia USA
Posts: 678
RE: 13-Team "Lung Busters" Official Thread
---
Seen my first nice buck last night. About a 150 to 160 10 point. Chasing a doe. I don't know how interested she was but he didn't want to leave her. She still had a fawn with her so I would say it is alittle early yet. The rubs and scrapes have started to really show up though.
10-30-2006, 11:11 AM
RE: 13-Team "Lung Busters" Official Thread
---
Well, this weekend was the opener of muzzleloader season here in Oklahoma so I traded my bow for my knight Muzzleloader and went out with a great amount of optimism. Unfortunatly, I didn't have much luck as all I saw were more small bucks and several does. My dad did connect on a basket rack 9 point that kinda fooled him. He thought this buck was a little bigger than it turned out to be, aka ground shrinkage. Nevertheless, still a good buck. Sorry about the picture's color, something is wrong with the camera. Here he is.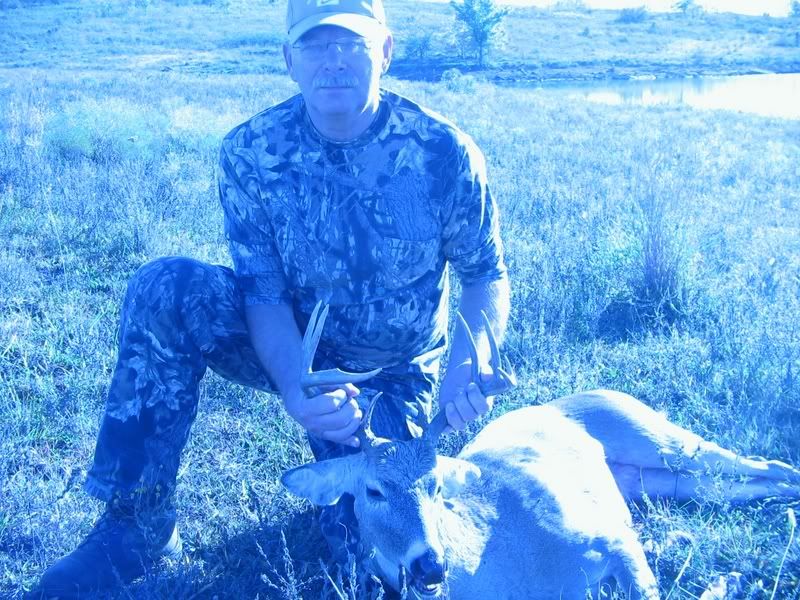 10-30-2006, 04:51 PM
Fork Horn
Join Date: Oct 2004
Location: Illinois
Posts: 286
RE: 13-Team "Lung Busters" Official Thread
---
JD, congratulations to your dad on his buck.

Deer activity has been slow around me these last couple weeks. I started keeping a log this year and I have been out 13 times. The first seven trips I saw a total of 40 deer. The last six trips I have only seen 3. I know there out there because the sign is still there. I walked about a 100 yards down from one of my stands on Sat morning to check out a spot that always seems to have a scrape and sure enough it was there. And what a scrape it is, about the size of a bathtub! I admired it from about ten feet and could see several different size tracks in it. So like I said, I know there still out there, they're just not moving when I'm out there.

Now that the clocks moved back I won't be hunting during the week unless I leave work early which is not entirely out of the question. Good luck and safe hunting to everyone.

11-03-2006, 03:43 PM
RE: 13-Team "Lung Busters" Official Thread
---
Anybody having any luck?? Just thought I'd check in and see how everybody was doing. I've been out muzzleloading this week without any luck. I went out this morning and saw a decent buck chasing two does. I think they're starting to chase a little bit. Better be out there as much as you can for the next couple of weeks. I think the big boys are starting to move a little better now.