23- Team "Antler Mafia" Official Thread
08-29-2006, 08:56 PM
RE: 23- Team Official Thread
---
SBD has already been used by another team. I like alot of the other names mentioned as well. You men pick a name and who ever is computer gifted try and come up with some sort of logo. When we win this deal we want or image stuck in their heads for a year.
08-30-2006, 07:08 AM
RE: 23- Team Official Thread
---
Hey guys, didn't have much time to respond yesterday when I checked in, so I thought I'd stop by for a little bit longer today. Anyway, I'm from south western Pennsylvania about 20 miles south of Pittsburgh. We've been seeing some quality deer lately and the little bit of scouting that I have done has yielded promising sign. Unfortunately I didn't get out much last year because my wife and I had a newborn on our hands. This year however, I've got over 2 weeks of vacation saved up and plan on scheduling a couple days at the beginning of the season and the rest for the rut. I'll be on the deer for sure, just depends when BUBBA walks by. I'll Leave you with some team name recommendations and a picture of my buck from the '04 season.
My team name recommendations:
High & Mighty
On the Razor's Edge
Backwoods and Bucknaked
Arrows through Marrows
Awesome Team Name Here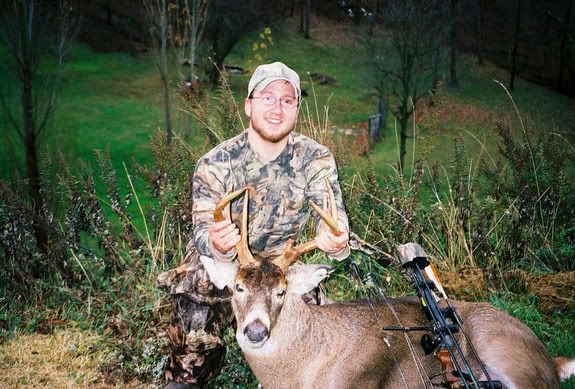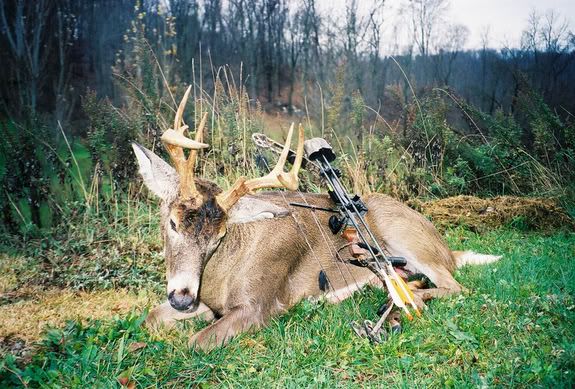 08-30-2006, 02:39 PM
RE: 23- Team Official Thread
---
hey guys i decided to check out the boards before i take off for north dakota. how about "TEAM BOONIE" for a name? anyhow good luck with everyone's scouting and putting bows back together. be back on monday or tuesday.
08-31-2006, 09:50 AM
RE: 23- Team Official Thread
---
Nice looking buck you have there
PAHUNTER!
I hope to see another one like that from you this season.
Season starts here SEPT-9 For me.
And as of right now I`m ready
Bols
Good luck with that bow bud! Sounds as if your having some of my kind of luck[:'(]I had a bow blow up on me once, 1 week before the season opened.( Needless to say I was not happy!) I understand!
MOTOWN
Glad to here you have accepted the rains of being the Capt of team-23
THANKS!
Good man for the job!
Well I don`t have much time as of right now to type,I AM AT WORK
For
the
rest
of
team
-
23
Good luck with all the bows and anything else that might hold you up from tagging "Old mossy balls"
Good luck team ..rta47
08-31-2006, 01:31 PM
RE: 23- Team Official Thread
---
I havn't recieved any emails from 14mercs. I hope he checks in soon. I will check and see what the deadline is so if we have to we can pick and alt. Hopefully he will check in soon. Ra, glad to see your season starts on the 9th. Ours is Oct. 1st. I have 6 different stands hung and ready to go. I got the chiggers to prove it to. Man them little devils can get ya to scratching. Lets get that name picked guys. I'm laying that on you. Get together and get it done. All the names mentioned are keepers so put em in a hat and draw one. Looking forward to chatting with each of you this season. If I can help you in any way just let me know. Chris
08-31-2006, 02:11 PM
RE: 23- Team Official Thread
---
Ok
here
area
few
of
the
names
that
everyone
has
come
up
with
so
far
?
if
I
miss
any
post
them
.
Any
of
these
would
be
fine
with
me
.
Mass Masters
Inches Matter
Bucks or Bust
Team Effort
"TEAM BOONIE"
"Massnificent Ones"
"Massnificent10"
Buck Baggers
Rut Reapers
Antler Addicts
Team 23
The Bowmen
Braizin' Backstraps
Smokin' Backstraps
Team Tenderloins
Mass Masters
Inches Matter
Bucks or Bust
Team Effort
And a few of more?
Antler Mafia
Rut Reapers
Whackin & stackin
09-01-2006, 08:17 PM
RE: 23- Team Official Thread
---
ORIGINAL: Buellhunter

I like Antler Mafia
ME TOO!!
Hey fellas, I made it back home safely, but not without a couple of hitches along the way. Wednesday morning a buddy and I drove to my new lease. He had never been to this leasebefore and though he is in his upper thirties, he is very much a beginner to hunting. I wanted him along with me as I scouted for trails, and any deer sign whatsoever. I enjoy teaching him the little bit that I know. Within a couple minutes of arrival another member shows up. So before i can begin scouting for MY areas I decide to show the newbies a quick general tour of this lease and try to point out the boundries, creeks, roads, and the couple of spots that have already been marked. About 15 minutes into the "tour" a forked pine limb punches a huge hole intothe right-rear tire of my wheeler. Luckily this happens on a road that I can drive the truck to. Now, is when I need to tell y'all that I'm driving my father-in-law's truck since I'm in the middle of getting an engine-swap on my truck. His truck also has a couple of quirks about it. The main one is that you cannot put it into "PARK" or the trans will lock-up! The driver has to use the parking brake and Neutral. Okay back to the flat. I hitch a ride back the the campsite to get the truck & trailer. (can you see it coming?) The guy that gave me the ride asked me to follow him down the road in the event he had a question about something, I said OKAY. He took off fairly quickly ahead of me and a towel blew off of his wheeler rack and landed in the road, he obviously didn't notice. So, I stop the truck and hop out to grab the towel for him. As I turned around with the towel in hand I see the truck slowly rolling BACKWARDS!!! I run the short few feet and hop in slamming the brake pedal to the floor. It was too late, the short little #@*% trailer felt like going a different direction and made a mess of the rt-rear quarter panel. I did really good though. I didn't throw anything or hit anything, I just got back in the truck and loaded my limping wheeler. Went into town and confirmed that the hole was too big to plug and too big for a patch to be effective by itself, so it was patched and a tube was inserted. Back to the lease. I headed straight for the hardwoods near one of the creeks on the property.
We spotted lots of "old" rubs. Probably50-60 within a generally small area. I figure it's still a little bit early for rubbing just yet, but I liked most of what I saw. I also found what I
think
is part of a large shed antler. I've never personally found a shed so I was pretty excited. However, the piece I found was hallow.
Is this normal??
I've seen other sheds before, but never a hallow one. This thing has been severely chewed! The fact that it has been chewed, leads me to beleive that it IS a shed and not just a bone.
Does that sound accurate??
I'll post some pics of it in a few minutes.
Anyway, I marked a couple of spots that I hope will produce some action. The spots have water, hardwoods(even a few White Oaks in the mix), and extremly thick cover nearby. I also setup my new trail cam at one area. Hopefully something will show up and smile. I'll ease back in there in a couple weeks and hang my stands. Still wanting to see some "fresh" rubs. My season opens Sept. 30th!