Side by Side Soybean Comparison!
09-18-2013, 07:11 AM
Side by Side Soybean Comparison!
---
Here is a pretty neat side by side comparison we did this year comparing Eagle Soybeans vs. Real World Wildlife Seed Soybeans. The difference is crazy! We expected a difference but not this much! Anyone else ever plant a side by side comparison to see what brand of foodplot seed is truely better??
http://www.team-radical.com/blog/201...ean-comparison
09-18-2013, 07:19 PM
Spike
Join Date: Sep 2013
Location: south central wisconsin
Posts: 12
my take is...
---
I've been involved with trials and testing multiple companies food plot products for years and have developed a few of my own. I also was active with some University research and here is what i caution everyone.

You need any product to be tested in multiple locations with a variety of soil types. You also need to run a test more than one growing season as there are weather and other variables that come into play.

I always look for consistency for products and you never will win them all. Your picture showed at this one trial that there was a difference. Eagle beans are pretty darn consistent and thats what so many people buy them. Sure, i think i found a bean that might be one of the best on the market at an incredible price point but I also know that i need way more repetitions.

My 2nd point is one cant just measure a product by a visual. When you run equipment through your plots, tonnage per acre can't be measured by height alone. Also, i look at the total nutrient, energy and protein units per acre. So many look at tonnage or quality but with so many plots being smaller in size, i believe we need total units produced per acre as a measurement.
10-04-2013, 07:38 PM
Spike
Join Date: Oct 2013
Posts: 5
---
I have been planting Eagle Beans for several years. I haven't done any side by side comparisons but I don't need to. When I have soybean plants that produce this much forage I don't think I will change. Not only do I get forage all summer long and until the first frost I always get good pod production also. The deer feed on them all winter until there is not one pod left. Don't know which variety of eagle beans you planted but I have a hard time believing with a plant that tall that you did not get any pod development. You also have to remember the eagle beans were primarily developed for forage however i always get great pod development also. There are different varieties of soybeans that are more for forage and more for pod development and different maturity rates. Eagle Beans were develped to keep producing green forage until the first frost. Check Dr. Grant Wood at growingdeer.tv for all you want to know about soybeans. Disclaimer--Eagle Beans is one of his sponsors but there is some great info in his videos about deer management. Here is a pic of my eagle beans several years ago.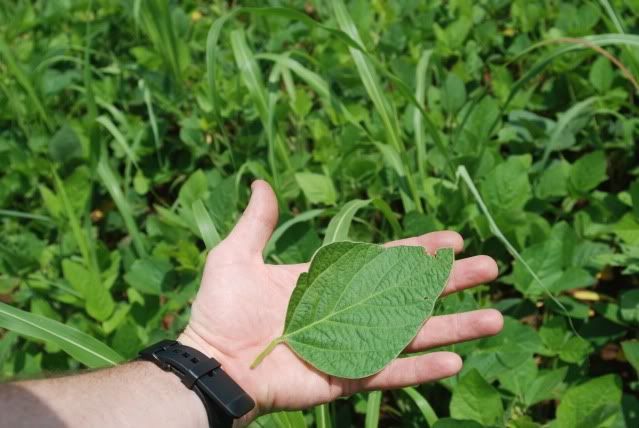 good plotting
todd
10-21-2013, 06:59 AM
---
DogDoc- we planted the Northern and Midwest blend of Eagle Forage soybeans side by side to the Real World soybeans. The same acreage, same planting date, depth etc... Thus far there is no comparison. The Eagle beens are still green as can be with beans that are tiny. We know the forage bean is not meant for the pods, they are meant for forage. Lab tests shows almost no difference in the crude protein and the RFV (Relative Feed Value.) But the proof lays in the video we are capturing now. The RWWS soybeans are loosing their leaves quickly, and the deer here in IL. have switched over to eating the actual soybeans since October 4th. The stand has been hunted 6 times now and the same results on every hunt. Every deer seen near the Eagle Seed Forage soybeans simply walked through them without stopping to eat on them. However, the deer have been demolishing the RWWS actual Soybeans. In fact we have them on film actually eating the RWWS soybeans standing at the separation line between the Eagle and RWWS beans. Yes RWWS supports us, but keep in mind we were using RWWS products long before the support. We believe in products that work and not bogus marketing schemes. The fact is the forage soybean doesn't hold weight compared to the RWWS soybeans at least for our area. In fact RWWS has non-bias customers do side by side tests throughout all the midwest states and the numbers are the same as we have seen. Don't take our word for it try it yourself. Plant them side by side and see your results.
10-25-2013, 04:03 AM
Spike
Join Date: Sep 2013
Location: south central wisconsin
Posts: 12
---
I've done side by side comparisons and my take on it is. The best trials are always ran when bias is taken out of the equation. When i've run trials i'll have someone else there watching or helping during the tillage and planting phase. We as humans might not really be intentionally planting the seed a tad deeper or spending a little bit more time on seed bed prep but we are humans.

I for one have never seen any unbiased food plot trial where anything outperformed eagle beans on roundup ready varieties. But i do know that deer creek wildlife "refine" soybeans made a lot of people happy that chose to go the non roundup route.

The biggest thing i want to hammer home on soybeans is INNOCULATE THEM. If one isn't going to innoculate your beans, you better get 40-60 units of nitrogen out on that soil.
Posting Rules
You may not post new threads
You may not post replies
You may not post attachments
You may not edit your posts
---
HTML code is Off
---