Good Start on Food Plot, I think? (pics)
04-21-2006, 09:11 PM
Good Start on Food Plot, I think? (pics)
---
The weed killing spray has been done. I recently purchased a ATV disc why I was waiting on the grasses and weeds to die off. Thursday I went in and had a chance to test the new plow. I'm a little disappointed in the plow but I think it comes down to how hard the ground has been lately because of the lack of rain as well as the years of growth in this particular field. Some of you might remember the before picture from my treestand in my journals as well as in the forums in thread like "pictures from your treestand. Anyway, here's a view from last fall.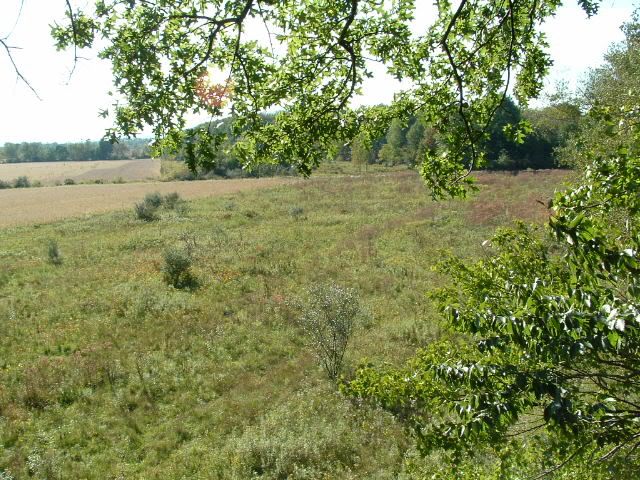 I took about a 1/4 acre out in front of this stand location and sprayed if off and like I mentioned above, I started plowing. Here's a picture as it is now.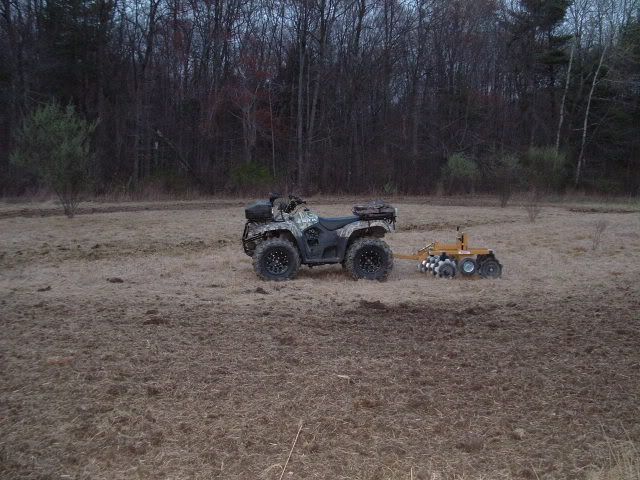 Another: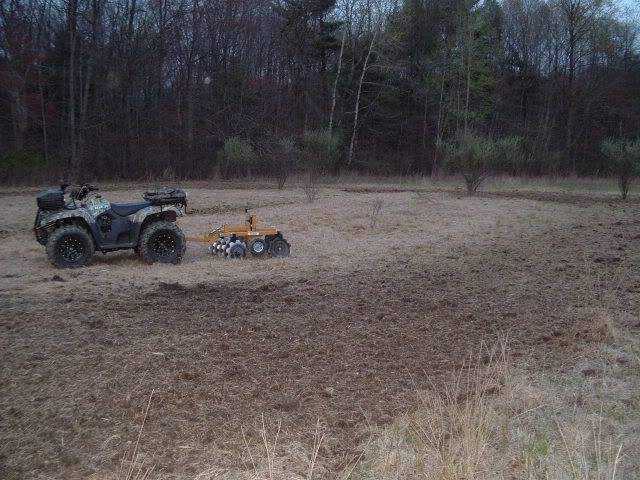 Sunday I intend on going back in and giving the plow a go again. I've built a small box to hold a bag full of dirt to add weight to the plow. I feel the plow needs weight as it didn't dig in like I thought it would. I'll post on how that turned out and perhaps add more pics. Our turkey season doesn't start until next Saturday so I have some time on my hands. There are no turkeys where I am building this food plot.
I know after I get this plowed up real nice I'm going to add necessary lime, then it's all about adding the seeds and praying for the necessary weather to help me out.
I have a mixture of seeds including brassica's, multiple strains of clover, turnips, rape, a bag of Biologic and more.
What else should I know? This is my first attempt and including the plow I'm looking at around $650 plus my time and of course gas. Am I on the right track?
04-21-2006, 10:42 PM
Join Date: Feb 2003
Location: chiefland Florida USA
Posts: 5,417
RE: Good Start on Food Plot, I think? (pics)
---
right so far as I am conserned.looks great. you did a nice job on what you did.keep up the good work and they will come.add a little rye , it will come up fast and last untill the heat get to it next year.it doesn't need much fert. and just little water will keep it green.

O and BTW, deer and turkeys love it also.


04-21-2006, 11:06 PM
RE: Good Start on Food Plot, I think? (pics)
---
Looks good Rob - Your work will pay off.
Nice to see the pics.


The plow is a separate implement - right? No picture attached.

The plow should not need weight - but maybe the angle needs to be changed. ATV plows are weak and you really wont get more than a couple inches depth - but it should not "bounce" on the turf.

You are breaking it up pleanty for brassicas - My only real advice is that after you seed, ROLL it as flat as possible. Even if you only have a truck to drive back and forth. The firm soil will encourage the growth you want - and will discourage annual weed growth

POST PICS LATER ON!

FH

FH

04-22-2006, 07:28 AM
Join Date: Feb 2003
Location: West Winfield New York USA
Posts: 545
RE: Good Start on Food Plot, I think? (pics)
---
If you get a good catch of brassicas it will shade out the weeds and the ground should work up better next season. Right now the ground is made up of a dense root system, even though you killed it with roundup. Sometimes spraying roundup in the fall works well. Nice pictures,make sure that you post more.
04-22-2006, 07:31 AM
Giant Nontypical
Join Date: Dec 1969
Location: Townsend, DE US
Posts: 6,429
RE: Good Start on Food Plot, I think? (pics)
---
Rob dont plant your turnips and rape at this time, wait on them until the last of July, first of August, You can probably do more with that disc than a plow, put some weight on it, like Sean said that plow should be adjustable for depth w/o added weight, but then I never really saw a plow for ATV. so I cant be sure...So far you have it looking pretty good.
04-22-2006, 03:17 PM
RE: Good Start on Food Plot, I think? (pics)
---
Looks pretty good Rob. Like RonM stated, most plots in the north/northeast don`t plant brassicas until late July or the first part of August.
What brand/model disc is that? I just turned 4 acres of virgin ground on thursday with a Summit Plot Mule and I had no problem turning ground right down to the axles on the discs....maybe 6". You may be going deeper than it apprears, try to drag/harrow what you have now to remove most of that chopped up cover.
Good luck....
04-22-2006, 04:51 PM
Nontypical Buck
Join Date: Feb 2003
Location: Ontario Canada
Posts: 2,059
RE: Good Start on Food Plot, I think? (pics)
---
Rob; I think you're calling the disc behind your ATV a plow. Discs don't dig very deeply on old pasture. Rather than dirt a few large rocks or slabs of concrete work well in adding extra depth. You should also be able to adjust the blade angle so it digs more.

It looks great.

Dan O.

04-23-2006, 09:44 AM
RE: Good Start on Food Plot, I think? (pics)
---
Yes, I mispoke
and I'm saying plowing instead of discing. I do not own a plow just the disc. I bought it at our Tractor Supply for $522. I can't think of the name right now, I'll look at it and get back to ya but I think it's a King Cutter. I did build a box and attached it on the top of the disc and put about 75lbs of dirt into plastic "burlap" bags to strap down. I'll add pics of it as well. Yesterday it rained which hopefully softened up the ground a bit. I'm headed out shortly to see if I can "disc" it up better than I had the other night without the weight and harder ground. I'll try to throw some more pics on here tonight on how that went.
Thanks all for the comments and the advice. This is my first attempt at "farming" so I don't know what the heck I'm doing. Unfortunately the rape, brassicas and turnips are all part of the mixture of seeds so they will be thrown at the same time as the clovers etc....I guess there is nothing I can do about that. I'm assuming they will all take their time growing or will they not at all?
Okay guys, thanks again and keep me straight on what I'm doing. I appreciate it more than you know.
Posting Rules
You may not post new threads
You may not post replies
You may not post attachments
You may not edit your posts
---
HTML code is Off
---