Frustration, need some advice!
11-25-2011, 06:04 PM
Frustration, need some advice!
---
Here is the deal,
Year #3 of seeing blatant signs of a nice buck. Same spot, same rubs, and this year I decided I was going to put one of my cameras right in the middle of his rubs. This year he has 11 rubs in his rubline and a scrape that is worked no less than 4-5 times a week. I have a stand set up on the rub line, and spent countless hours, from 5am and evening hunts with no sign of him...until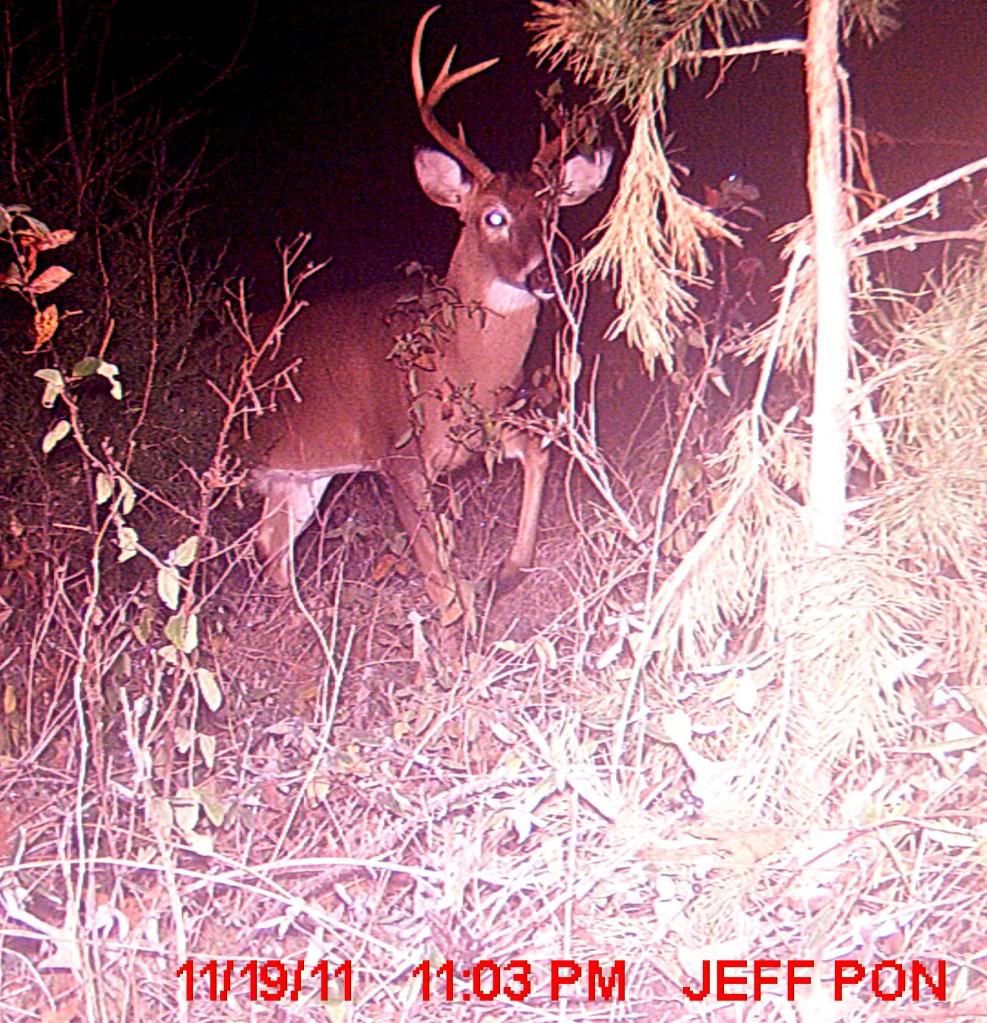 Now my issue is to get him out during daylight. I have gotten in early enough to bump him and even see his eyes from my headlamp but never during legal hunting hours. When I bumped him he didnt wind me so he didnt bolt very far. As a matter of fact it was less than 75 yards before he stopped...right at a creek bottom in the middle of a saddle with steep slopes on each side full of cedars and briars. Im going in tomorow from the opposite side since the wind will be my friend while stalking from the backside of where I have seen him the last 2 mornings.
My question: Is this too risky and would it be wiser to use climber and come in about 75 yrds from where he is and try and rattle or grunt him in to me...as his escape route that I have found goes right in a perfect set of poplars to climb. If I get in by 5am and get up well before daylight I believe this is my best chance because he wont go the opposite way since there is my truck and open field.
The rut is so whacked right now. I cant even tell since in every season before I have already had a big necked smelly buck down that comes in on a string with some rattling and grunts. At this point it just seems like they arent reacting like a typical rut.
My next question, with his right beam, how it crab-claws, can anyone tell if this is the same buck or a rival mesing with his rubs and scrapes?
Im going nuts because now that the bordering land is owned by a dog club, the dogs may force him out and end up getting taken out by someone who has no clue as to the time and effort of going after him.
How do you get this kind of smart buck to do something stupid to show his arse in the daylight? Any tips?
11-25-2011, 06:43 PM
Spike
Join Date: Nov 2011
Posts: 20
---
maybe you're pushing him too much already and if your season constraints allow try resting the area. You might be too close to his bedding area already and have pushed him into being nocturnal. Try finding a new way into this bucks location, instead of the regular route you take, and stay back a little and hunt the fringes of his area.

good luck
11-25-2011, 08:16 PM
---
[QUOTE=paulie300;3881397]maybe you're pushing him too much already and if your season constraints allow try resting the area. You might be too close to his bedding area already and have pushed him into being nocturnal. Try finding a new way into this bucks location, instead of the regular route you take, and stay back a little and hunt the fringes of his area.
I have been hunting this same lease since archery opener October 1, and remembered thie area he had torn up last year. I absolutely stayed clear, with the weekly sneak through the trail checking to see if he had made it through last season. Within the last 3 weeks he has started seriously demolishing the saplings and his scrape is at same licking branch so I knew he had made it, and put the camera where I was able to get him on film.
I had set up a hanger in August at his rubline from last year and only hunted it 3 times since muzzleloader opened so I have purposely stayed away from his core area, but do you thing he would be marking so close to his bedding area? Its a bit hard to avoid, as you would have to know the layout of this piece of land, but the main gate is at a cul de sac and we can only park there. As the crow flies, its only about 100 yards from his rubs and scrapes, but once entering the land I go the long way around, purposely not to push him out. The times I bumped him was when I was going to hunt the stand I had put overlooking the rubline and going in an hour before dark i would usually think he would not be laying up so close unless he is watching for does (which usually do not frequest this area). Im thinking that his bedding area isnt far, like I mentioned I have tracked his route to a huge saddle area about 75 yards away. I have glassed the whole opposite side of the saddle and either he is a master of camo or invisible, I havent been able to see him or any other deer bedding on the down side of the ridge. If you go over the ridge, its pretty much in the back yard of a house with a dog in a pen, so I know hes not laying up in a back yard with a dog.
I know Im in for a long walk around, but tomorrow's wind is perfect for circling him and coming up to the area where I have bumped him.
As I said, I never heard him acting threatened like snorting or a high speed getaway when bumped, just a gallop for a few yards and then walking shortly before no sounds at all, and if he did go across the middle of the saddle its all leaves and I would ave heard him. Hes a great looking deer for these parts and would love to get him out, which the rut should creaate some mistakes on his part but here in my area the rut is way different than it has been in years past. Usually we would be approaching the second cycle by now and I have only seen 2 bucks taken in my area that were in full rut.
Im using my climber and coming in from behind and set up at creek high enough that he wont be eye level with me from his point on ridge, put some stink out, and rattle. I guarantee it will be my most intense hunt yet, as I have been watching him for 3 years....and around here they dont have that kind of lifespan. Pictures will come, because Im set on this guy.
You think the morning is best? or should I set up on him for an evening hunt and rattle him out with tinks?
11-25-2011, 08:20 PM
---
Does it appear to be the same buck? I think the crab claw is obvious, but he wouldnt be the first or even 3rd that Ive harvested with the claw main beam...its just difficult to see, and the second picture is coming from another direction.
11-26-2011, 04:40 AM
Spike
Join Date: Nov 2011
Posts: 20
---
Dude, you are in a pickle. He doesnt sound like hes very aggressive so I'm not sure that hes going to come running when you start banging horns. Maybe you should just lightly spar with the horns instead of that Noel Feather style of banging....ive never been a fan of that anyways and when I aggressively rattle I do it from the ground and stomp around and thrash the bushes more than anything. Not a fan of rattling from a treestand either. I'm not sure if deer can think that its impossible for two deer to be up in a tree fighting but the deer I've rattled in from a treestand have always been looking right up at me, have been very spooky and have never came in close enough for a shoot.
I'll be honest, I don't know what to tell you to do!?! Unlike you I have a lot of options on places to hunt with state land and CFR/CFA everywhere but I do a fair amount of my hunting very close to town in small pockets that hold some big deer. SO...with all that said; I would go as passive as possible. Tough call on what to do since seasons are only so long BUT if it was my call I'd be doing what I'm doing right now; I'm sitting in a blind, its raining cats and dogs, the wind is howling and its probably the best chance at the deer I'm hunting since in weather like this I'm sure the deer have an idea that human activity is going to be very low today which might get them walking around...might.
Hunting and posting on your Droid is not recommended.... laterz.
11-26-2011, 05:12 AM
---
Experience and conventional wisdom tells me that when the heavy rut sets in, there's a good chance alot of behavior patterns get tossed out the window and hormones push deer to do things 'out of character'.

I've seen alot of deer come into camp over the years along with stories of "I've hunted this same spot for X years and NEVER seen this buck before"

Yall could very well be in the rut out there in VA, I don't know. The weather will play a part too. A cloudy, cold night with rain/snow may dampen their movement and get them hunkering down, ergo, give you a better chance during the day.

Rattling is very hit or miss but absolutely worth a shot. You kinda have to catch them in the mood but if they are bedded down all day long, they probably won't stir themselves to answer the call, as it were.

Anecdotally, last season I saw next to nothing the first month of the season. Pulled my camera card and had tons of deer(spikes, fork-horns, and does) passing through at all hours of night but seldom anything during the day. Got sent out of town for work, missed some time, and didn't get back until early/mid Dec. Pulled my camera card and holy hell, a monster 7yo drop tine I'd never seen before passing through everyday between 8 and 9am. Next morning I collected him.

Point is, you never know when a break is going to occur. You can pattern deer and make an educated guess but they are prone to shift behavior significantly at any time. Best policy is to never give up. Sure, you may may catch a break but you just might. Heck, I've seen it plenty of times, you invest all this time and effort into this buck and all of a sudden an even better buck shows up unexpectedly one day leaving you scratching your head as to where in the world he came from.
11-27-2011, 06:36 AM
Nontypical Buck
Join Date: Feb 2009
Posts: 1,926
Ah the curse of those modern trail cams
---
Long ago, I never expected a deer to be in a certain place, at a certain hour, on a certain day. Now in this modern era, we seem to be getting collaborating evidence that those tricky deer do not show up at a certain place, a certain hour, a certain day. Unless of course, it's in the middle of the night and not during legal hunting times.
11-28-2011, 11:08 AM
---
Yesterday was perfect for getting in the woods (illegal to hunt Sundays in VA) but the wind was whipping 20 plus and in my face from my approach to where he has been bedding. I got my climber attached to a straight poplar tree about 50 yrds from where his territory is vividly marked. Tomorrow its supposed to rain so I will be a half mile away in blind with decoy but I may wait until Thursday to Saturday to climb the tree and sit from about 5:00 am to 5:00pm because besides him, there is evidence of heavy travel on this trail that leads to the cedars where he has been marking his area.

I have had nothing BUT luck with my rattling! I actually rattled in my last 2 bucks (a 9 and 8 pt). I dont stand up and wing it out in the open and make alot of motion when doing so, but start of in segments of 3 times, each one just a little harder and louder. Last one I shot was directly underneath me 2 minutes after my last rattle heading for a tinks wick. I rattled another in Saturday but something hung him up in the edge of field. He tried to get downwind and lost him.

I will try anything, even throw out the kitchen sink if it has worked in the past, so I guess each is his own, but I will get this guy one way or another. He's the only deer Im pursuing at this point due to seeing his neck of the woods.

Another thing is I have never seen the rut so messed up. I have been archery hunting since October and muzzleloader since the 5th and havent seen a doe yet! I have once smelled a doe in estrus passing in the woods but never saw her or anything chasing her. Its been a wierd rut this year!
11-29-2011, 03:45 AM
Change your thinking
---
You can do nothing (presumably) about the Gun Dogs other than anticipate their effect. Use that to an advantage. Blocking routes, human/canine 'screens', etc.

Think long term here. Move your stand closer to where you can shoot him in legal light. Use your trail cams to pinpoint his movement pattern closer to where the does are right now. Feed and water sources, pressure from other hunters, human intervention and wild predators will affect movement patterns but your trail cams will spell the difference. Use that tool smart and you may have a shot at this good looking deer OR maybe the imposter if he exists.
Posting Rules
You may not post new threads
You may not post replies
You may not post attachments
You may not edit your posts
---
HTML code is Off
---