Success ! !
11-27-2006, 01:13 AM
Success ! !
---
My first buck and four other does taken in WV last week. I took the little 6pt without brow tines on Monday. He was the ninth deer I saw that morning. Took him at 8:10 AM. One shot from the Weatherby is all it took. I took the doe on the left in the truck with one shot as well on Wednesday at 8:02 AM. She was the 5th deer I saw that morning, but I only bought one antlered deer permit and one anterless deer tag. I call it a successful week. Packed the freezer.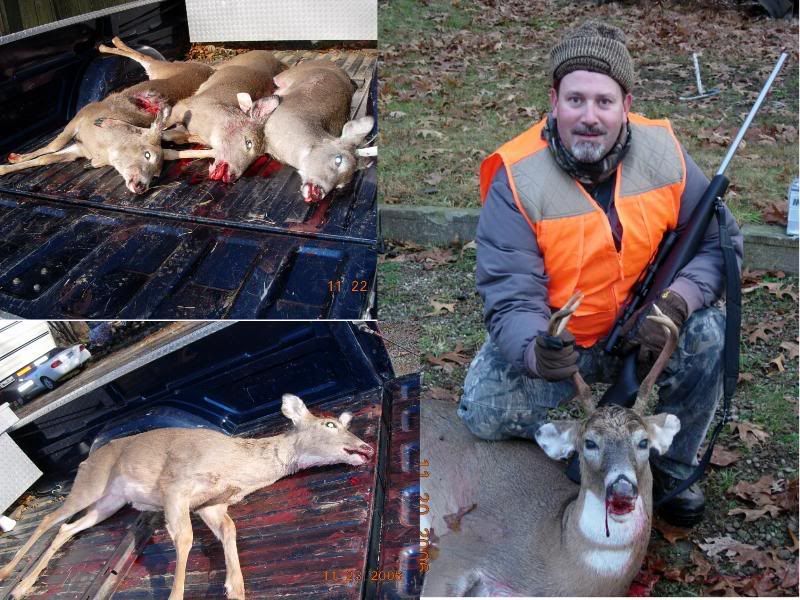 11-27-2006, 07:16 AM
Join Date: Oct 2005
Location: Hurley, NY
Posts: 864
RE: Success ! !
---
ORIGINAL: wisbowhunter2009

way to go. looks like you used a 50 caliber arm rifle on the deer on the left! Is that gun a 300 mag?
my thoughts exactly........ I have a 300 mag also and have yet to shoot a deer with it. I'm having second thoughts of using it now after seeing this pic
11-27-2006, 01:20 PM
RE: Success ! !
---
Nope, that was my 270. I shoot 130 gr Fed Premium Sierra Boattails.......The shot was high on the spine and blew bone through the exit wound. It was pretty nasty, but not in a bad spot.

The shot on the buck was at <40 yards and put a nice quarter size exit wound. Low front shoulder shot right through the heart.

Thread
Thread Starter
Forum
Replies
Last Post
Posting Rules
You may not post new threads
You may not post replies
You may not post attachments
You may not edit your posts
---
HTML code is Off
---