Heres one that walked
11-21-2007, 10:35 PM
Fork Horn
Join Date: May 2006
Location: Grand Rapids, MI
Posts: 397
Heres one that walked
---
Well guys here is a buck Aaron and I had history with this season on Oct 27 and on Nov 14. Both days he came into the same stand and offered MULTIPLE broadside and quatering away shotsshots at 15 yards and stood within 5 feet both times of each other. He looks to be a 3.5 year old max and has decient mass for his age. Hes a 5 x 6 and I think we made the right decision since he got alot of potential for next year. I dont think he'll get as luck if we have a chance next season.I pulled these still of our footage. Do you guys agree hes 3.5 and around 130" gross???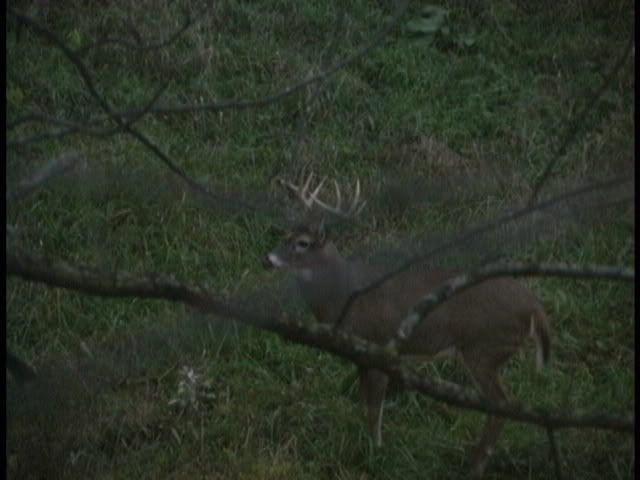 11-22-2007, 09:07 AM
Join Date: Jun 2007
Location:
Posts: 14
RE: Heres one that walked
---
I think he looks like a 2.5 yr old. It looks to me like he has some awesome genetics and will most likely be a giant in a couple of years. He just doesn't appear to be that old of a deer. I think you made a good decision on passing him. Ryan

11-22-2007, 09:57 PM
Fork Horn
Join Date: May 2006
Location: Grand Rapids, MI
Posts: 397
RE: Heres one that walked
---
Im just hoping he explodes into a slob in the future. He may not get a chance to walk next year. Hes not all that smart either. Hes one of the most curious bucks Ive ever seen. I said 3.5 max as I know hes no older than 3.5 but I was also thinking he may be younger too. If he is 2.5 then at 4.5 he may scare us.

Jay
11-23-2007, 06:24 AM
Join Date: Jul 2007
Posts: 17
RE: Heres one that walked
---
Hey that would be a tough one to pass on and I give you guys credit for that. He does look like a young one so he will grow into a monster if given the opportunity. Good luck on finding a giant the rest of the season.

Chad

11-23-2007, 02:18 PM
RE: Heres one that walked
---
Hey Jason - that's a heck of a buck and definitely a tough one to pass. From the looks of his body/face, he looks like a 2 1/2 with a LOT of potential. Nice job on passing him up, you're a better man than I am. He'd be at my taxidermist right now if I was in your shoes.
11-24-2007, 07:34 AM
RE: Heres one that walked
---
Definately a buck that a person can enjoy passing up.

The real test is going to be next year when he is a 3.5 160-170". What are you going to do? 160-170 right now or world class at 4.5?

i don't know your hunting situation on whether you will have this property for years to come or if you have neighbors that manage their ground but im sure your own personal decisions and situation will dictate the outcome of this buck.

These are the deer I love to see grow old.

Good luck with him. He is a super stud for his age.

11-24-2007, 11:51 AM
Fork Horn
Join Date: May 2006
Location: Grand Rapids, MI
Posts: 397
RE: Heres one that walked
---
Thanks Tyler! We knew he had the stuff it takes and thats the reason hes still walkin. If hes there next season we will have a real hard decision to make but there are other target bucks on the property that we are after and could possibly see letting him walk again if need be. There is still Heavy D(the double drop) buck I missed and another old buck nicknamed Bad Boy who is an absolute tank. We have footage of all these bucks so we'll be lookin hard and close next season and we still have a trip or two yet this year. Im not sure how long we will have this property but it looks like we will be hunting it next season. I already cant wait til next season. We will also have more time to play with trail cams this summer to see what were coming up with. It would be cool to see him this summer in velvet and too see what he has done. Were also going to be shedding this property this spring to see if we can find his sheds. Along with a few others.

Jay

Posting Rules
You may not post new threads
You may not post replies
You may not post attachments
You may not edit your posts
---
HTML code is Off
---