Greg's Long Bow Build-a-long
08-01-2008, 09:36 PM
RE: Greg's Long Bow Build-a-long
---
Dang Russ that bow is looking good.
I think Greg is gonna be one happy Customer.
Chad
Thanks mate just use your imagination to figure out how yours ia gonna look
It was hard to tell if it was sweat or drool when he was here this arvo
But he did take a couple of pics of it, I know he likes it so far. I'mgonna try and get it finished over the week end if the heat dont beat me, sposed to be 105 here tomoorow, 106 Sunday and 107 Monday and thats not counting the heat index[:@]
So have you figured out how your gonna get that nice new Kanga logo on it?
No have not worked that out yet, I was looking for a place to make up some medallions about the size of a 1/2 dollar coin and epoxy it into the riser but danggggggg they are proud of them[8D]
So I will just have to write it on this one before the Poly
Are you using two parallel lams as a core sandwiched between two tapered?
Kent
No it's 3 parallel lams with tapers up the fade outs.
What taper/tapers are you using
The Yellowheart is the taper and they are .001 per inch asfor the butt thickness I did not measure them[&:]
what weight are you shooting for?
Shooting for 55lb @ 28"and so far I am right on track so I must be doing something right
Thanks for the compliments guys I really appreciate it.
08-02-2008, 01:53 PM
RE: Greg's Long Bow Build-a-long
---
Now that I have both limbs pulling even it is time to put on the overlays.
Firstly rough up the fiberglass cause the epoxy wont adhere to the smooth glass.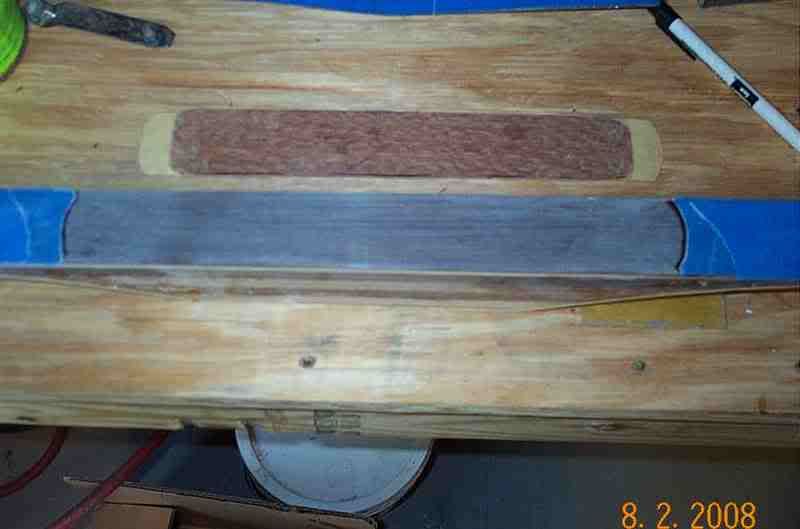 Put epoxy on both glass and overlay put overlay on and g clamp it in place, I dont the same with the tips but added some fenolic to the tips for added srenght.
While the glue is curing I decided to make the string, with 2 bundles of 7 strands in flow yellow and flo green the string material is 450 plus.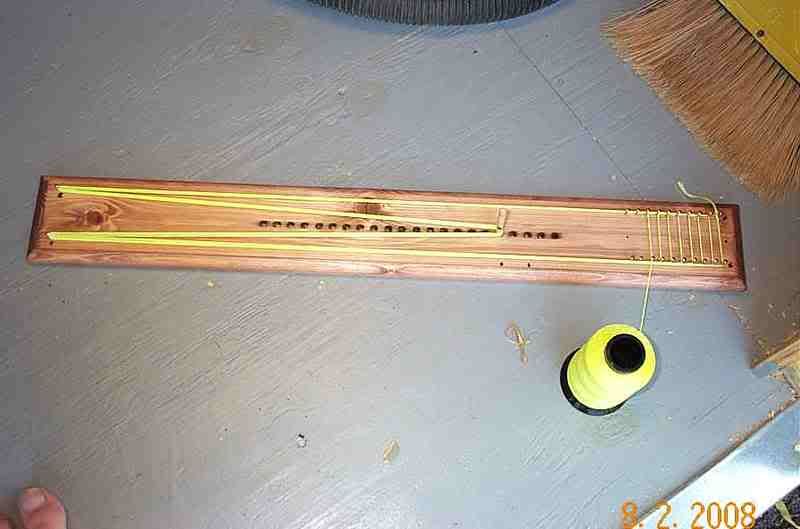 Once I have both bundles made it is time to twist them up. I make the 1st set of twists about 2 1/2" this till be the top loop the bottom will only be around 1 1/2 to 1 3/4".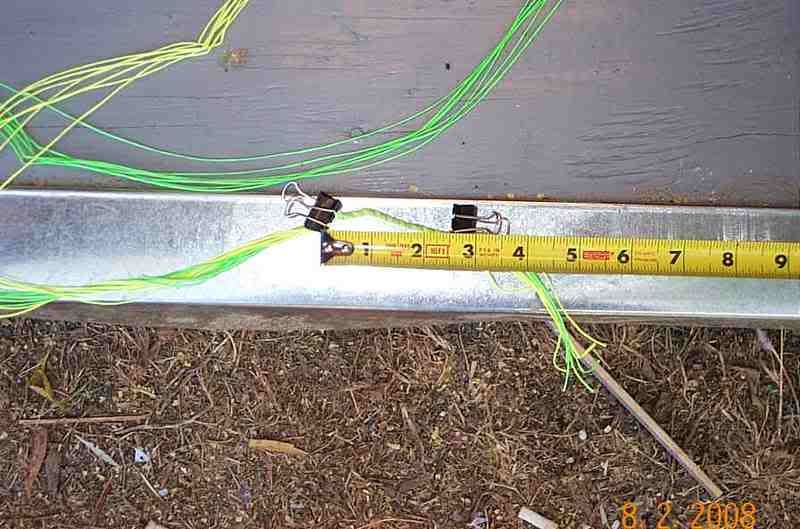 Once I have twisted to about 2 1/2" it is time to braid the ends into the main body of the string.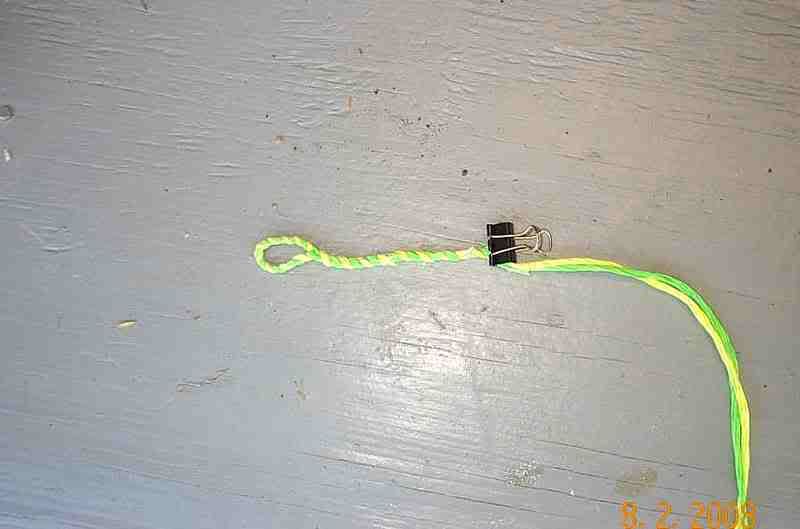 Do the same on the other end but make the loop smaller, I will put the center serving on when I get the bow finished and the string on the bow I will have to twist the string up some to get the required brace height
I was a little late getting started this morning I went to Lowes and got a ceiling fan and installed it to move some air around in the shop.
Now I can tryrelax a little now but I think there is some sort of list that needs to be taken care of[:@][8D]
08-02-2008, 07:03 PM
RE: Greg's Long Bow Build-a-long
---
Alright the over lays are on and the glue is cured.
I think the yellow heart and leopard wood look great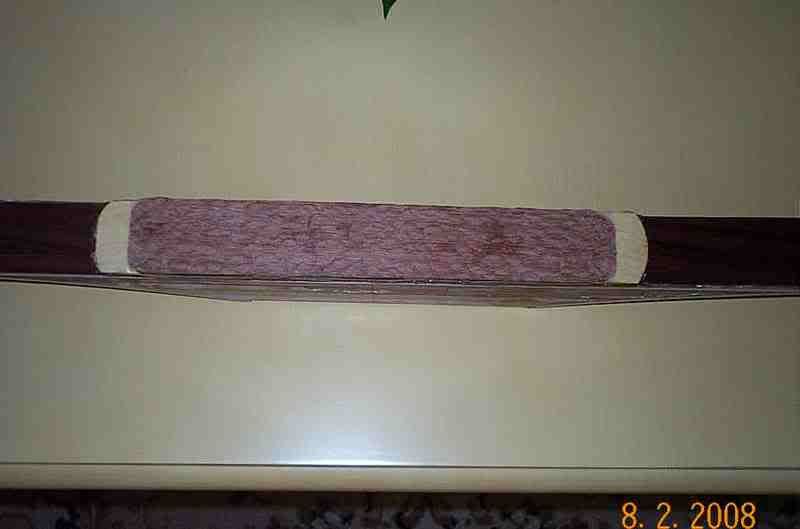 Here is another view.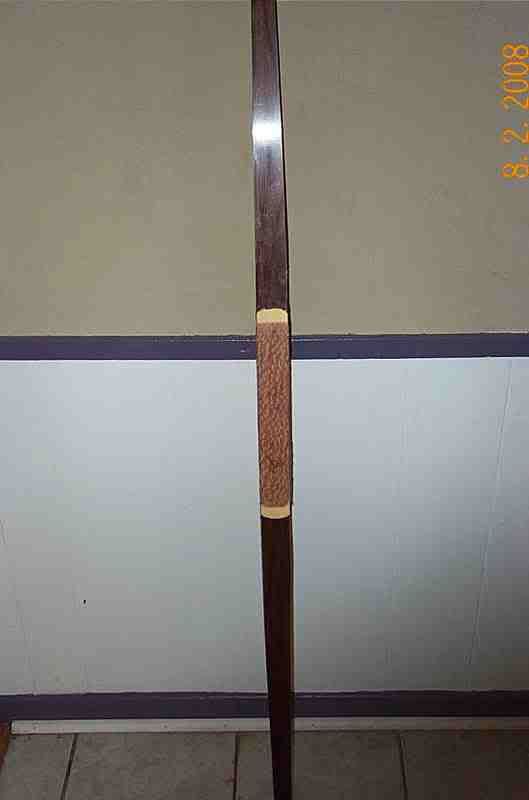 All thats left to do now is mark out and cut outthe riser shape and sand sand, sand.
I will be doing that here in a little bit, I have to go to a friends house and change some locks, by then hopefully it will be a little cooler in the shop[8D]
It's getting close to being finished probably another 5 or 6 hoursand I want to see how she shoots just don't tell Greg I shot his bow before him
08-02-2008, 10:09 PM
RE: Greg's Long Bow Build-a-long
---
Got a lot of the bow done tonight.
First I put more tape on and drew the sight window.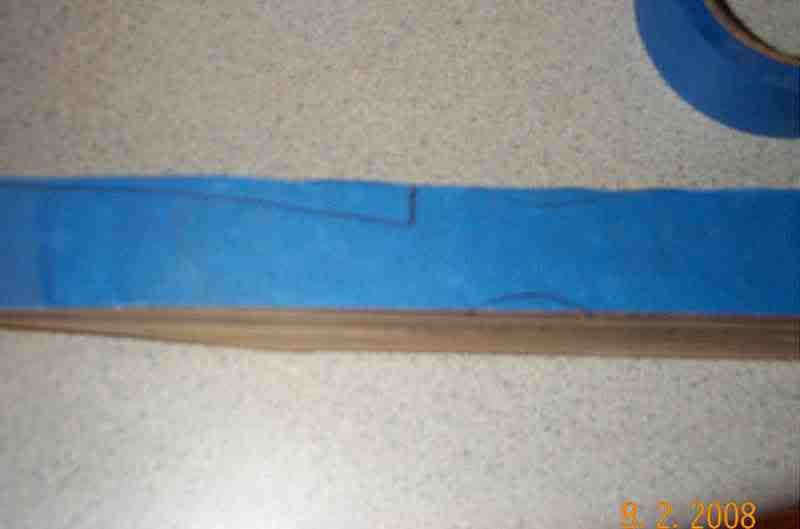 Cut the sight window and shelf out on the band saw then got carried away
and got the grip area all done ( forgot to take pics doing that) also got the tips sanded rounded will finish those off tomorrow.
Here is the sight window.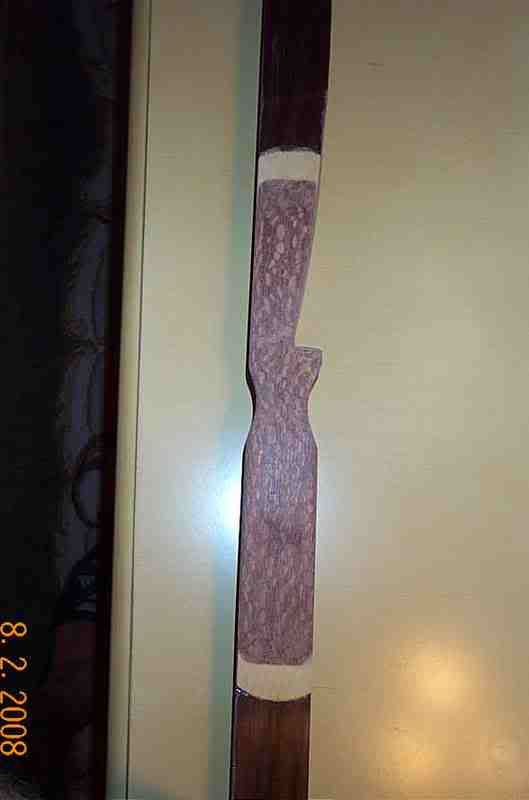 The back of the grip area I still have a little sanding to do here.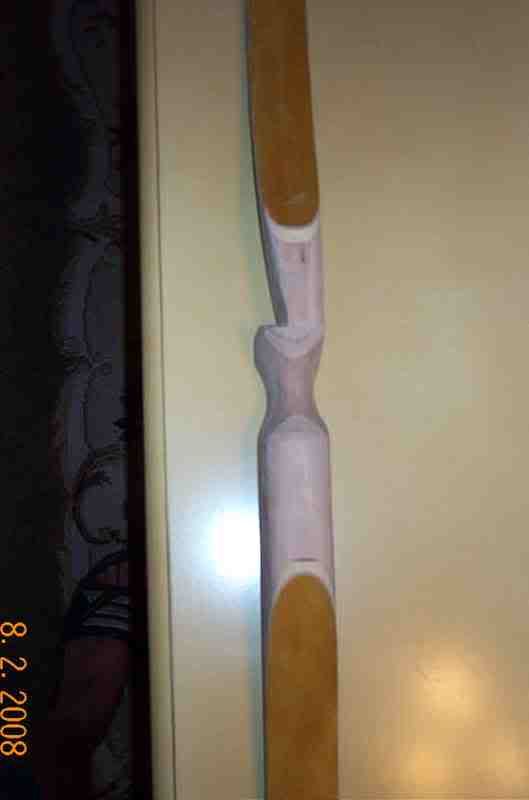 Here is one of the tips I just have to do the string grooves and finish the tips off.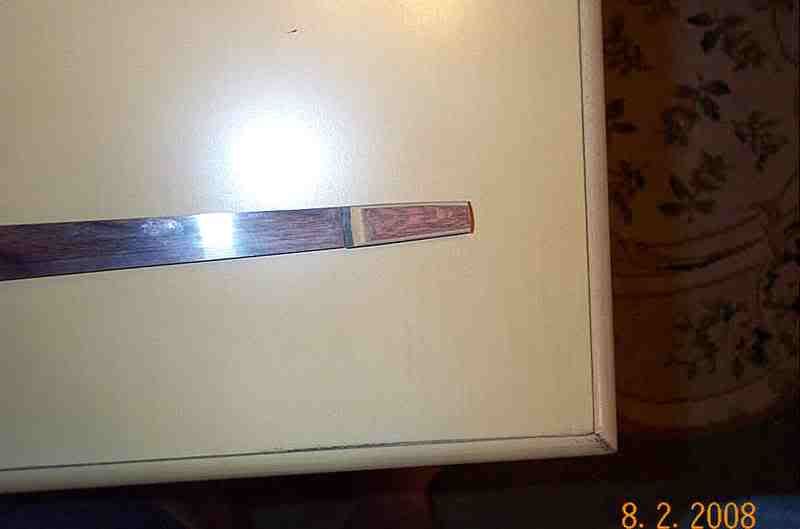 Here is an overall look at what is now looking like a bow I sure hope Greg likes it.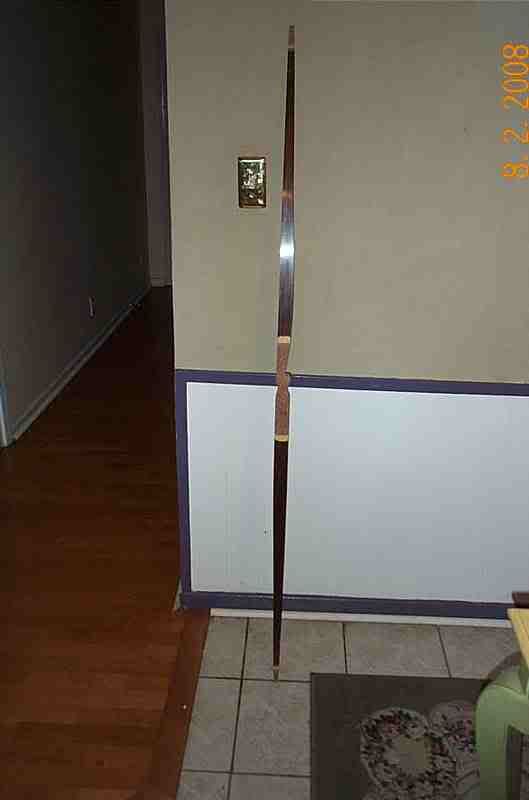 08-03-2008, 10:36 AM
RE: Greg's Long Bow Build-a-long
---
Got the bow almost finished this morning all thats left is to finish the string sand back the first coat of poly and apply another coat or 2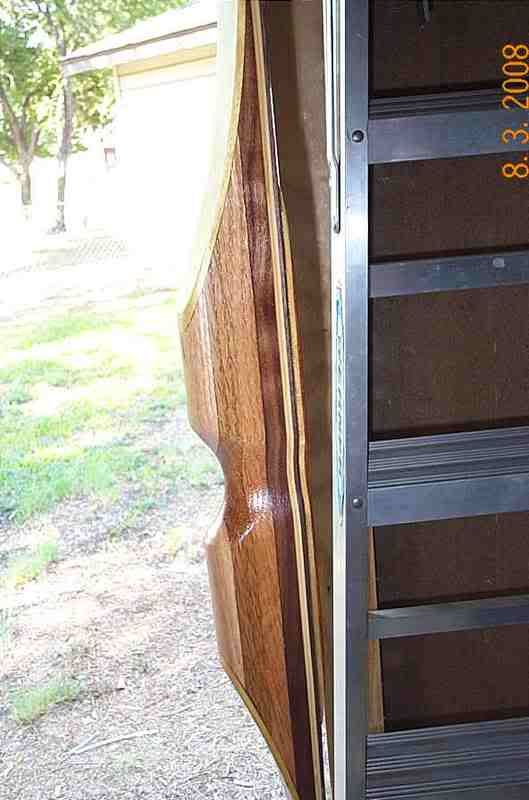 I ended up with some really nice glue lines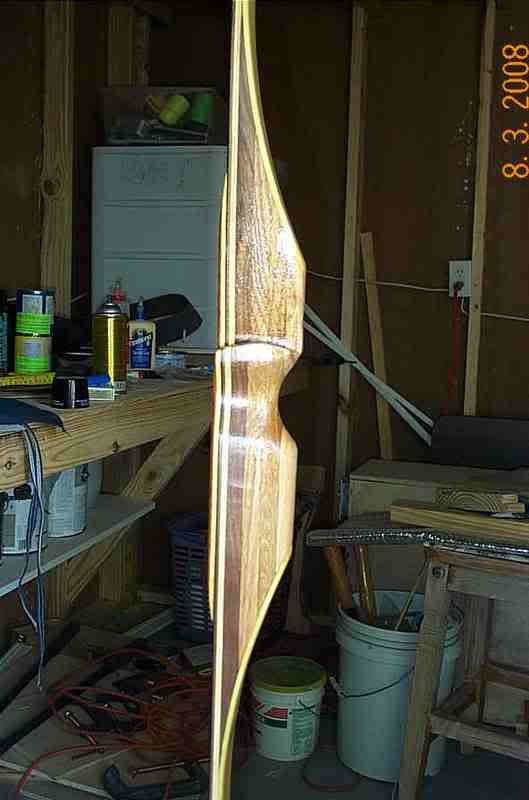 The Leopard wood looks absolutely beautiful under a coat of poly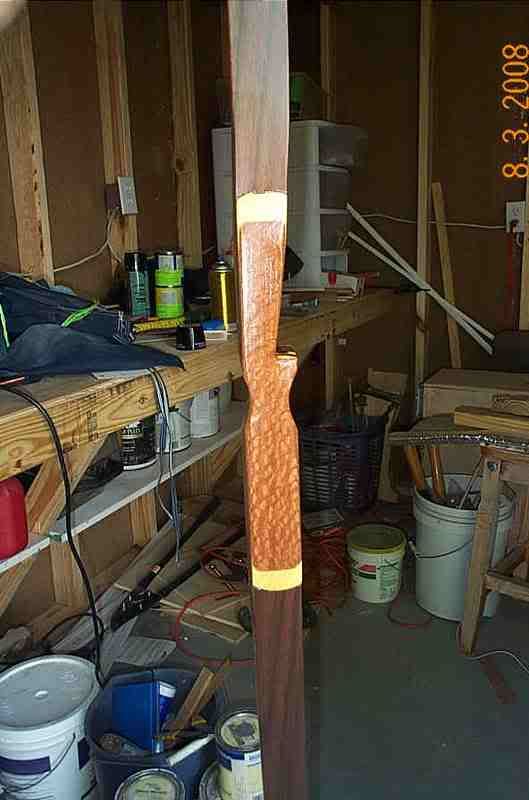 I hope the bow shoots as good as it looks will have to go test shoot it this afternoon[8D]
I am gonna take a guess and say that I will probably be getting another visit from Greg tomorrow afternoon when he finishes work.
Next week end is his anniversery and it just happens to be his wood year
08-03-2008, 01:28 PM
RE: Greg's Long Bow Build-a-long
---
Just got back from test shooting Greg's bow.
First 3 shots at 20 yards.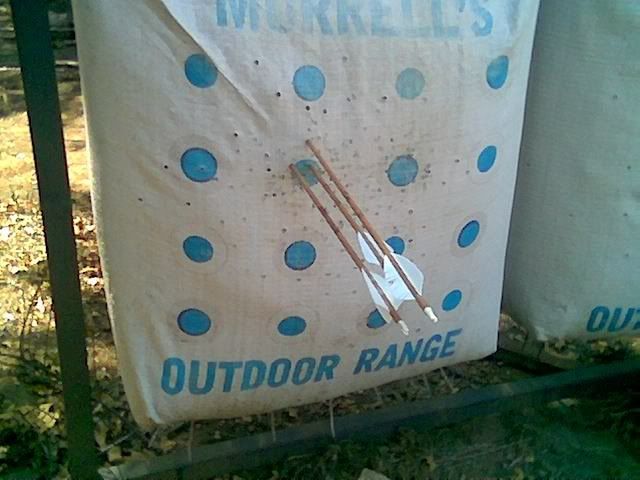 I will say it draws real smooth no hand shockand shoots better than it looks
Guess I done everything right
08-04-2008, 06:50 AM
RE: Greg's Long Bow Build-a-long
---
Russ I am very pleased with what I'm seeing! I won't be able to make it back down until friday[:'(]. It looks great! What spine are those arrows you shot with? I'll have to get some put together this week.
08-04-2008, 10:58 AM
RE: Greg's Long Bow Build-a-long
---
Russ I am very pleased with what I'm seeing!
Greg.
Thank you for giving me the oppotunity to build your bow.
What spine are those arrows you shot with?
Those are GT 3355 Traditional which with my 27" draw are ok you might be better off with 5575 or their equlant but it all depends on what you are going to have up front my arrows have a 100gr brass insert and 125gr tip.
Also that satin finish looks nice. I'm glad we went with that rather than the gloss.
I totally agree with you there specially if your gonna hunt with it I think the gloss would reflect too much.