A quick bow setup how-to...
09-07-2006, 09:59 PM
A quick bow setup how-to...
---
This was a basic setup thread I put together a few years ago now... After seeing a lot of questions surrounding the subject and receiving too many e-mail and PM requests to count, I thought it may be helpful for future reference. Note I didn't call it the definitive post back then, nor do I especially these days. Some good points were made at the end which may hold validity about some of the tools used in this process, but the idea will get the legions of newer hunters started.
I'd suggest following this thread up with a thorough reading of TFOX's thread about "Don't Stop At Walkback..."
God bless, and good hunting!
Ialmost posted this in the gear review forum, but I'm not sure my intent is to really review any certain pieces of equipment as much as it is to merely pass along some tips and techniques I've used here recently to tune up my bows.
My thoughts on this are twofold: First, there were a few recent threads around here (probably in the technical forum as much as the bowhunting forum) about tuning --as there always is and as there always will be. Rob/PA Bowyer had made a comment that he "wasn't into paper tuning that much anymore, but moreso using lasers and levels." His basic premise was/is that if you get things dead-on accurate with those devices, then the bow itself is tuned perfectly -- maybe not tuned to the shooter, but the bow is spot on. Secondly... besides ensuring that my own bows were dead-on, I thought I might be able to pass along some quick tips that may help some of our members here. A quick disclaimer here: I have never claimed to be a tuning guru, and I think those who've frequented this forum over the years know that I certainly have never made any claims as such. This is definitely not the definitive post on setting up a bow, but merely a helpful aid or guide with which I think someone can at least get started off in the right direction.
So... with that out of the way... I eventually decided to pick up a couple goodies to play with some of this technology myself. A quick internet order on Cabela's, and I had what I needed to "laser and level tune" my bow myself. The foundation for all this of course starts with a quality bow vise, which obviously should be a staple in any archery room. I chose the Apple Bow Vise, which offers 360 degrees of manueverabilty. Cabela's sells them for $74.99.
Next was choosing a laser tool. I had heard good things about Spot-Hogg's laser tool, but after looking at it on their site, I decided it would be too easy to introduce human error into the equation with it -- at least for me. I decided to go with Easy-Eye's Laser Eze-Center Guage, which retails for $89.99. You'll also have to pick up some batteries, which are not included -- at a cost of $5.99. The Eze-Center bolts solidly to the holes on your riser where your sight normally would attach. This virtually eliminates the ability for you to do anything wrongas far as introducing error while using the laser.
Lastly, I chose the R.S. String Level Combo kit for my levels. These little devices are simply ingenious, and sell for $16.99.
Here's a pic of the vise, bolted to my workbench in my archery room:
My first step after securing the bow in the vise is to break out my levels. As I mentioned, I think these little things are simply awesome: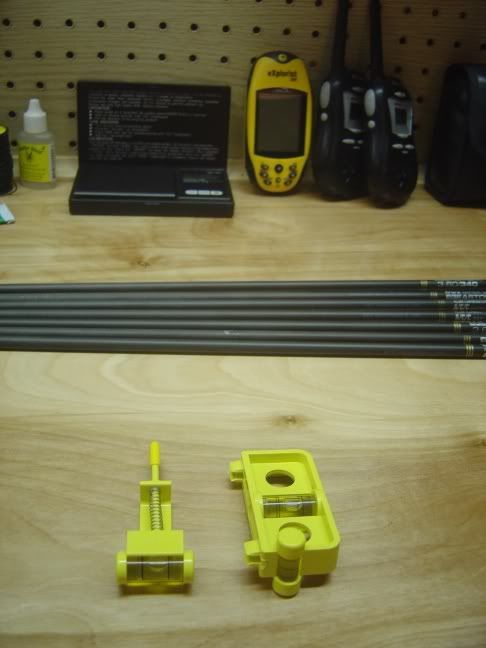 I snap the one on the right onto the serving area of my bowstring, and the other is held in place by a simple spring action on the arrow, allowingme to ensure thatmy arrow is perfectly level and perpendicular tothe string. You can also use the bubble to adjust your nocking point up or down, as raising or lowering the nocking point will of course move the bubble in the sight a distance which is easily measured. The level which snaps on to your string allows you to mount the bow exactly straight up and down in the vise. This means your vise doesn't necessarily have to be affixed to a level surface itself; I believe Rob told me he had his bolted onto a log which was a part of a pile of firewood awaiting the building of his own archery room.
Here's the Eze-Eye laser, as well as the levels affixed:
In this pic, you'll see that this little gadget allows you to adjust the housing out until you can line up the laser exactly on the string. Then, you simply rotate the head downward and onto the arrow shaft -- rotating it further so that it follows the length of the shaft all the way to the tip. At least that's the goal. You'll instantly be able to see which way you need to adjust your rest to obtain centershot.
You'll notice in the bottom two pictures there's no rest on that bow; that's because using the laser confirmed what I was seeing through paper tuning: I didn't have enough adjustment in my NAP Quicktune 3000 to obtain centershot. The rest is back at the archery shop I frequent and I'll be getting a new rest for the Tribute.
I was able to dial in my Allegiance today though, using the above tools in about five minutes. Snapped on the levels, squared up my arrow perfectly, rotated the laser andadjusted center shot...
I shot one three-arrow group to see where I needed to adjust my sights to. This is the next three-shot group, from 20 yards:
I backed up to 30, and my next three arrows yielded this group:
Obviously, I'll be doing some fine-tuning before taking to the woods... The point is, however, that I feel confident that anyone can make a small investment, and within five minutes using these tools and this technology, can at least be on the right path to feeling more confident in their setup.

09-07-2006, 10:17 PM
RE: A quick bow setup how-to...
---
I should also mention Greg, that you've caused me to decide to order all of the tools you mentioned.

I have $500 coming relatively soon from my dad and the sale of my grandmother's house that I had planned on spending on archery "stuff."

I think I'll just go ahead and set up my own little shop for myself with the money. Anything else you think that are "essential" things that should be included in an archery room, let me know. I don't have a press, but I think I might wait a bit for that piece of equipment.

09-07-2006, 10:38 PM
RE: A quick bow setup how-to...
---
Dan, I would really recommend buying a Bowmender press from Walks With A Gimp; he's a forum member here on HNI. You can PM him or perhaps just do a search. He used to have a thread in the classifieds section, I think. He was selling them for around $75, and it's one of the best presses on the market. You'll see a pic of mine at the back edge of my workbench.
Here it is in operation:
http://media.putfile.com/Bow-Press-How-To
There's only two presses I would feel comfortable having any of my personal bows pressed in. One is a Sure-Loc Xpress (big bench press, and you don't even wanna know how much it costs...
) and the other is the Bowmender. Both presses probably place about the same amount of stress on the limbs as actually shooting the bow would... and NONE on the riser, period. The nice thing about the Bowmender is that it's extremely compact and portable and can be taken on distant hunts or 3D shoots.
Most of the guys on Team BowTech have them, and I think Rob just picked one up as well. With it, you can install your own peep, insert string leeches when they occasionally wear out, and of course a number of other things.
09-07-2006, 11:10 PM
RE: A quick bow setup how-to...
---
Greg, I'm glad you mentioned that. I had thought I heard somewhere that WWAG had stopped producing them for sale, but I guess I heard wrong. Everyone I've talked tothat have used his press have had only good things to say about it.

I had planned on looking into a press from Apple, but at WWAG's price and your and others' reccomendations of it, I think I'll have to give him a PM when the money comes in.

09-08-2006, 05:39 AM
RE: A quick bow setup how-to...
---
Thank you for sharing that info. I am waiting on the Bowmender press I just ordered rom WWAG. I plan on doing more of my own work as I learn more about how to do it and posts like this one will really help. Now I can see I'll be explaining to my wife why I need more archery tools!
09-08-2006, 07:19 AM
RE: A quick bow setup how-to...
---
Awesome post! This is the sort of info that I like to read. I don't know just enough about fine tuning to screw me up. Things like this really help clear things up.