Bowtech Advertising vs Mathews/Hoyt
06-27-2005, 03:36 PM
RE: Bowtech Advertising vs Mathews/Hoyt
---
Mathews: "Catch us if you can!"
Bowtech: "Gotcha!"
Seriously, I don't see half as much advertising for Bowtech as I do for Mathews. I do like the Bowtech commercial with the sport bike on the salt flatsbeingbeat by an arrow from aBlack Knight better than any of the Mathews TV ads I've seen.
Mike
06-27-2005, 07:51 PM
RE: Bowtech Advertising vs Mathews/Hoyt
---
Bowtech is running full page color ads in just about every major archery and/or deer hunting publication that I pick up and read. The difference between them and everyone else is that their ads are a lot more subtle and classy. Not a lot going on, just a picture of a bow, an animal, and a small paragraph of text. Definitely a lot less cluttered than some of the other ads that point out every single feature their products offer.

However, in the world of marketing you want to leave people with a lasting impression of your image - preferrably good, but negativity creates a buzz as well. Personally I prefer Bowtech's print ads over many of their competitors, but it doesn't seem as though they're quite as effective since a lot of you either miss them or forget about them.

As for TV/Movies - it costs a lot of money to really start plugging your name onto some of those shows and everyone does it. Bowtech seems to be taking a different angle with the PBR and the truck they sponsored, and it seems to be working. Sometimes being different is good.

06-27-2005, 09:08 PM
RE: Bowtech Advertising vs Mathews/Hoyt
---
Bowtech seems to be taking a different angle with the PBR
Justin.
Your not wrong there take it from someone who spent a day helping out in the booth here at the Dallas PBR.
I dont know how many people came into the booth and shot the bows but I did not get a chance to sit down all day apart from a quick lunch break with Pat and Gene.
Then you get into the arena with about 80 to 90 thousand people and you see this.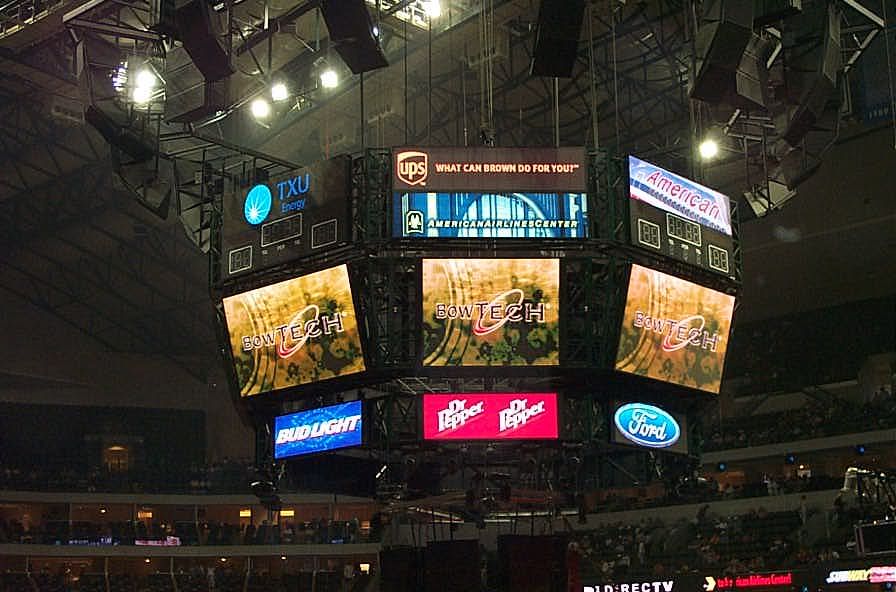 IMHO its a great way to get your name out there.
06-28-2005, 06:42 AM
RE: Bowtech Advertising vs Mathews/Hoyt
---
You guys that are saying that you prefer Bowtech over "Brand X" because they don't advertise as much is one of the most ignorant comments I've ever heard. Manufacturers advertise to sell their product. The more you advertise, the more people see your product. When it's time to make that bow purchase, which bow mfr. do you think is going to be near the top of the list of considerations? Yeah, the brand that is smart enough to get the word out about their product. Placing ads in magazines that you guys are reading, buying air time on your favorite hunting show, etc., etc., etc. Manufacturers such as Mathews, Hoyt, Easton, Browning (and the list goes on), actually sets aside millions of dollars each year for that local bow shop of yours to advertise not only the manufacturer's core product(s), but your local bow shop as well....all at no cost to your bow shop. And if there are multiple bow shops in a given market, this could be the difference between an average year or an outstanding year in sales.

And if you're not seeing Bowtech in your favorite hunting magazines, you're not looking hard enough...they advertise because they know it works. They do have a nice "word-of-mouth" campaign that appears to work on these hunting forums, but they are certainly not relying on that as their main source of advertising. As they sell more product, you'll see more and more advertising from them. Your favorite hunting character(s) on The Outdoor Channel will surely start shooting their bows, for the right price. Eventually, they'll get sick of the Drury's & Waddell shooting Hoyt, and so many others sporting the Mathews brand, that they'll pay a hunting superstar to shoot their very own. It will happen, trust me. And when it does, some of you shouldn't bad mouth them for doing it. Last I knew, most manufacturers like to sell the products that they produce...advertising is the key ingredient for this.

06-28-2005, 09:48 AM
Join Date: Oct 2004
Location: Ohio
Posts: 225
RE: Bowtech Advertising vs Mathews/Hoyt
---
Never ment to say that is why i like bowtech, I wish I would see two page picture of my allegiance in the mag. The switchback takes up two pages and it is pretty slick I could see why one getting into bowhunting would pick it.
06-28-2005, 10:02 AM
RE: Bowtech Advertising vs Mathews/Hoyt
---
No problem realmfg...I know where you're coming from with it. You "Bowtech Guys" are awfully passionate about your bows and that's commendable and justified...they make a hell of a bow.
07-03-2005, 09:56 PM
Spike
Join Date: Feb 2003
Location: Staples, MN USA
Posts: 76
RE: Bowtech Advertising vs Mathews/Hoyt
---
Have you ever figured out why Mathews can afford to advertise so much? Their competitors are paying most of the freight in licencing fees for their cam patent. I know that when Allen got his patent on the compound bow I believe each manufacturer I paid $2.60 per bow licensing fee. (Tom Jennings wouldn't pay, got sued, lost and went bankrupt!) It is very interesting that since Darton licensed their cam and 1/2 to Hoyt, and then to many of the others most of them have that style cam in their line, either exclusively or in part. (I am wondering how much this is cutting into Mathew's bottom line.) It's funny that Darton kept a pretty low profile in the advertising, but now almost everyone is using their basic concept. We (my sons and I) are shooting Dartons that we got as soon as we could when they came out with their CPS system. The old adage is that when business is good you advertise, and when it is slow, you advertise more.