European Mounts
03-18-2008, 05:43 PM
Fork Horn
Join Date: Sep 2007
Location: State college PA
Posts: 183
European Mounts
---
I just boiled the skull. It looks great but needs whitening. I have some little pieces of meat in tight cracks. Do i need to get every little piece off. Its only in two spots in bottom back of head. Also it stinks still. When i whitenin them will it quit stinking? Boiling worked good but was very time consuming. I will consider beatles in the future. I have heard they work good.


03-19-2008, 05:39 AM
RE: European Mounts
---
Mike,
The trick I found to boiling is to get a small bag of Soda Ash (I think that's what it's called?) from a taxidermy supply company. Your local taxidermist can point you in the right direction.
Sprinkle a palmful of that into the water first and mix it around. It disolves tissue and catilage and makes the stuff literally just fall off the bone. Careful though and don't throw it in right on top of your skull because it will eat through the bone. It also allows the nasal area to come out perfectly intact and clean. Just boiling leaves a bunch of gook inside. The brains will also just shake out.
When I'm done boiling and everything is good and cleaned off make sure you refit the flat nose bones and the girdle around the front before it dries. Fit them in place and rubber band them to dry or they will warp and never go back right.
You can glue them later.
Have a little tool kit to help you with any picking and scraping too.
Old dull hunting knife
shrimp fork
dental pick
old stiff toothbrush
When i'm done I hit the whole thing with some household cleaner like simple green or windex then rinse it off. Spray up into the skull cavity too.
Let it dry, it will stop stinking.
I don't get crazy with the whitening products because I don't like that bright white fake look. I wipe it down with a diluted bleach solution to finish and leave it looking clean but more natural. Just my personal preference.
03-23-2008, 08:31 PM
Fork Horn
Join Date: Sep 2007
Location: State college PA
Posts: 183
RE: European Mounts
---
I boiled it and scraped it. One tooth fell out thats it. Nasal is perfect, got out all cartlidge, nasal bone was fine. I just have a few spots in the back by the neck. A dental pick would work great. I never boiled it for a long time. Boiled took off meat. boiled took off meat. etc. i used borax to take off smell help that works. Got all brain stuff out too. that was tough i used fishing forcepts.

03-29-2008, 06:59 PM
Join Date: Feb 2003
Location: chiefland Florida USA
Posts: 5,417
RE: European Mounts
---
I just boil mine till the meat comes off (all the meat) take a section of wire and bend it to look like a cork screw,stick it in the hole in the back of the skull(the spinal cord opening) twist it round and round a few times to loosen the brain and then blow the brains out with the water hose.
Then soak it in a bucket of bleach water.(be sure to keep the horns outta the bleach water).
let dry and mt. on base.
thats the easy way I do it.works great.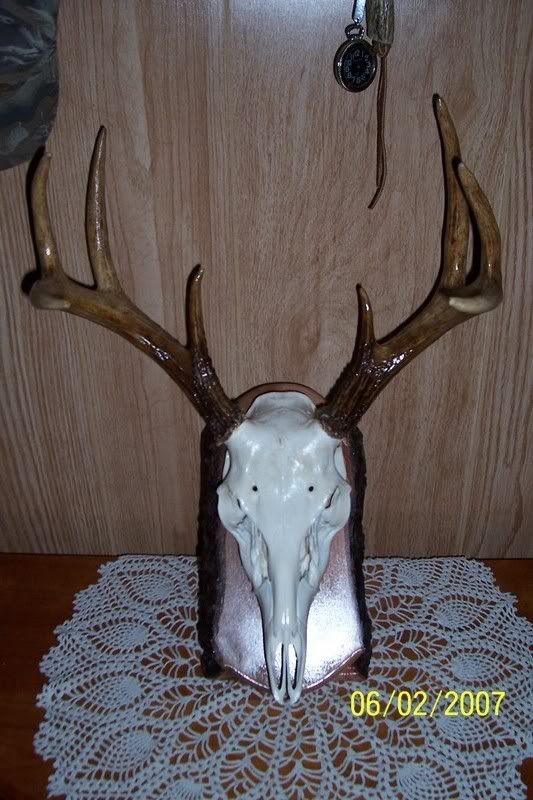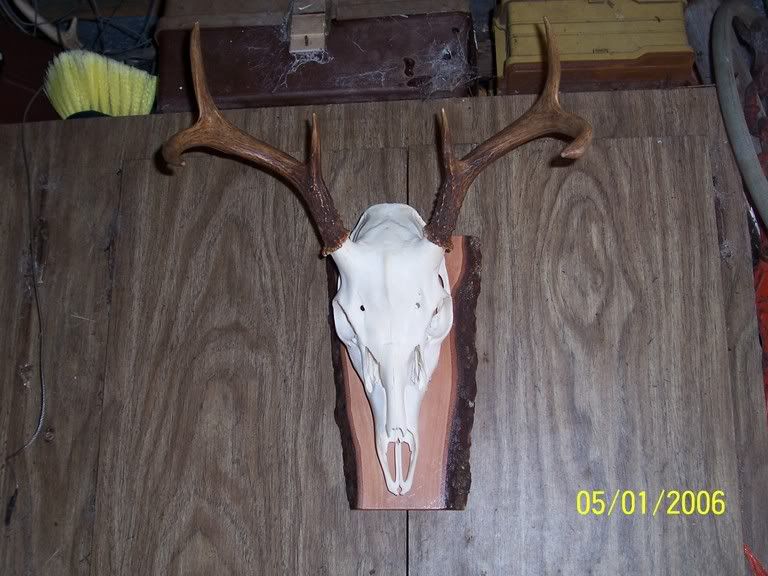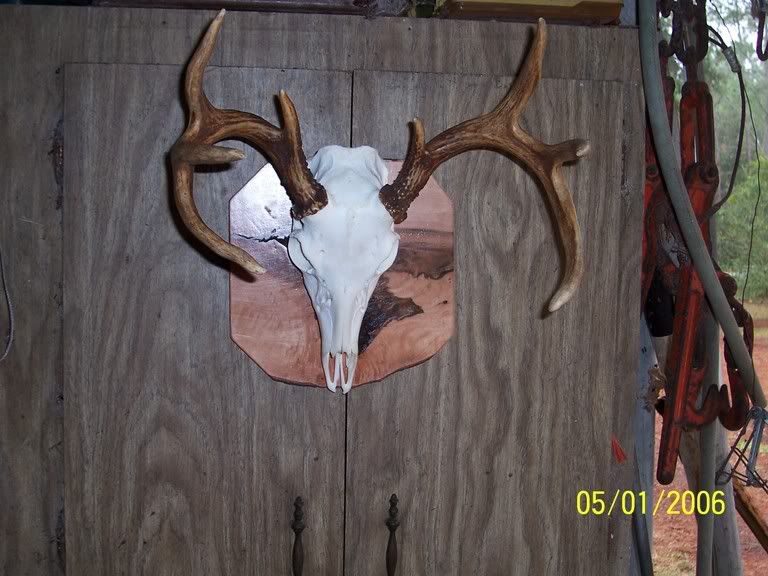 04-01-2008, 07:19 PM
Join Date: Jul 2004
Location: the deep dark woods of Wi
Posts: 544
RE: European Mounts
---
yeah I was pretty much on my own for european mounts... if you think doing deer is hard, imagine doing a moose! I had to do mine in the freaking wheelbarrow. god that was fun especially for the first skull mount I ever did...
Posting Rules
You may not post new threads
You may not post replies
You may not post attachments
You may not edit your posts
---
HTML code is Off
---