SE VA swamp rabbit hunt - PICS!
02-07-2008, 09:19 PM
SE VA swamp rabbit hunt - PICS!
---
We hunted the swamps of SE VA last week and had a real fine day of running. We ran 4 swampers and bagged all 4 although it wasn't as easy as it sounds. Them swampers are a sight to see and I was shocked at how smart they were. We usually go down once or twice a year late in the season and this was our 1st time down this year.
The 1st rabbit was jumped shortly after we dropped the tailgate at 0830 and the dogs STROKED him for an hour and 15 min. w/ 3 checks. Absolutely ran the snot out of him, no question about it. Turned out to be a BIG buck rabbit, the biggest I've see this year, they grow 'em big down in the swamps apparently!
The 2nd bunny they ran for about an hour and a half and ran him well but not as well as the 1st.
We broke for lunch, feeding the dogs a little and letting them relax for a bit. After lunch, we drove to another part of the farm and turned 'em loose again.
The 3rd rabbit was a clever old doe that took the dogs for loop after loop w/ many a shot being fired at her. The running was steady but not like the 1st one they locked on that a.m.
As for the 4th swamper, we'll in all my years, I've never ran a rabbit as smart as this one. It started in a huge blowdown about 200 yds. up the hill from the swamp and went ALL over. He ran huge, way way out. A buddy of mine saw him flying up towards him but the buck swamper turned before coming w/in range and as he was zig-zagging while bounding 8' to the left, then 8' to the right, then back to the left, then back again to the right, etc. etc. etc.. I have never seen or heard of them doing that before! After a while, I noticed the dogs would go into a 5 to 10 to even 1 15 min. check. I was wondering WTF was going on so I walked down to the swamp. Apparently Mr. Swamper was swimming across the swamp and the real long checks I heard were the dogs trying to figure out where he went then swimming across, then back across again following him!
Seeing this, I snuck about 40 yds. into the swamp and got situated on an "island" (my leather hiking boots were in 3-4" of mud & water) but it was terra firma compared to the surrounding area. Finally I heard the dogs coming back and they had turned on the afterburners. They were coming on fast and strong and I knew that I was only going to have one chance at this guy before he disappeared into the swamp for who knows how long until the dogs brought him around again. A buddy to the right of me shot twice and although I couldn't see which way he was facing, I could hear the dogs rolling through the pines and I heard where his shots had hit the trees. I heard the swamper splash into the water then nothing for what seemed liked 5 min. but was more like 10 seconds. As soon as he jumped on the "island" I heard him running and I had my sons 20 ga. ready and waiting. The dogs ran this sucker for 2 hrs. 15 min. and a total of 8 shots were taken at him. It turned out to be my personal record in terms of the longest race in which I harvested a rabbit. Some of the running that day wasn't pretty, but the dogs circled the tricky swampers time and time again and we accounted for 100% of the rabbits ran.
Here's a couple pics I snapped at the end of the day, they definitely don't do the swampers justice, but pics are pics, although I'm not sure what happened to the quality. If you look closely at a couple of them you can see the black feet they develop after spending their lives in the swamp.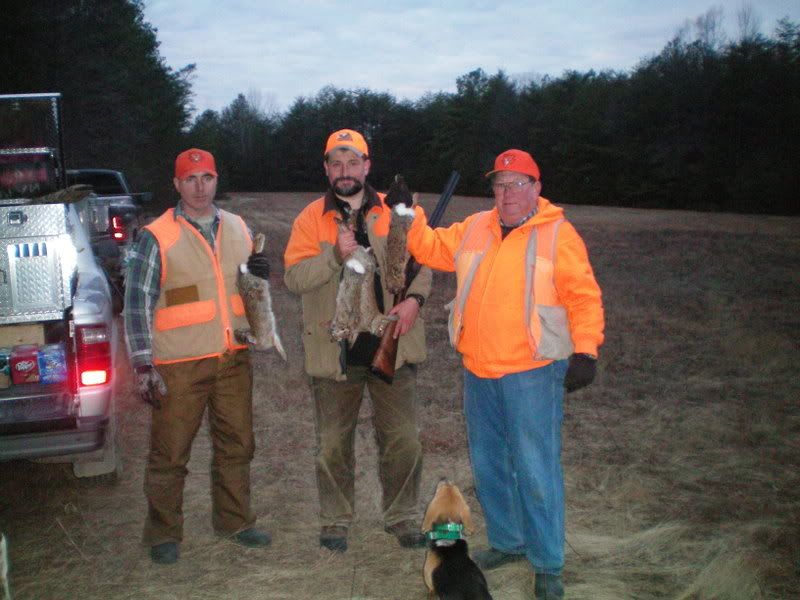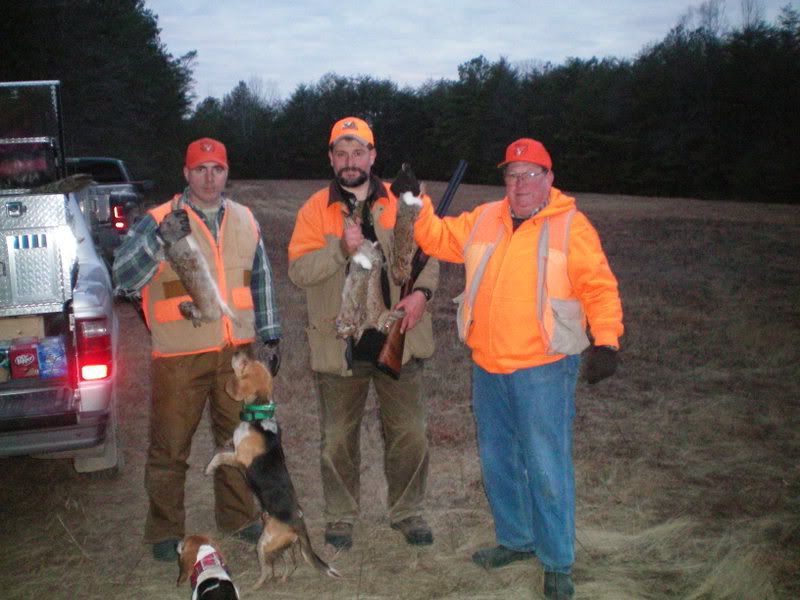 Thread
Thread Starter
Forum
Replies
Last Post
Small Game, Predator and Trapping
Small Game, Predator and Trapping
Posting Rules
You may not post new threads
You may not post replies
You may not post attachments
You may not edit your posts
---
HTML code is Off
---