Finally! My first swamp rabbit!
01-02-2009, 06:31 PM
Nontypical Buck
Join Date: Feb 2003
Location: Gleason, TN
Posts: 1,327
Finally! My first swamp rabbit!
---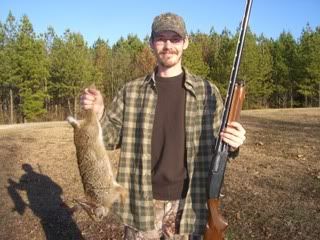 I've lived most of my life hunting the southern swamp lands and river beds and I've normally been very successful in taking all the unique game and fish these wetlands have to offer, but one thing has always eluded me time and time again. The swamp rabbit (Sylvilagus aquaticus). I've hunted over some great dogs from time to time, but no dogs I've ever hunted over have been able to successfully run a swamp rabbit. They always throw the dogs off by swimming a stream or jumping into a hole.
Today, two friends and I hunted some public swamp land here in West Tennessee with their dogs. The dogs got on trail a few times, but they were all pretty young and still learning. Because of that, we ended up busting through the brush and briars trying to push rabbits out by ourselves, mainly without the aid of the dogs.
About half an hour into the hunt, one of my friends flushed a rabbit out of some thick honeysuckle and tagged it.About two hours later I nearly stepped on a rabbit by a sink hole and it shot out from beneath my boot like a fuzzy bolt of lightning, and my other friend had a safe shot and connected with it. Several hours after that, that same friend flushed my swamp rabbit towards me and I was able to get it. So, for one morning's hunt, me and two friends all came home with dinner. There's a LOT more meat on these things than your average cottontail! I even saved the hide, it's salted in the garage right now, I'll tan it after it dries out.
Thread
Thread Starter
Forum
Replies
Last Post
Posting Rules
You may not post new threads
You may not post replies
You may not post attachments
You may not edit your posts
---
HTML code is Off
---