08-09 predator score sheet
12-12-2008, 10:24 AM
Typical Buck
Join Date: Feb 2006
Location: Colorado
Posts: 654
RE: 08-09 predator score sheet
---
Good shooting BHW.

Howler, it is near other houses, but the direction I am shooting is away from them towards the river and nothing close behind. I have just wanted to shoot a coyote with a shotty for a while and I have had many chances before but never connected good enough to put one down.

12-12-2008, 11:42 AM
RE: 08-09 predator score sheet
---
You guys are killling me... I have been home/work bound... I got to get out...
Congrats, on the coyote BHW.... Hey... On your FoxPro... Did you put that illumination tape on the antena.. Mine doesnt have that... Good Idea... It can be a nightmare trying to find it...
#40 what you shootin out of the street sweeper...
Mike
www.purepredator.com
Pure Predator Custom Calls
12-12-2008, 12:36 PM
RE: 08-09 predator score sheet
---
I finally got out last nite, and the night was perfect. It was about 12 degrees when I headed out at 7pm, and when I quit at 2:30AM it was 4 degrees. The wind was about 2-3mph out of the north, bright full moon, and great snow cover. I end up calling in 9 coyotes, and got5 shots and 4 kills. My buddy had a real rough night, and didn't draw any fur. The pictures didn't turn out very good, darn camera might have been frozen.
First one of the night, shot at about 65 yards after about 4 seconds on the call.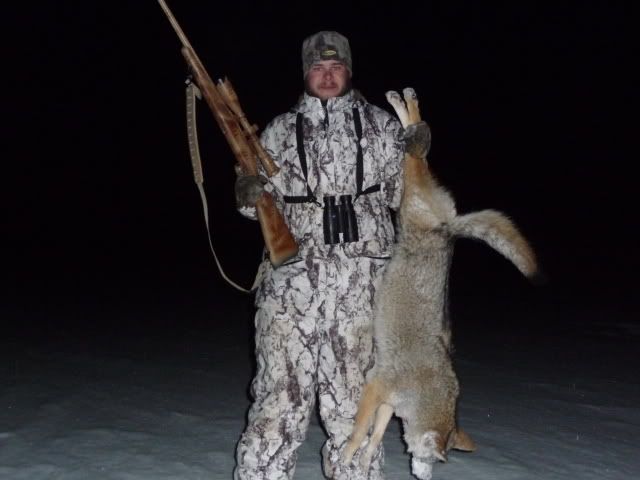 #2 and #3 were a double for me. First one I shot at 30 yards charging hard at me, wish I would have been packing my shotgun. The 2nd (4 all together), took off and I finally stopped him at about 300 yards and drilled him. Buddy missed the other 2.
#4 had a good story with him. We walked in about a 1/2 mile to a spot with cedar trees, and spotted a dog laying on the sidehill in a soybean field. After glassing him for a while we couldn't figure out what he was doing, so I started in real soft on the Long Range Tweety, he finally started coming our way but looked funny. At around 100 yards I told my buddy to take the shot when he stopped, he missed him and he took off high tailing it and I finally caught up to him on the 2nd shot. He looked funny because he was carrying his pheasant to his "easy" cottontail meal!
So it was a good night for me, finally going to be able to start adding up some coyote numbers now that I'm getting caught up with work.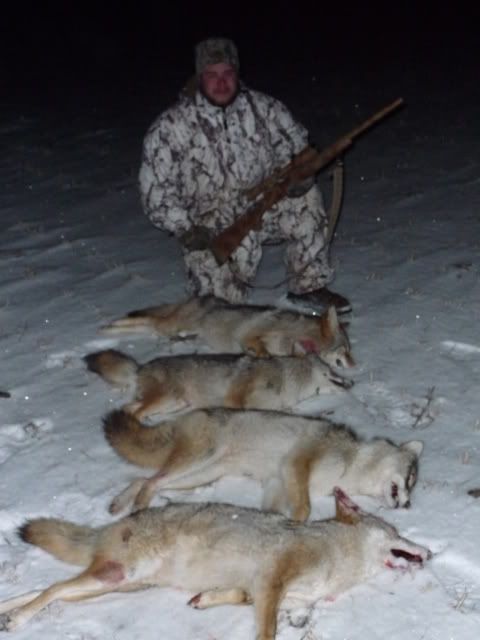 12-12-2008, 02:30 PM
Typical Buck
Join Date: Feb 2006
Location: Colorado
Posts: 654
RE: 08-09 predator score sheet
---
Nice shooting Rammer. Keep up the work.

Pure, shooting some home rolled BB shot this time. I had been trying some store boughtBBB loads that I bought a while back for geese. Probably my problem.


12-12-2008, 04:47 PM
RE: 08-09 predator score sheet
---
ORIGINAL: 220DarylSwift

Nice work Rammer. What part of SD are you from. I live in western ND
I'm in the Northeastern SD area. I make it out to Buffalo, SD quite a bit hunting, how far is that from you?
12-12-2008, 06:02 PM
RE: 08-09 predator score sheet
---
ah oohhh, bodabing bodaboom, Rammer has come to play this winter!! Woohoo, and what a start. Good looking coyotes too. Way to go Rammer!!
I went out early this a.m. with two buddys, we should've stayed in bed 'cause the wind kick our bottoms. Bumped one coyote while walking in on the first stand and that was the only coyote that we even saw. Got home by 9:30. My friends both had to go to work anyways.
I hung out at the house and was out cutting and splittin' some more fire wood this afternoon when it hit me that the wind had died down. So at 1 p.m. I headed back out alone. First stand I called in 2, one was swinging way down wind, and a second came in good. Got the big male. Didn't get a shot at the far coyote. Next stand, I spotted a coyote as I was walking in, so I had to back up and approach from a different direction. Had 3 coming real nice, they were comin' slow and stickin' together. I was seein' a triple flash through my mind. About the time things were going to get real juicy, a 4th coyote that had come from the other direction, came running through the three I had been watching, the #4 coyote had already gotten wind of the set up, and was buggin' out, which made the other three get all jittery, which made me get all jittery,but I dumped the first one standin', rolled up a 2nd, missed the 3rd and then never got the 2nd coyote recovered. Spent about an hour trying to find it. Aggravating!! Next two stands drew blanks!! Oh well, two more in the freezer.
12-12-2008, 06:44 PM
RE: 08-09 predator score sheet
---
Thanks Howler! My buddy that can't shoot wants to try to redeem himself tonite, he's going to be here in about an hour and we're going to run all nite tonite if we can stay awake and don't freeze. Hopefully, I'll have more pictures posted by morning!
I'm going to be toting the 12 gauge tonite, see if I can't bust a few up with it. I want to play the up close an personal game with them tonite.