08-09 predator score sheet
10-12-2008, 08:21 PM
Typical Buck
Join Date: Feb 2006
Location: Colorado
Posts: 654
RE: 08-09 predator score sheet
---
70 Grain Sierra Blitzkings.
Called these two this weekend. Windy and rainy right after the first one pictured was taken. Tried to get out today (sunday) and just way to windy. Did see one while driving to a set, but couldn't call it in when there.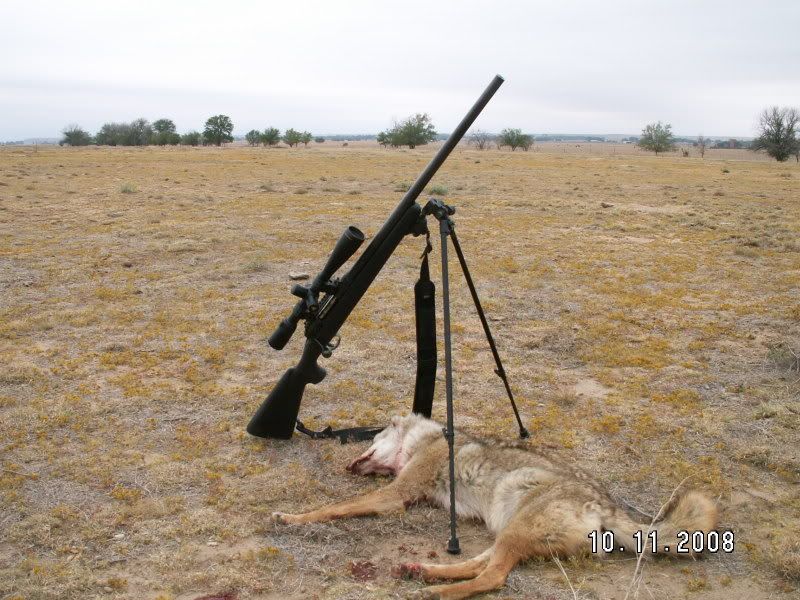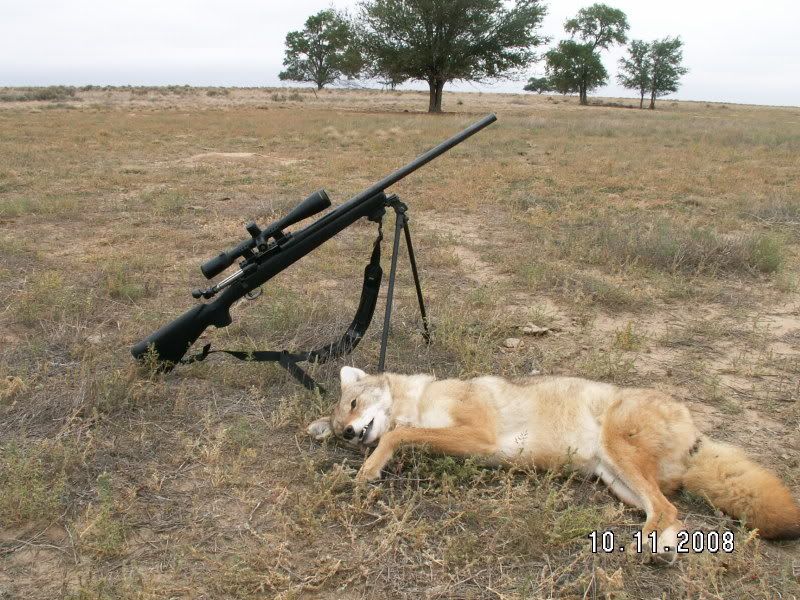 10-13-2008, 07:03 AM
Fork Horn
Join Date: Jul 2006
Posts: 285
RE: 08-09 predator score sheet
---
Well I took one for the team alright! I called a few coyotes last week but forgot that this contest started on October 1st - I was thinking it started with my season on the 15th.
(Thanks Melsheeba for the confusion)
After realizing the mistake- I had to hold my nose and drag thisbloated messout of a sinkhole (it'shigh 80'shere) for a picture with the gun two days later.[:'(] I know Howler is giggling now!
Season comes in on Wednesday here- so that'll open up all kinds of new public properties and a few of the "non-ADC" private farms I hunt. If this weather doesn't cool down soon, I'm going to take up golf or something. [:@] It was 85/87 both days this weekend.
10-15-2008, 11:04 AM
Fork Horn
Join Date: Jul 2006
Posts: 285
RE: 08-09 predator score sheet
---
Season opened 4 hours and 3 minutes ago. Full moon, clear nights, foggy mornings and rain in the forecast. If I was smart I'd just wait until the weekend to start calling.

If I was a betting man- I'd bet these nerves get to me and I make a stand or two before then. [:-]

10-16-2008, 10:28 AM
RE: 08-09 predator score sheet
---
I went out this mornin calling, saw 2 coyotes in 2 spots I wanted to call, so I let them be an kept driving. Got the the third spot of the morning and had yet to blow a call. The third spot produced a coyote with a bunch of cows chasing it around, never offered a shot that was safe, so I let the cows chase it away before he busted me. While on that stand I had another coyote about a mile back west of me howling so I went around and setup on him. Never got another response out of that dog. So a big fat ZERO for me this morning.
10-18-2008, 12:30 PM
RE: 08-09 predator score sheet
---
I finally got out for the first time this season this morning. Kind of warm, so I planned on going to ranch that I have hunted for many years with plans on putting some bullets on paper, and maybe plinkin' a prairie dog or two, and if I saw any coyotes, I was prepared to do a little callin' too. The prairie dogs on this ranch were wiped out two summers ago by the plague, so I didn't know if there would be any around yet. After talkin' to the rancher, I pulled back out on the road to drive back to the prairie dog town, and from the road I did some glassing across the town and spotted a coyote in the prairie dog town. So I parked the truck and snuck down a draw to get closer, and while I was sneeking down the draw, I spotted whatI figured to be a 2nd coyote further out in the pasture. I got to where I was only about 200 yards from one coyote, and the other was a good 1/4 mile out. I started the stand with some little lip squeeks, could see the far coyote, not the close one at this point, but the far coyote didn't respond at all. After about 3 series of lip squeeks, I was about to pull tweety out, because I wasn't sure if the closer coyote was hearing me either, and about that time, the first coyote came up on an old pond dam, about 65 yards, and I dumped it, and then immidiately went to some ki yi's, as I could see the other coyote running, not away, but across my location, and then it went behind the pond dam also. I did about 3 more little ki yi's and the second coyote showed up on the opposite end of the pond dike, and I dumped it at about 70 yards. When I walked up to the pond dam, I spotted a prairie dog about 150 yards out, so I decided to see if I could plink it, sat down, bang flopped it, and a sceond prairie dog came out of the grass up onto the mound at the same spot, so I plinked it too. My first double double!! After I took my pics., I then walked around a little and plinked 5 more prairie dogs. They aren't thick in this town yet, but they are coming back. After all that, I skipped putting any bullets through paper, as I decided that the rifle must not be too far off from last season.