Trapping foxes in OZ
09-22-2006, 07:28 AM
Join Date: Jan 2006
Location: NSW AUSTRALIA
Posts: 214
Trapping foxes in OZ
---
I got given a can of the new "feralmone"(tm) fox and dog attractant so I decided that I had better give it a try, so while I was at it I thought that I would write a how to guide for those people that are interested in I giving it a go, at least the way that I was taught anyway.
The traps that I use are "Victor soft catch 3#, I modify them by adding a longer chain (30cm long) and I use a 40cm length of star picket for a peg. Other things that you will need include bait (I use sardines) as well as something to dig the hole with, a sheet of waxed or tisue papper and a hammer.
Start by slecting a sight to set you trap, around Rabbit burrows and dams are a good choice. Alternatly you could make a "drag or scent line" by draging a dead animal along game trails or other hot spots.
Ok now for the how to bit.
step 1) chip out a section of dirt slightly bigger then the trap but not by much, scrape the top layer off and place it to the side (you will need this later). Then break up the dirt in the hole untill it's a fine powder and remove about 2/3 of it, hammer in the peg untill it's flush with the ground and then set your trap.
Step two) Place the trap in the hole and "wiggle" it in so that it sits firm and won't rock or shift under presure. Place a sheet of wax or news paper so that it just fits over the trap jaws, and very lightly sprinkle the dirt that you put aside over the top of it so that you cant see any of the paper. (a very light layer)
Then carrefully camouflage the trap with a light coating of grass etc, making sure that there are no large peices that might interfere with the jaws closing.
Step 3) Then dig 4 small holes roughly north, south,east and west etc around the trap and bury a sardine in each hole. I then sprayed a 2 second burst of "feralmone"(tm) just near by (I used the rock) I normaly use Fox urine that I colect from Foxes that I had shot. Then it's just a matter of crossing your fingers and come back and check the trap every 8-10 hours and take a .22 or shotgun with a light shot load (I use trap loads)
I set this trap at 3pm on Thursday afternoon and when I came back to check it again at 8:35am just after picking up my new 12ga from the store, and this is what I found.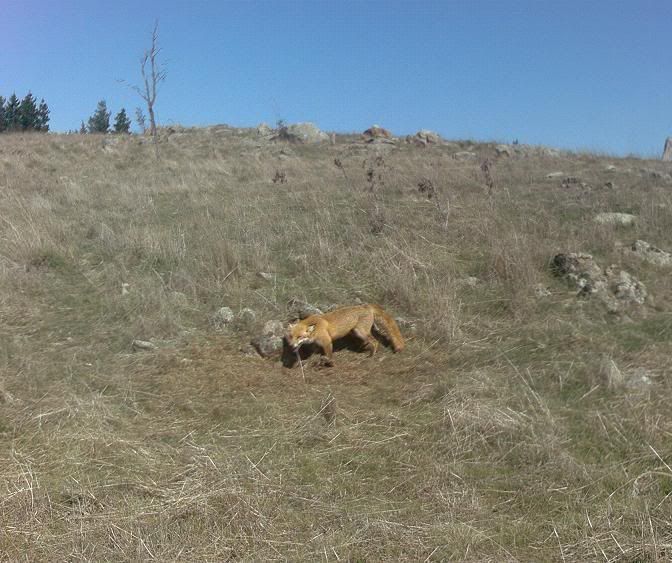 While he might look distresed in the 1st pic the new shotgun and a 1o/z load of 7 1/2 shot soon calmed him down.
Thread
Thread Starter
Forum
Replies
Last Post
Small Game, Predator and Trapping
Small Game, Predator and Trapping
Small Game, Predator and Trapping
Small Game, Predator and Trapping
Small Game, Predator and Trapping
Posting Rules
You may not post new threads
You may not post replies
You may not post attachments
You may not edit your posts
---
HTML code is Off
---