Reloading setup question
12-26-2004, 10:30 AM
Reloading setup question
---
I want to start reloading but I have a question or setting up everything.
I went to a Garage sale and picked up a ton of Lee equipment for $50 a year ago but have had it stored. The man that sold it to me was going blind and had reloaded for years. I was the first to look at the equipment and ask why so little$$. He then ask me alot of questions and then answered my ?. He told me that he had enjoyed hunting and reloading for many years but with his eye sight going he knew the time had come to stop. He wanted to find someone that would enjoy it as much as he did and not someone that was going to break it up and resell it.
I have had it stored becouse shortly after that my wife ran off with someone else and we have been going through that process. Anyway I find myself with time and need things to do.
When I bought it everything was in boxes, 4 total. Some books, brass cleaner, 2 loading presses, powder tricklers, scales, die sets, accurtrimer, elect. lead melter, the list goes on. In short I think I have two compleat setups and then some.
I went to Home Depo and picked up a work bench and have it setup in my work room.
What is the problem you might ask?
How do you put this stuff together
The books are on reloading itself but there is nothing on how to assemble any of it.
The lee press has the rotating plate for the dies and a powder holder that should fit on the press. I looked up lee presses and they are the Lee Turret Press but found on instructions on how to set one up.
Do any of you have a link where to find this info? Also do you have any pictures of how you set up your loading bench?
I want to reload 6.5 x 55 swed., 3030, 3006, 45, 9mm, 357. Yes it came with these and several more.
I am sure I will have more questions in the future.
Thank you,
Rick
almost forgot, 25 rem. also
12-26-2004, 10:47 AM
Join Date: Feb 2003
Location: Western up state NY in the USA
Posts: 259
RE: Reloading setup question
---
12-26-2004, 11:24 PM
Spike
Join Date: Dec 2004
Location: Oshkosh WI.
Posts: 19
RE: Reloading setup question
---
Here's how I set up my lee turret. Hope it helps. This is with the pro upgrade for the basic auto disc measure. It allows the measure to be easily removed for instalation on another turret for a different caliber.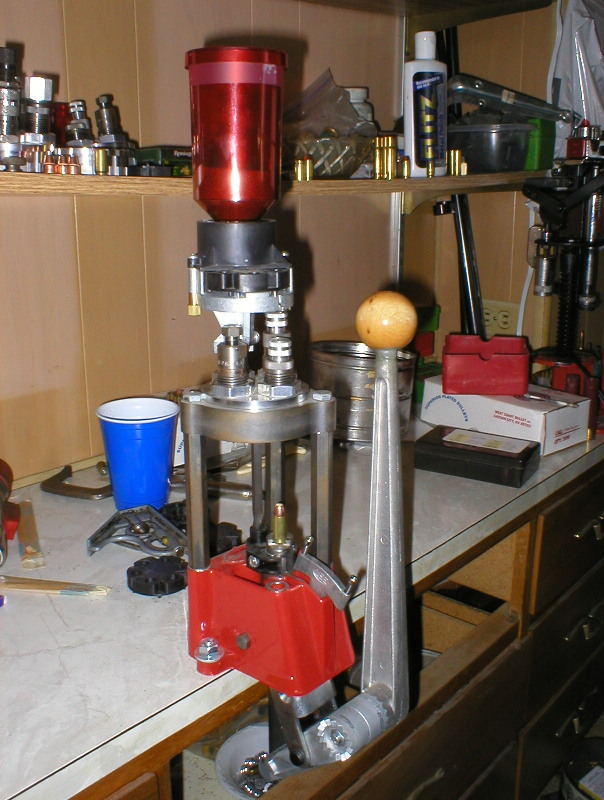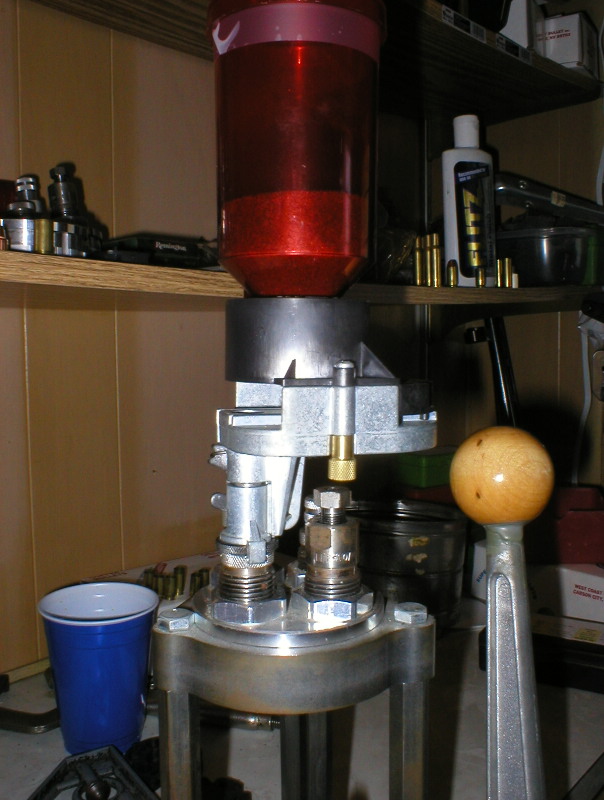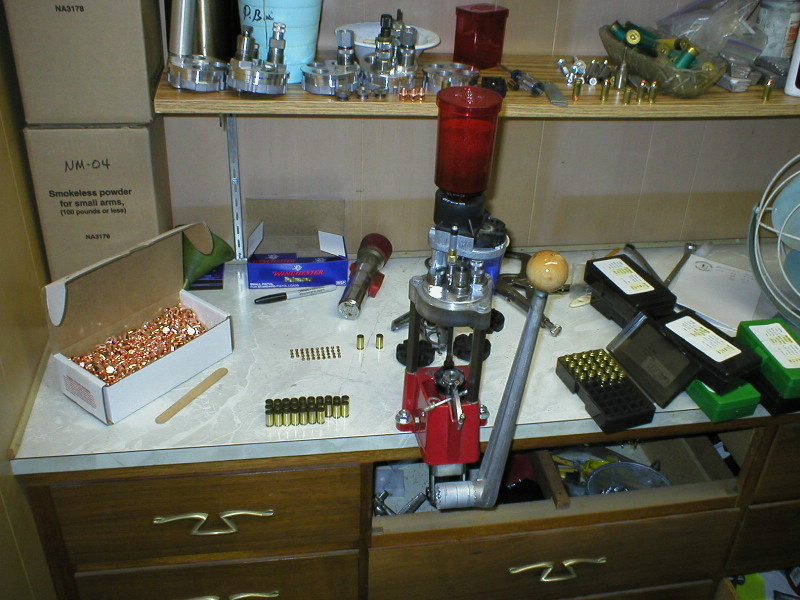 12-27-2004, 06:02 PM
RE: Reloading setup question
---
jp4, fastfire
Thanks.
The powder measure that is to fit on the press is much smaller than the one you show. What does yours do that this one does not do? I have two other ones that are seperate from the press also.
Did your press come with a complete setup book and parts guide?
Rick
12-27-2004, 07:43 PM
Spike
Join Date: Dec 2004
Location: Oshkosh WI.
Posts: 19
RE: Reloading setup question
---
Who, what, where, when, which way did he go??? Sorry couldn't resist!
I don't have the turret anymore, it got sold when I got my dillon 650. The powder measure you have is probably the basic auto disk. It requires that you screw the entire measure into the top of the powder-thru-expander-die. To do this requires that there be no other dies in the turret that are taller than the powder/expander die. The pro upgrade has a knurled nut that is free to turn and thread into the powder/expander die without having to turn the entire measure. It can be installed or removed without disturbing the other dies. The upgrade is available from Midway for $13.99,(
http://www.midwayusa.com/ebrowse.exe/browse
)
The beauty of the turret is that you can buy extra turrets to set up your dies for different calibers and leave them set up. One of the variables of handloading concerns the settings of the dies remaining the same from one loading session to the next. The extra turrets are $8.89 each,(Midway) to allow you to buy them for each caliber.
E-mail Lee and ask them for a instruction sheet for your turret, auto disk and anything else you have of their's. I'm sure they will send you what you want.
12-28-2004, 02:39 PM
Fork Horn
Join Date: Feb 2003
Location: Bar Harbor ME USA
Posts: 443
RE: Reloading setup question
---
Will the gentleman that sold the stuff help you out at all ? It might not hurt to ask him any of these questions. If that's not a possability then I'd check Lee's web site they may have the instuctions in a PDF file. Some companies do some don't.
Thread
Thread Starter
Forum
Replies
Last Post
Posting Rules
You may not post new threads
You may not post replies
You may not post attachments
You may not edit your posts
---
HTML code is Off
---