becareful(pics)
11-28-2006, 06:24 PM
becareful(pics)
---
cant get the video to play, sorry about that....
while you're out hog hunting.....was working today and got some excitement......
click on the video pic below and turn the volume up, you can hear it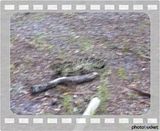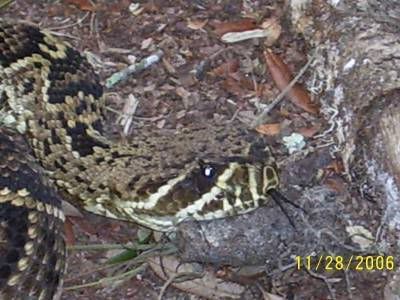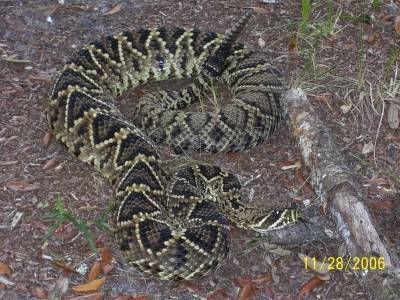 i got closer than i have in the past so i got some real good pics, but it was still scary, lol.......he was about 6 feet.....
12-03-2006, 07:20 PM
Typical Buck
Join Date: Feb 2003
Location: Stafford Virginia Stafford,Va
Posts: 593
RE: becareful(pics)
---
Thats a diamond back correct?
I was in Savannah in Sept and had an encounter while hog hunting Ft Stewart, I took video of my encounter, the Biologist at Stewart, a friend of mine looked and it and said it was huge for that area and it was a Canebreak Rattler. I filmed it because it was so load, I have pics plus the vid, Cant seem to post them I'll though
12-04-2006, 03:13 PM
RE: becareful(pics)
---
Hey Huntnma, I was up hunting a couple of weeks ago on my buddies lease in your area (west of I-95 on 192/Mormon Ranch) & I was wondering where you saw that big boy? Lots of airboats around there.
Posting Rules
You may not post new threads
You may not post replies
You may not post attachments
You may not edit your posts
---
HTML code is Off
---