New X-Bolt
03-31-2009, 04:59 AM
New X-Bolt
---
Just went ahead and ordered up a new Browning X-Bolt Hunter in 7mm Rem Mag... I should have it by Wed. Putting my Leupold on it.. Traded in a couple of other guns... worked out well.
My first Browning rifle... Can't wait.


03-31-2009, 05:30 AM
RE: New X-Bolt
---
I was reading some other posts from awhile back and it looks like many people don't like the looks of the new XBolt vs. The ABolt... This is my first Browning rifle... IPERSONALLY liked the look & feel of the XBolt over the ABolt..



03-31-2009, 02:47 PM
RE: New X-Bolt
---
Congrats on your rifle purchase. My brother has an X-Bolt and I just got my A-Bolt. The X just didn't fit me quite right, although I will admit that it has a little better trigger than my A bolt. I like the choice of the Leupold on it too. Here is a pic of mine and my bro's side by side, they are both Medallions. Post pics of yours when you get it!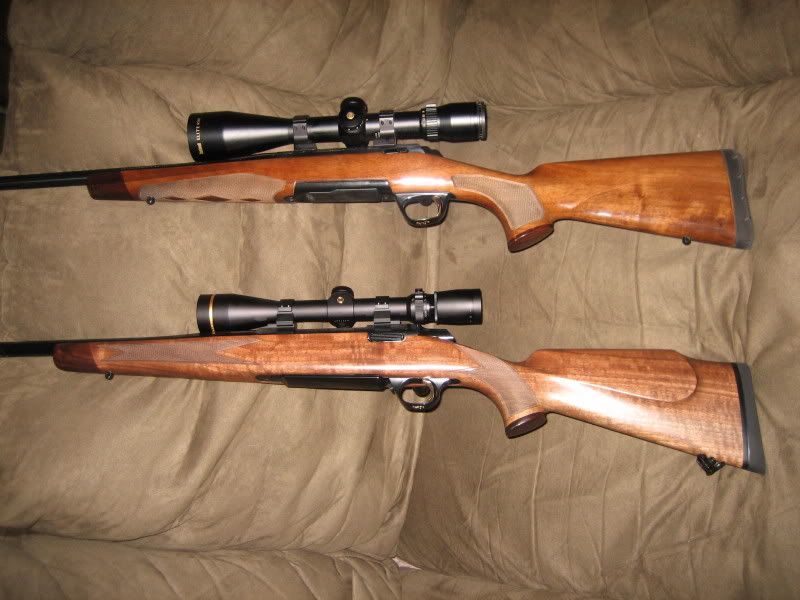 04-06-2009, 01:47 PM
Nontypical Buck
Join Date: Feb 2003
Location: Clermont Florida U.S.
Posts: 4,970
RE: New X-Bolt
---
I just picked up an X-Bolt in 300 WSM. I chose it over an A-Bolt and a Tikka Deluxe. They were all nice, but I've had the others so... The trigger on the X is better than the A Bolt (IMO) and is user adjustable +1. The recoil pad seems to be a soft squishy gel type +1. It's bedded and the barrel free floated. +1. It does have a polymer mag (so does the Tikka), but it fits better than the A bolt that I was comparing to. Tikka's one size action was a -1 to me as I wanted a true short action. The bottom line is I decided to try the X Bolt. Not sure about scopes yet but I may get daring and try a compact Nightforce NXS 2.5-10 X 32. It is a dandy. Just not sure I want to spend that much cash. We'll see.
Thread
Thread Starter
Forum
Replies
Last Post
Posting Rules
You may not post new threads
You may not post replies
You may not post attachments
You may not edit your posts
---
HTML code is Off
---