Which small caliber Savage to get?
08-13-2008, 08:29 PM
Fork Horn
Join Date: Sep 2004
Location: MD
Posts: 272
Which small caliber Savage to get?
---
I'm in the market for a varmit/paper target rifle. I've decided on a Savage but just can't decide which model or caliber. Need some advice.

I'm on the east coast so the 500yrd+ shots are few and far between, lucky if you can find a range for 300yrds.

Looking for a fun rifle to paper punch at long distances at the range but ability to pack through the woods for Fox, squirrels, crows, and if it permits coyotes.

I was thinking about a .204 but know I'm also thinking .17, .223, or even the .22-.250.

I love the looks and features of the Model 12 BTC SS but the thoughts of packing a 10lb gun around the woods doesn't sound fun.

Any suggestions?

08-13-2008, 09:09 PM
RE: Which small caliber Savage to get?
---
not sure on which model but personally i would go with the .22-250. u cant beat it. its fast and has a good bit of knockdown power. As for the .17 its really good but sometimes it travels so fast it disentigrates upon impact hardly doing any damage. .204 is good but i dont think it beats the 22-250 or 223. if you can find it the 220 swift is pretty much the fastest gun on the market besides the 17 fireball, which is a 17 bullet into a 223 casing. But overall i would go with the 22-250 or if you can the 220 swift.

Good luck
Colten
08-13-2008, 09:11 PM
Nontypical Buck
Join Date: Feb 2003
Location: Western Nebraska
Posts: 3,392
RE: Which small caliber Savage to get?
---
Cartridges that are good for such things as fox, and crows aren't necessarily great for squirrels,....that is unless blowing them to smithereens is the goal......and that's not all bad as some of them are extremely tough and not worth the cooking!

I've tried a lot of varmint rounds and have settled on the .223 as the best of all.....it can be immensely accurate (the Savage is the right gun too) and with 40 grain bullets it will make crows explode like a hand grenade was planted in them!

One can shoot heavier bullets for a bit more wind bucking in longer shots too.......Out to 300 yards it'll amaze you how good it is and it's likely you will see many groups at that range to consistently hit targets the size of hen's eggs or a bit bigger.

It's cheap to shoot as brass is easy to find and it won't burn a lot of powder.......224 bullets are also plentiful and Midway has some varmint nightmares that are very cheap and work great.

The .223 is a darn hard to beat round!!!

08-13-2008, 09:42 PM
Typical Buck
Join Date: Jan 2008
Location: kentucky
Posts: 577
RE: Which small caliber Savage to get?
---
If you dont reload the 223 will serve your needs a lot cheaper,it doesnt have quite the range of the mighty .220 or 22-250 but like you said for varmints at 300 yards the 223 is plenty and a lot cheaper.and savage is a good choice there are several rifles that would do.
08-15-2008, 07:09 PM
Typical Buck
Join Date: Feb 2003
Location: Hickory NC USA
Posts: 964
RE: Which small caliber Savage to get?
---
For 300 yd I would go with the 223,if you reload or factory you will come out ahead.I have a 10fp in 223 and it has a 1:9 twist.It shoots from 40 gr bullets to 75 gr bullets.So if you have the chance to shoot farter than 300 yds it will work.
I also have a savage 22/250 which has a 1:12 twist,so it wouldn't shoot the heavier bullets.I think now they have a couple models that they do offer different twists in.
Both have varmit barrels but the 10fp is much lighter to carry.
I gave a little over $400 for the 223 years ago and over $600 for the 22/250.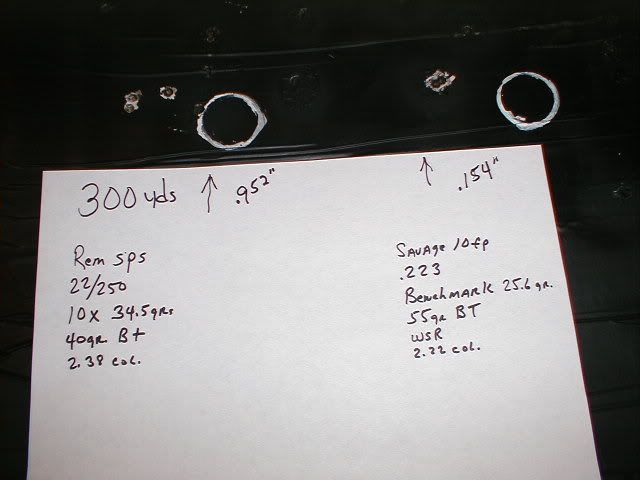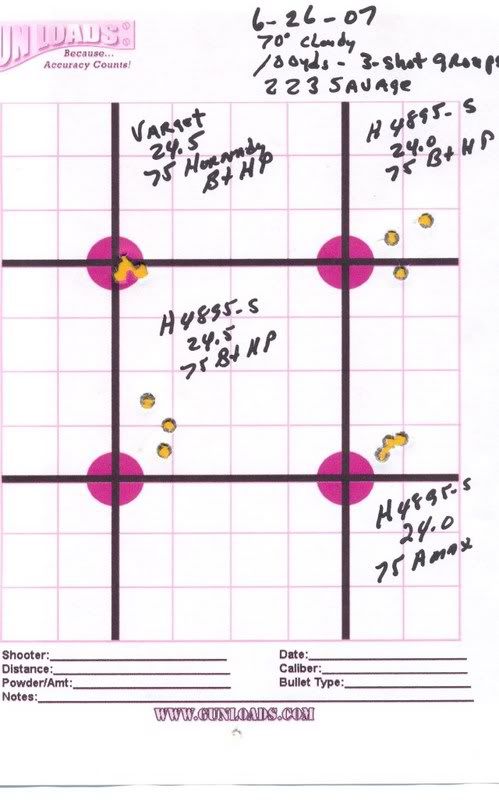 Thread
Thread Starter
Forum
Replies
Last Post
Posting Rules
You may not post new threads
You may not post replies
You may not post attachments
You may not edit your posts
---
HTML code is Off
---