Whats wrong with people?
08-18-2005, 07:45 PM
RE: Whats wrong with people?
---
Man, I feel bad for people who end up in a hard spot and then have people basically abandon them. I am not technically disabled, but very easily could be, had things not gone the way they have. My kidneys failedon March 10th of 2003. I was on Dyalisis until March 31st 2004. My best friend gave me a kidney on April 1st 2004. The main friends I had before my kidneys failed, I still have today. That was only a few in the first place. I knew a lot of people, but few I could truly call my friends. We would go do things every now and then, but usually that would be with someone else. My 5 friends are my friend Brad who gave me a kidney, my friends Audra and John, who were my roommates the entire time I was on dyalisis, and who would help me whenever I needed it, and my friends Matt and Chris who are brothers, and will usually jump at the chance to go hunting, fishing, or play at the lake whenever we can. I have known everyone for at least 6 years, and they have never betrayed me or let me down.

You will come across those people after time. Most people are scared of what is to come. My friends know of my situation, and know what can happen, and know what to do if something does go wrong. Stay strong, and keep up your hope. As of my typing this, I have not checked out that website, but I surely will.

Marcial
08-19-2005, 06:09 AM
Typical Buck
Join Date: Feb 2003
Location: Hickory NC USA
Posts: 964
RE: Whats wrong with people?
---
Can not answer your question but I know first hand how you feel.I am 64 have had a by-pass because of an anurysm in my stomach that cut the blood supply off to my legs,can walk now good but not able to go like I used too,Had a bad heart attack 3 years ago at home by myself and survied that.I live by my self and so far still have friends because I can still take care of myself,but as I get older and more disability I know that the friends will drop off one by one.Seen it happen to many times.
The reason I know this is that my wife had a cebrel anyursym 14 years ago,she has been in a nursing home the last 5 years.I have watched as her friends and even her family (all are dead now except one sister,she has been to see her 3or4 times in the last 14 yrs because she says she don't want to see her in her condition)And my family used to come see her regular but (have a big family all living except my Dad)none of them has been to see her in years.Some times I will meet one of her old friends and they ask how is Judy doing,I don't say anything but feel like saying ,she was your friend why don't you go see her and find out.
My heart goes out to any one with disabilities.And friendship to me isn't based on yours or my disabilities,its based on being Friends.I feel honorard to be called friend.
I don't live close enough to any of you that we could go hunting or fishing together,if I did one of us might die on the other but I guantee we would have a good time up to that time if it did happen.
Wish ALL the BEST
08-19-2005, 06:43 AM
Typical Buck
Join Date: Feb 2003
Location: Hickory NC USA
Posts: 964
RE: Whats wrong with people?
---
Jimmy and others wanted to show you these pic's of some disabled having fun.I have been helping the staff at the nursing home where my wife is to take some of them fishing twice a year.We fish,have a picnic and if they catch some I clean the fish and a lady there frys them for them to eat after we get back.
Wouldn't trade all the money in the world for ONE of their smiles and the time we share together.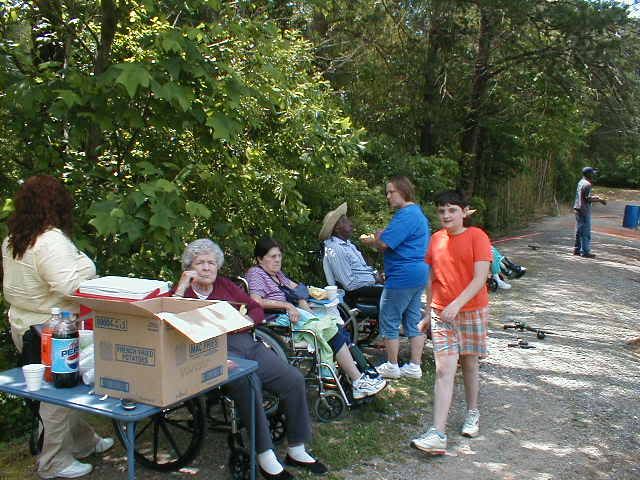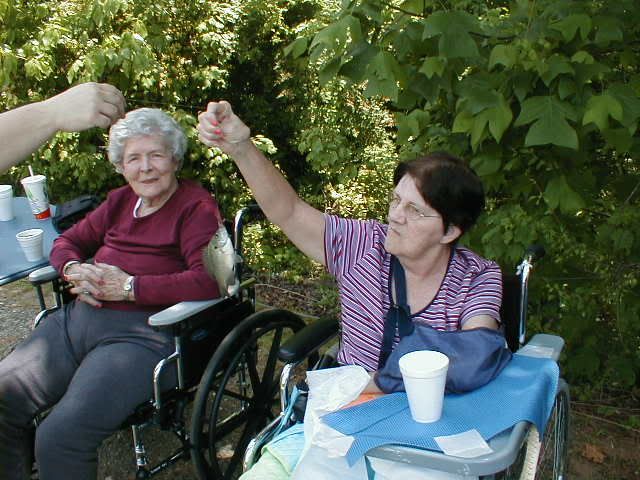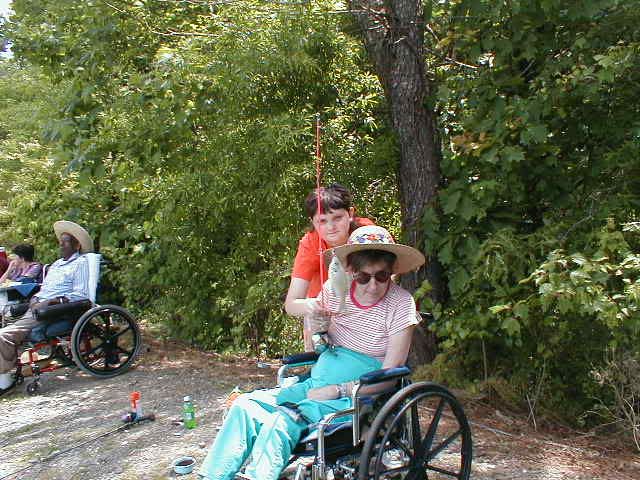 08-19-2005, 12:32 PM
Join Date: Aug 2005
Posts: 6
RE: Whats wrong with people?
---
If I may enter into this conversation, I am also a disabled hunter. I am still able to draw a bow, and to walk in a bit, so i stil go. I hunt alone most of the time, since a lot of the guys I used to hunt iwth, don't go at my slow pace, or hunt on much steeper ground.
I think that someitmes, people don';t wnato hunt iwht us because they don't hink we can keep up, or that we have a role to play in the overall hunt.
I hunt the flatter areas, and don't walk in as far. I take the stands at the perimeter of our area, and have the young guy install the stand for me. I can get into it myself.
I don't think having one if us die on them is the issue. They just don't want ot have us slow them down.
08-21-2005, 07:42 PM
Fork Horn
Join Date: Feb 2003
Location: rockford mi USA
Posts: 135
RE: Whats wrong with people?
---
Thats it horrible that nobody wants to take you hunting. My sisters boyfriend is in a wheelchair and we just recently started taking him deer hunting and he loves it. We are also getting into a wheelchair sportsmen organization and it is great we have a get together in september and I cant wait. It is great to see the people their and how much they love to hunt.
08-25-2005, 06:31 AM
Join Date: Aug 2005
Posts: 3
RE: Whats wrong with people?
---
what's up bro?i had my back broke in 1987,that was a bummer,but anyway i was lucky enough to have a buddy that wanted me to go fishing with him bad enough that he helped me get out to the lake and get comfortable so i could fish.we didn't catch a lot but we had fun,he moved to kansas and i haven't heard from him in some time,but i wish i could tell him how much that meant to me.now on the other hand i just messed my back up again in june,and all the so called good buddies i had have quit comming around or calling except one and he is disabled.these are guys i work with or see on a weekly basis,that really sucks.i wonder if they know how much that hurt?guess i will never know.my buddy that is disabled said not to worry we will find a way to get to the woods and get a couple of deer this year..well we ain't never let each other down yet and i don't intend to start now.god bless you brother and i hope you have many more deer hunts before godd says it's time.if you need to talk call me.my number is 864-294-6352 i am here all the time.
08-31-2005, 05:12 AM
Nontypical Buck
Join Date: Mar 2005
Location:
Posts: 1,186
RE: Whats wrong with people?
---
Jimmy if you are around here in Va. send me a pm I will be more than happy to hunt and fish with you I dont get around very good myself but you find out who your true freinds are when the sh%@ hit the fan. and I mean it if you are around Va. pm me the fun awaits us both. peace and good will to you my new freind

chuck
09-07-2005, 12:24 PM
Join Date: Feb 2003
Location: Houston Texas Houston, Tx.,USA
Posts: 1,234
RE: Whats wrong with people?
---
I am only hearing impaired...nearly deaf.....I have a VERY few friends thatI hunt with. They understand I cann't hear the B.S. that is talked at the camp fire.....but they still make sure I feel welcome! Aint that the best part of the hunt!
A lot of folks will avoid you, me and others, not because they don't know how to handle things...or are scared....it's mostly LAZY!!!!!!! We have to bust our rears to do what we want to, and will probly give them any and all the help we can when they need it.
Some one will walk into our life that will push your hunting and fishing to a level you never imagined!
Good luck to ya, now go out and enjoy!!!!!!!!!!!!!