Done in Missouri!
04-27-2009, 10:38 AM
Done in Missouri!
---
After a tough weekend chasing birds and some really close calls, Skyler and I decided to slip into the spot I now call "The Honey Hole." This is a little hidden field where Skyler killed his bird last year and where Shawn and I doubled earlier this season. It is also not too far from where Dan Richardson, our field staff membership turkey hunt winner killed his bird last year. It seems that any time we spot birds using this patch of timber, we can almost always get on them in the morning. So when Shawn and I watched a gobbler roost there a couple nights ago, we knew that he was killable. The weather was nasty…rainy and windy but it didn't take long before we heard the gobbler sound off. He only gobbled twice before he flew down at very first light. He must have been tired of being in that tree all night! He flew down into the big field (the opposite direction from us) and we heard him gobble only a few times before things got quiet. Skyler and I sat there messing around, taking pictures and being bored for a couple hours, calling every 15-20 minutes without getting any response. I had just kicked my boots off to let my feet breathe a little when I spotted the big gobbler coming from the right. He was about 100 yards away when I first spotted him and he was quickly strutting towards us with a hen following behind him. Surprisingly, he came straight to the decoy, squared up with him, and gave him the spur. The hen that was with him quickly gained some distance from the fight and sat back watching. When he turned, I quickly drew then sat there watching as he circled around the decoy and began to peck its head. There he stood, at 20 yards just bouncing that decoys head like a basketball while hiding behind the decoy, not offering me a shot. After holding back for almost 2 minutes, I decided I had to either let down, or shoot for the base of the neck. I decided to aim for the base of the waddle and release. The arrow smacked him right in the chest, just right of his waddle and knocked him backwards flipping through the air. He landed on his feet, and bolted to the woods where he piled up shortly after. I couldn't believe how aggressive this bird was, seeing that he had his own hen with him when he came in. I have never had to hold back that long on a turkey, but I'm glad I did because he put on one heck of a show! He was a good bird: 23lbs. 1" spurs and a 10" beard. The honey hole proves itself once again!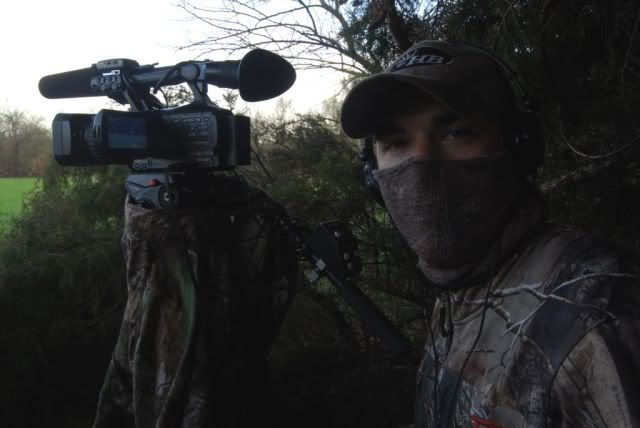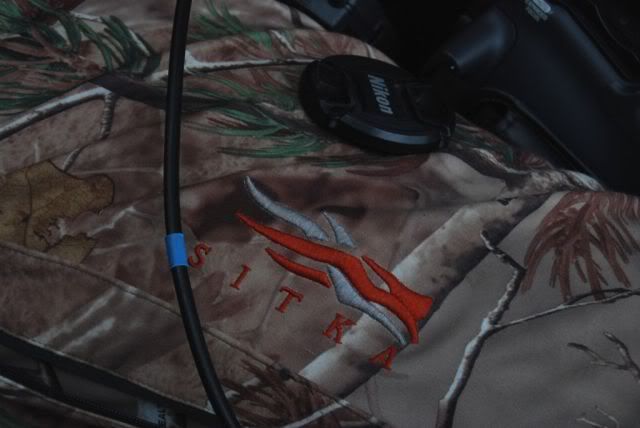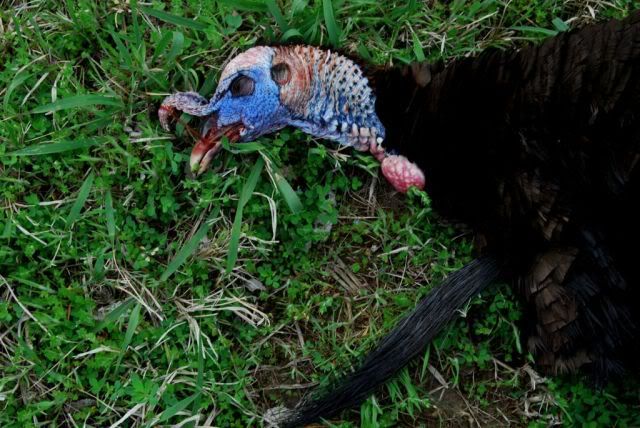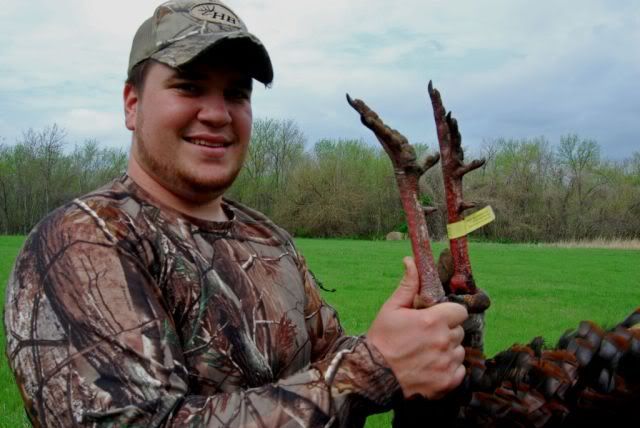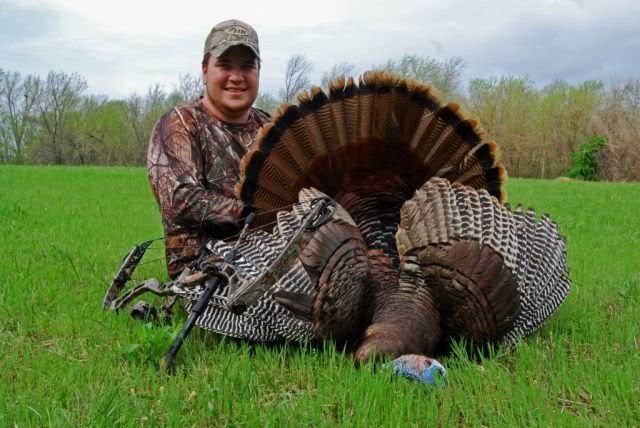 04-27-2009, 02:44 PM
RE: Done in Missouri!
---
ORIGINAL: Steven McBee

congratulations michael! how many birds have you gotten this spring, and are you going anywhere else to hunt?
I have shot one in Nebraska and two in Missouri. I might be going to Kansas in a little while...
Posting Rules
You may not post new threads
You may not post replies
You may not post attachments
You may not edit your posts
---
HTML code is Off
---