Funnels
09-25-2007, 05:21 PM
Join Date: Sep 2007
Location:
Posts: 61
Funnels
---
I feel silly asking this, but I still can't figure it out. I have been hunting since I was 7 years old and I am now 24...however I still don't really know how to recognize a funnel. Everytime i think i have it figured out the deer don't go through the area i think that they will. I have read the articles and magazines, but I think i must be missing something. If anyone can "dummy" it down for me I would appreciate it.
09-25-2007, 05:41 PM
RE: Funnels
---
think of a funnel as a bottleneck(also called bottle necks
) anything that will choke down deer movement be it terrain, cover, deep nasty rivers deer arent likely to cross, wide open fields, etc etc...
some of my favorite funnels are thin strips of woods...come the rut, thats right where i sit. one spot in particular i pretty muhc only hunt during the seek/chasing phase of the rut. sometimes it holds a buck..others it dont. but it is home to a handful of does and is TINY at one point...maybe 15yds of woods. field behind me and a 40ft cliff face to a creek. sure, ive seen them go through the field...but 95% of the time they are going to cruise that strip of woods.
alot of things will funnel deer. a high fence that has a hole in it or a section missing...a saddle(low spot) on a ridge top, etc etc....just gotta think like a deer. if i were a deer i wouldnt run the wide open fields and i sure as heck aint going down a 40ft cliff...
2 bigger woodlots connected by a small strip of woods or a hedgerow is always good...
thats a start...theres tons of examples out there...
09-25-2007, 05:49 PM
Join Date: Sep 2007
Posts: 42
RE: Funnels
---
Depending on what type of terrain you hunt google earth or local.live can be of tremendous help. If you are hunting very flat land it is a little less beneficial but in PA with all the hills, ridges, creeks etc it is unbeliveable how much google earth and locallive works for us. We use both because different areas show up better on one or the other. We always scout the area on foot for sign, then get a good aerial shot from one of the two sources above and trace all the sign on to the map. Once you done this you see good patterning of the deer on your area as well as funnels and pinch points. We take it a step farther and mark in where we see deer through the season, what time we see them and weather conditions and it becomes a great tool each year. It is way easier and inexpensive now that satellite imagery is available and easy to navigate. Good luck.

JMO

09-25-2007, 08:37 PM
RE: Funnels
---
Even if you do find a great funnel, not every deer in the area will use it. Prime example I cut a hole in a barbwire fence in a low spot at the edge of a field about 15 yards from my stand and alot of deer use that rather than jump the fence, mainly does and young ones. I have yet to see a mature buck go through it other than on my trail cam. I have seen them come up to the fence right there and check out whats in the field, then turn go down the fence about 35yards and cross. It seems to me that the bucks can see everything in the field from that spot while only exposing their head, and they cross at a high spot but is extremely thick with briars and locust trees. A funnel is anything that narrows down the travel route of deer, it can be a low spot in a fence, creek crossing, brushy fence line that cuts across a field, just about anything.
09-25-2007, 10:04 PM
RE: Funnels
---
Here's an example of a funnel. Two woodlots, one being a prime bedding area connected by a hedge row. The deer walk the field containing my food plot as well as the cover on the other side of the hedge. Again, you can see why my stands are placed as is and have been very productive.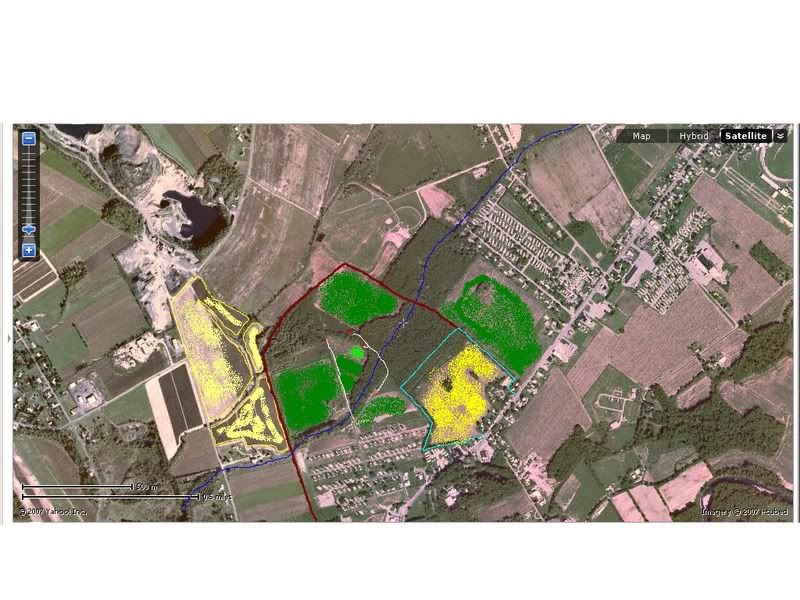 Thread
Thread Starter
Forum
Replies
Last Post
Posting Rules
You may not post new threads
You may not post replies
You may not post attachments
You may not edit your posts
---
HTML code is Off
---