homemade targets
11-01-2006, 09:48 PM
homemade targets
---
have any of yall made yalls own target ?i was just curious and i was also lookin for any ideas that maight help me make mine ...thanks i w'd appreciate any piks of setps as well ...




,thanks brandon

11-02-2006, 12:41 AM
RE: homemade targets
---
Find any and every old T-shirt, wal-mart bag, grocery sac that you can, go to the local feed store and ask for burlap bags(which most of the time they are more than happy to give away) then stuff it with everything you have. Take it back to the store, have them sew it up(or just staple gun it), and you have yourself a field point target. For broadheads, go to Wal-mart and buy a $10 styrophome target to get your sites on and you're good. Blocks and all that are good, but for basic purpose, you don't need that.
11-02-2006, 02:28 AM
Join Date: Aug 2004
Location:
Posts: 109
RE: homemade targets
---
here ya go .

get a coffee bean bag there about 3 feet by 3 feet big .. now scrunch up plastic shoping bag thay u get and keep filling it intill u can;t get any more in it and so it up and your all set it works awesome.!

good luck

11-02-2006, 08:16 AM
RE: homemade targets
---
i made on last night that i will post piks on here later afterskoool i made it out of a card board box of an ac....i use it as a one side shooting target but thats good enough for 0 dollars spent i shot one arrow in it and it seemed to hold up reall well ..................
i got alot of my old clothes in at the first layer taking up about 5/8 of the box and then i put grocery bags and trash bags for about 1/8 then i put carpet at the end for real stopping power .....im just beggining though so any help or ideas would be greatly appreciated....oh yeah do yall have any piks


11-02-2006, 08:29 AM
RE: homemade targets
---
11-02-2006, 08:33 AM
RE: homemade targets
---
Here is a pic of my home made target. The arrow sticking out was tiped with a 145 grain muzzy shot from a 70 parker bow. There is a thread out there with all the materials, etc. Try a search if interested. If you can't find it, let me know.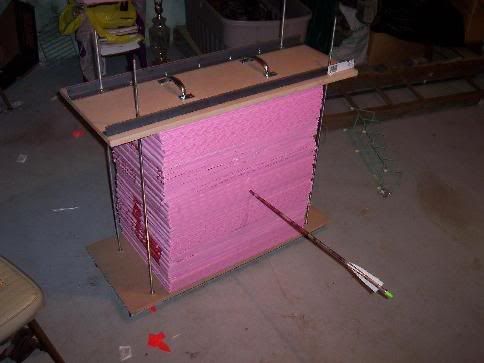 11-02-2006, 08:59 AM
Nontypical Buck
Join Date: Feb 2003
Location: Harford Co Maryland USA
Posts: 4,966
RE: homemade targets
---
Go to the feed store and ask for a "plastic burlap" bag that they now use to replace the original burlap bags. They sell them here for 10 cents apiece, but they will usually give you a couple for free. Next, ask for the plastic wrap that the pallets came wrapped in - they throw this stuff away and I got mine out of the trash cans. Stuff the burlap bag as full as you can with this stuff, tie off the top with some string and you now have a free target. I've been using mine for over two years and it's still in great shape - field points only for this target.
11-02-2006, 09:40 PM
RE: homemade targets
---
I have made three targets for my 70# matthews bow to shoot at. One was in an old potato(burlap) sack, and I stuffed it full of paper. you could anything, newspaper, saran wrap, grocery bags, whatever it may be just make sure its smashed together like crazy. I used a ratchet strap to keep mine soid, and it worked great! It would stop arrows from my bow at 10 yards, and they were simple to pull out. But then the sad day came and the sack wore out...
So, I had my mother sew a piece of tyvek(the stuff used to rap the exteriors of houses in) into a sack, this stuff is really strong and almost rip resistant. I did the same thing and stuffed it full, except this time Iused a thick piece of string to sew itup nice and tight.
I also made one that is out of cardboard, and inside it, more cardboard...
It'sreally easy to makeI just keptdropping inthe cardboard till the box was full. ButI don't use it unlessI'mpracticing at 40yds or more,because it is apain in the behind to pull the arrows out of!
Our local archery club uses big ole tyvek bags(like 4'x4'x4') and they have local grocery stores and beverage places throw the saran wrap used to package things in the bag, andwhen it's full they tie it up and set itup at the course, it works great! they are so easy to pull out.
I'll post some pics of my targets tommorrow.
11-02-2006, 09:48 PM
RE: homemade targets
---
well this weekend i was probably gonna make about 2 targets out of cardboard the good thing is that i only have 50# dw so its easy to pull the arrows out......i really like the idea that both bob co and r33h had thats something im goin to do in the future
Posting Rules
You may not post new threads
You may not post replies
You may not post attachments
You may not edit your posts
---
HTML code is Off
---