Rage Hypodermic
09-25-2014, 09:18 AM
Spike
Join Date: Aug 2009
Location: Southeast Missouri
Posts: 67
---
The main difference that rage told me to look for, was when you get your broadheads the package should be heat sealed. Mine came in actual packaging, but the edges had never been sealed. It would just open without having to cut it open. Also if you look at the section just above the threads. On a legitimate rage hypodermic there is just one section before you get to the shock collar. On the counterfeit there is an extra ridge in this smooth area before the shock collar.
10-07-2014, 06:45 PM
---
Originally Posted by
gamsmith
Just received mine yesterday. Plastic packaging wasn't sealed around the edges like they always are, and two of the heads were held in their slot with scotch tape. I got on Rage's site and there is a notice on their front page about counterfeit Rage's being sold on eBay and other sites (I bought mine on eBay). I called the company and asked how to tell if mine were fake. After many emails back and forth with company I found out they are in fact fakes. Everything looks completely authentic and real. Be careful where you order these. This seller on eBay is a very highly rated seller, so I'm not saying he sent fakes on purpose or maybe he bought them as fakes and didn't know it. I will be sending these back to seller and buying direct from Rage. Ten dollar savings isn't worth getting a knock off that will likely break or even not deploy right on a deer.
Were these the Hypodermics? I got the knock offs last year and didn't have any problems with them at all. They shot great and deployed perfectly. The new hypos are defanitely Rages.
10-09-2014, 02:11 PM
---
Shot a doe with them last night, Hard angling shot, broke three ribs, and had about 18" of penetration. I'll throw a picture up late. I was completely satisfied with performance on them.
-Jake
10-09-2014, 05:48 PM
---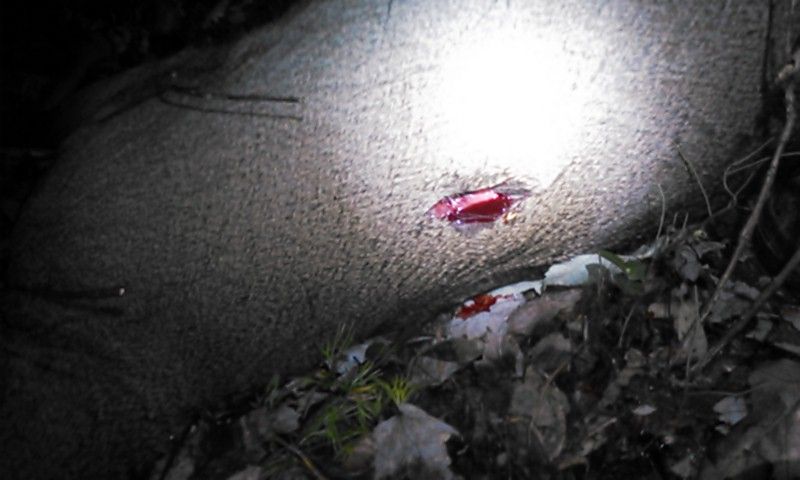 It was a hard quartering shot, almost right below me. So I aimed high on the deer to catch the vitals on the way through. Broadhead broke 3 ribs on the way in, hit both lungs, liver, into gut and just poked through the bottom of the deer. About 18" of penetration I think. I was really happy with how they performed.
-Jake
Posting Rules
You may not post new threads
You may not post replies
You may not post attachments
You may not edit your posts
---
HTML code is Off
---