Wildview Extreme 2
10-06-2006, 10:39 AM
Fork Horn
Join Date: Dec 2004
Location: west central WI
Posts: 227
Wildview Extreme 2
---
Does anyone have one of these with some time on it? This seems like a great camera for a VERY reasonable price. Around $80 for a 2MP camera that takes nice pics. I believe a 4 second trigger time. I'd gladly take the slower trigger time (most of the time) for a chance to purchase 3 cameras for less than one of my Cuddebacks cost!
10-06-2006, 06:55 PM
RE: Wildview Extreme 2
---
I have one that I have been using since May. It does have a slow trigger but it takes pretty good pics. Very few false triggersaslong as it is facing north or south.
Here are a couple from earlier in the year.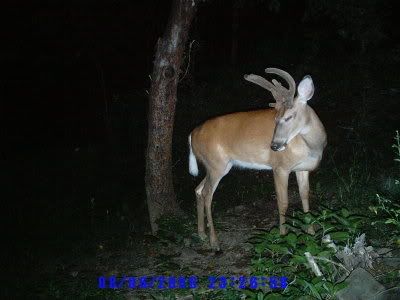 10-09-2006, 07:19 AM
Fork Horn
Join Date: Dec 2004
Location: west central WI
Posts: 227
RE: Wildview Extreme 2
---
OK, I went and bought one of these this weekend. I took and strapped it to the same tree with my Cuddeback Excite. I was VERY careful to point them both the same direction and aim them both on the same "plane."

Conclusions. Almost every one of my Excite pictures are PERFECTLY centered. No garbage. I had about 25% of my Wildview 2 pictures blank. The Wildview has a 4 second trigger. If I walked very slow I was in the picture.

The positive of the Wildview is that the sensor has a much wider field of view than the Cuddeback. Though the trigger is about 3 seconds slower the unit would go off only about 1 second after the Cuddeback. Still in some cases it was too late.

Picture quality also goes to the Cuddeback. The Wildview was definitely more grainy. Still a pretty sharp image of the object (me), but not super sharp like the Cudde.

So I returned the Wildview. I am very anxious for the next couple years. I'm certain that we will have $75 cameras that perform as good or better than the 1 second trigger $300 Cuddebacks that we have now. We are already very close with the Wildview.

10-09-2006, 08:46 PM
Nontypical Buck
Join Date: Feb 2003
Location: Delhi, NY (by way of Chenango Forks)
Posts: 1,706
RE: Wildview Extreme 2
---
I just happen to have a new Ecite and Wildview 2.0 MP camera. I was going to make a new post on them, but this post should work.

I got the Excite after returning a worthless Stealth. I wish I had read chasinggame.com first. If so, I probably wouldn't have gotten it. I can see the problems they had happening with the came - we'll wait and see. The camera has worked ok so far. It has been hard to get it set up properly - always seems to be too high?? It also hasn't taken as many pics as I thought it should - my other camera was set up in same general area and got more pics. Pic quality is good.

The Wildwiew has been a pleasant supprise. It has taken many pics and is still running on my 12 V battery pac (leftover from my painful stealth days). Trigger time is adequate. I have been having trouble getting this set up correctly also - can't get it high enough - it's at 4.5' now. Pic quality is decent, however some pics are washed out - not really sure why (different times of day/nite). Overall I have been pleased. Pleased enough to get another ($99 at Gander Mt. with rebate - came with 128 mb card, 4 batteries, & camo decals.

10-10-2006, 06:57 AM
Fork Horn
Join Date: Dec 2004
Location: west central WI
Posts: 227
RE: Wildview Extreme 2
---
I had both of mine mounted about 3.5-4' off the ground during the tests. The cudde is definitely a narrow motion sensing beam. The deer has to be right in front of the cam for it to go off.

I'm also nervous of the Cudde after reading the chasinggame site.

Wildview Extreme 2 is $79.99 at Menards after $10 rebate. Hudson, WI.

10-10-2006, 01:32 PM
Fork Horn
Join Date: Dec 2004
Location: west central WI
Posts: 227
RE: Wildview Extreme 2
---
A side note worth mentioning:

The wildview case / camera construction is MUCH MUCH better than Cuddeback. Toggle switches that are simple to operate and fast. You can program this camera in seconds. Batteries are easy access also. Cudde is horrible to program and batters on the 06 are nearly IMPOSSIBLE to change while the unit is fastened to a tree.

Battery life on the Wildview is also said to be very good.

10-11-2006, 08:53 PM
Fork Horn
Join Date: Apr 2004
Posts: 381
RE: Wildview Extreme 2
---
I've tested both the Wildview and the Xtreme II. The flash quit working on the Xtreme after 3 months. The folks at customer support were real nice and it sounded like this may be a common problem. Cabela's gave me my money back.

The Wildview has been working since around last November but my last batch of picture consisted of 85 pictures of nothing but weeds. Since this cam does not have day and date I don't know how long it did this but I think it was over a couple of days. I also suspect that the flash may have quit working on this one as well. It's hard to tell because the flash is so weak that it often looks like the flash didn't go off, but it just didn't light anything up.

The toggle switches on these two cams were easy to use but were very cheap. After a while they did not work correctly.

You can read my complete reviews of these two cams and others at the website below.

Thread
Thread Starter
Forum
Replies
Last Post
Posting Rules
You may not post new threads
You may not post replies
You may not post attachments
You may not edit your posts
---
HTML code is Off
---