Best Elk Stories Thread
03-23-2007, 07:35 AM
Fork Horn
Join Date: Jan 2005
Posts: 111
Best Elk Stories Thread
---
OK, this is bad.....I have the fever for elk hunting already and its only March.
Come up with your best elk story and post it here.....Hopefully this will satisfy me and others like me for a while...Either that, or it will make the fever worse
03-23-2007, 09:47 AM
Giant Nontypical
Join Date: Feb 2003
Location: fort mcmurray alberta canada
Posts: 5,667
RE: Best Elk Stories Thread
---
My most memorable elk hunt took place when some friends and I travelled to a completely new area.We really did not expect to kill an elk as it was primarily a scouting trip.However on the second day myself and a friend found a very heavily used bedding area on the edge of a large parcel of timber bordering two agricultural fields.We waited at the edge of a large cutline about 100 yards from the edge of the timber in the hope that we could ambush some elk going to the fields to feed.Just before dust,a small heard of elk came out of the timber and headed down the cutline toward one field.Six cows walked past at 100 yards but the bull would not leave the timber.I called several times and he came to edge at about 200 yards, but would not give us a clean shot.We returned at first light and when I bugled,the bull strolled out of the timber,onto the cutline about 800 yards away but would come no closer.We tried to sneak through the timber to close the distance,but when we were about 600 yards away ,he walked back into the timber.We went for dinner and returned in the late afternoon.As we walked towards the place where we planned to sit for the evening,I bugled.Immediately the bull stepped into the cutline directly facing my friend at about 65 yards.My friend had never killed an elk,so I wanted him to kill this bull.Unfortunately my friend did not have a round in the chamber so he froze.As he and the bull stared at each other,I realized that if we were to take this bull,I would have to shoot it.At the shot,the bull trotted off a few yards then fell dead.We cleaned and quartered the bull,and went to get our other partners to help carry out the quarters.A simple scouting trip turned out successful because we were patient but persistant,and my friend learned to keep a round in the chamber when walking to and from the hunting area.
03-23-2007, 10:15 AM
Fork Horn
Join Date: Jan 2005
Posts: 111
RE: Best Elk Stories Thread
---
That's a good one.
My most memorable didn't even involve the harvesting of an elk. It was a few years ago, when my hunting group of four decided to quit paying otufitters when there's all this public land out west. After a ton of research, we decided on the Idaho sawtooths. Drove to Idaho and packed in two days before the hunt. Got set up and just realxed, taking in the amazing country.

The first day of hunting is when we realized that we made a critical error in setting up camp. We camped by the stream and had to cover about 2500 eertical feet every morning to get to a good glassing point.
We got to the top and it wasn't long until I spotted a nice bull across the drainage. I decided to wait until evening and spent the rest of the afternoon getting into a better position for a stalk. Towards evening the bull appeared with about 15 cows and was still a half mile away. The only problem was that there was all open country between us.

Sooo, I brought out the trusty topo map and plotted a roundabout way to get to him. It was a long strenuous climb in some areas so I decided to leave my pack (with mywater) where I currently was. Another mistake.
Finally got to the place where he was and it was smelling real "elky". Suddenly, I noticed cows all around me....I dove into an old blowdown until they calmed down and continued my stalk....scanning every thing. Then I saw a weird looking branch...then it moved!! It was the bull and he busted off through the woods, shearing saplings as he ran. He was huge.
I followed him to the edge of the gutter where he disappeared and I heard a few bulls bugling across the drainage. It was the most surreal place I've ever been at. I knew I blew my chance, but just sat and listened until dusk.

Like I said, although I didn't get an elk that time, I will never forget that experience. My first backpack hunt and a close encounter with a herd bull.

03-23-2007, 10:35 AM
Join Date: Aug 2004
Location:
Posts: 309
RE: Best Elk Stories Thread
---
I went turkey hunting and came home with a cougar. Long story short, we were driving back from a morning turkey hunting and a cougar crossed the road. We stopped grabed the coyote rifles and found him in a tree and dispatched him.
03-26-2007, 02:17 PM
Spike
Join Date: Feb 2007
Location:
Posts: 44
RE: Best Elk Stories Thread
---
On my first elk hunt i was walking in the wide open when i spotted a few elk bedded down in the woods about 200 yds from me. I layed on my belly and had to crawl about 30 yds to a tree to prop on. I knelt down behind the tree and glassed the 4 or5 elk to pick out a nice cow. The only one i had a shot on was bedded down and all i could get was a neck shot. I had to shoot through an opening of only a coupld of feet between tree limbs. I shoot this cow in the neck and it didnt even move. Well all hell brock loose and elk came from everywhere and took off running. My buddy was not to far from me, they ran by him, he shot a cow and counted 130 elk. I only saw 4 when i shot mine.

Another story, i was walking one evening and walked up on a 5x5 bull which saw me first. We stood there looking eye to eye for a few seconds 80 yds apart. I could not move. I slowly dropped to one knee to get below his line of sight. I took my gun off my shoulder, mounted it and slowly stood back up and shot him.

03-27-2007, 06:24 AM
Join Date: Apr 2005
Location: Missouri
Posts: 1,429
RE: Best Elk Stories Thread
---
Father/Son Elk Hunt
Cranbrook British Columbia
Thursday September 8, 2005
Anticipation was high for my father and I, and We where only a year behind schedule. In 2004 we had decided at the last minute to book a father & son elk hunt. We found a hunt done our research and booked a trip all in three days. It wasn't until the fourth day that dad realized that he had a scheduling conflict and wouldn't be able to go. He said that I should go anyway and "check things out for him." We phoned Ted a family friend and was happy that he could take dad's place with such short notice. Ted and I had a great hunt in 04 and I took a nice 300" 6 X 6.
Upon our return dad decided that we would definitely be returning in 05. So here we sat in a motel room waiting for our outfitter to meet us and deliver our Elk, Mule deer, Wolf, & Black bear tags. We where packing in the next morning in preparation for the Saturday opener and had intentions of filling all our tags (yeah right).
Friday September 9
We met our guides Roy and Jared, father and son. How perfect is that? Father/Son guides for a father/son hunt. We loaded up and went to load horses for the pack trip. After a couple of hours of loading horses, sorting gear, and getting groceries, and shooting our guns it was time to go. We drove to the trailhead and started our task of packing the horses. It had been a long time since I had tied a diamond hitch but it came back to me. The weather was beautiful, blue skies, light breeze, and only a slight hint of clouds. The two-hour pack in was uneventful, which is a good thing when your talking about pack horses. Those who have witnessed pack string wrecks will attest to that. Camp was in a beautiful location with a beautiful basin in front and rear of the old trapper cabins.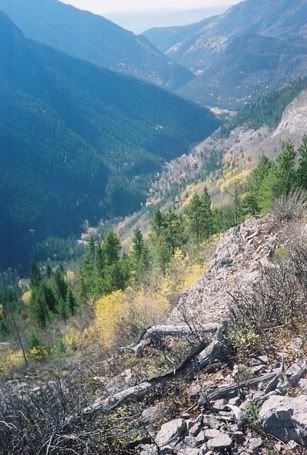 After unpacking and squaring away camp I had time to glass the basin in front of camp for a little while. Just prior to dusk I spotted an elk near the head of the basin. Things where definitely looking great for the next morning. I thought that I could smell rain on the air but tried to convince myself that it was nothing. Shortly after dinner the rain started.
Saturday September 10
The rain fell all night, occasionally letting up but mostly a downpour. We awoke to a soggy camp with all the mountains socked in fog. There was no sense in leaving camp unless the fog lifted. Jared my guide was a nervous wreck. This was his first time guiding on his own. He was 18 and had to get a special exemption to even receive his guiding license. He was anxious to prove that the faith others had put in him wasn't misplaced. His Father Roy, my Pop, and myself all told him to try and relax. Weather can't be controlled. But we might as well have talked to the wall because he continued to pace the floor checking the mountain tops every few seconds.
Guys in the mountains that our confined to camp get bored in a hurry, and it wasn't long until the pranks and practical jokes started. Dad had rigged a trap for me out of a piece of flypaper that he found. Everybody got a laugh when I walked back from the outhouse with and it stuck to my face. Well, game on! It wasn't until half way through his nap that he figured out that a mousetrap was at the foot of his sleeping bag. SNAP, YeeHaw! Jared was really getting a kick out of Hillbillies, so he decided to get in on the action. He flypaper dad's pillow, and would have gotten away with me taking the fall if he hadn't opened his mouth at the wrong time. Well, long about bedtime he was feeling real proud of himself, and made a point to tell everyone to "check your sleeping bags tonight, boys" just before he laid his head into the shaving cream on his pillow. Son-of-a
.. We needed to hunt the next day before we got out of hand, but the rain had turned to snow and the fog hadn't lifted.
Sunday September 11
Dawn broke foggy. Snow flakes the size of silver dollars where falling from the sky. Yet another morning wasted. Jared awoke with tonsillitis and was feeling very sick. The mountains are no place to get sick. Roy was worried that much was obvious. About noon Roy suggested that Dad and I go with him to try and glass while Jared saddled up and rode off the mountain and go to the emergency room. We thought that was a very good idea. Jared returned that evening with a prescription for some very swollen tonsils and a fever. We returned soaking wet, cold, and skunked. We did have a bull answer us once, but couldn't see him through the fog. As a matter of fact we couldn't see well enough to even scout a route to get closer to him. We were still in good spirits and we joked about the Canadian 'eh and our y'all and You'ins. Once dinner was finished and all the dishes where cleaned. We sat down to talk about our plans the following day. Jared thought that we should saddle up and ride two hours up the drainage and hike into a big basin named "Desolation". Roy and dad planned to stop at a lookout and if they couldn't find anything there they would ride on past where we planned to stop and hunt the drainage further up. Sounded like a dandy plan to me.
Monday September 12
Dawn broke foggy again. The snow had stopped and there was a slight breeze. We saddled and where off slightly before sunrise. Roy and Jared said that it wasn't a good idea to be riding the drainage in the dark. Grizzly country has a tendency to make a guy prefer daylight I guess. Jared and I wished Roy and dad luck and where off. When we got to the point where we had planned to start our hike, the mountain was completely socked in. Jared said it was a pretty good pull to the ridge top where we would need to get to glass the basin. Which in human terms means that it would suck your lungs out your nose. He allowed that it was pointless to hike for two hours just to be socked in.
We decided to hunt on up the drainage as our dads had planned. It wasn't too long until we cut fresh grizzly tracks. The griz was using the same trail as us so every step we took up was on top of his. Our horses where spooky, with good reason I suppose. I was cold and wet. Even though it wasn't raining or snowing every limb that you touched caused an avalanche of snow to be dropped on your head. I told Jared that I was going to lead my horse for a while to warm back up.
I didn't remove my gun from my scabbard opting to let the horse tote it for me, mistake #1. If you haven't hunted with horse let me tell you what everyone who has is thinking right now of me: ROOKIE. Rule # 1 when hunting from horses: If you dismount, take your gun from the scabbard immediately. The scabbard is a necessity but isn't a safe place for your gun. Horses spook, horses brush trees, horses kick each other, Horse decide to roll on the ground, all of which will do bad things to your weapon.
Shortly after dismounting and leading my horse Jared stopped and threw up his glasses. Before I could say anything he got real excited and said: "get your gun quick!" I scurried around my horse to get the gun that should have been on my shoulder. The sudden movement spooked my horse. He started to bolt. I tried to hold onto the lead shank but he was too powerful. I was really screwing this up big time. Not only was I going to spook the elk I was going to lose my horse with my rifle still in the scabbard. As my horse pulled the last inch of shank from my hand I could see the butt of my stock sticking out of the scabbard. As he ran by I gripped the butt stock with all my might. Jared later said that it looked like John Wayne when I pulled the rifle from the scabbard as the horse took off, all that was missing was me swatting him on the butt with my rifle to make him move faster.
Know armed I scurried up to Jared to see what he had spotted. He looked at me with an ashen face and said: "if you shoot the elk, you probably will end up shooting that bear!" I thought: WHAT? I must not comprehend him right. Is it an accent thing or what? Just then I looked up the slide and saw a nice bull running full tilt towards us. I can't tell you how big he was because my attention was immediately drawn away from the elk to the huge grizzly hot on his tail. This is getting dicey in a hurry. The elk was heading directly at us thus bringing the griz directly at us. From a distance of 150 yards I could see the claws on his front feet flashing in the sunlight and trust me they where huge. At the bottom of the slide the elk turned to my right and skirted the base of the ridge and headed back into the heavy timber. The griz was losing ground but hadn't given up yet. I can honestly say that I never got scared. It happened too fast to get scared. As a matter of fact it happened so fast that it really was just a blur. I looked at Jared, and Jared looked at me. Jared's face personified the emotions that I was feeling. Which where amazement, excitement, fear, adrenaline, and wonder all rolled into one. I finally said: "That was wild, pard!"
"That was Way Wild, eah'!" Jared replied.
"Son, I don't know much, but that looked like a big griz to me."
"Yeah, at least 8 œ footer, eah'"
"Ya recon the bull was a Six?"
"I don't know, eah"
After a slight pause I said: " I think we should give them a little space, don't you?"
"Good idea, eah"
"Heck of a way to see my first griz in the wild, pard!"
"No Kidding, eah!"
My horse hadn't gone but about 100 yards and was easy to catch. We mounted and rode a quarter mile to another cabin. Jared informed me that we where at what was known as "middle camp." Middle camp was utilized as a "stay over" if things were slow at main camp or if you got stuck up high and couldn't make it back to main camp. He suggested that we start a fire to dry off and warm up while we ate lunch. I allowed as how that was a good idea. In the back of my mind I was thinking that the fire was better served to ward off grizzlies than to warm by, but didn't tell Jared as much.
During lunch we had time to let the situation sink in and started joking about it. We had a good laugh when I told Jared that he didn't even unholster the huge can of bear spray that he was packing. He laughed and said it never crossed his mind, and that the 338 in my hands was better "bear spray" regardless. We chuckled and poked fun at each other for being scared. I told him that his face looked like he had seen a ghost when he told me I might have to "shoot the bear too". He laughed and said that he didn't even remember saying that. I said that I sure was glad that I didn't have to shoot him. Jared said that it would have been a mess for sure. Because it wasn't season, we didn't have a tag, and reporting the killing of a grizzly would have opened a real can of worms. I knew all that, but let him tell me anyway. After lunch we decided to ride back toward the main camp and hunt our way out.
As we rode out we passed the point where the grizzly encounter had occurred. I was watching the timber intently, with a little twinge of adrenaline in my stomach. My stomach nearly jumped into my throat when I heard Jared say: "oh ****!" In my mind I was sure that the griz was charging. I looked ahead to see what had Jared concerned. Around the bend not 200 yards from where we had seen the griz, My dad and Jared's dad's horse where tied beside the rode. Jared was worried to see their tracks going up the mountain into the dark timber that the elk and griz had disappeared into. I was a little concerned, but Jared was real nervous. I told him that they where big boys and could take care of themselves. I was quite certain that Roy could handle himself, and my father had proven his merit in tight spots many times over from Cape buffalo charges in Zimbabwe, to mock grizzly charges in the Northwest Territories. Jared wanted to go after them. I told him that the griz was most likely gone by now, it had been at least an hour. Besides, they went up there for a reason and if we tramped up we could bugger their hunt. Finally we rode on. A quarter mile down the trail we heard a bugle behind us. We where at a nice look out so we stopped to glass. We called intermittently and had the bull really fired up. I could barely hear calling on the other side of the ridge. Just then we saw him. He was a really nice bull. He had a huge body. He was across the gully from us at a distance of a quarter mile, and I could make out horns with the naked eye. He was torn between our calling and the calling behind him. I mentioned to Jared that it was probably the bull that our dads where hunting. Just then the bull decided that the cow calling from our dad's was a lot closer and turned in their direction. Jared and I decided to ride on so as not to bugger up dad's hunt. We had rode a mile or further when I heard a gunshot. A single gunshot is always a good sign. I told Jared that dad had just scored. He smiled and said that He hoped so. We hunted back to main camp and got in just after dark. We didn't have any more action that day, but my nerves where tired none the less. Our dads didn't come back into camp that night, which I thought was a good sign. But, It worried Jared I could tell.
Tuesday September 13
Dawn broke overcast and drizzling rain. We decided to hunt close to camp. We rode to the lookout but couldn't see much. We tried some calling with no results. We hiked a couple of ridges but all we had accomplished was soaking ourselves. Around noon Jared suggested we ride into camp and see if the boys had returned. I thought better of if, but relented none-the-less. I figured that if Jared didn't calm his nerves that he wouldn't be in the game anyway.
We rode into camp to find the boys drinking coffee. I walked in and asked: "how big is he?" Roy looked at Jared and said that we had ruined their hunt. I knew right off that they where messing with us, but Jared didn't catch on. He went to making excuses. The more he talked the harder Roy and my dad gave it to him. I played along but didn't say much. Finally, they let the kid off the hook and admitted that they had indeed killed the bull. Roy admitted that our bugling had really fired the bull up. Prior to us bugling the bull had really shut up and wasn't coming in. After he thought that another bull was coming in he came to their calls.
We asked where the bull was and they informed us that they had packed the cape, horns and quarters to middle camp. They waited for morning and came back to main camp for the packhorses. They asked for our help in packing out and we gladly said we would. We told them about our encounter with the griz the morning before and you could see that it worried Roy some. Roy informed us that the bull had traveled some distance after being shot and the carcass was practically next to the trail. The thought of riding up on a griz that had found the carcass wasn't appealing at all. But, the six mile ride to middle camp was uneventful. We finished capping the skull and boneing the meat. It wasn't long until the pack horses where loaded. Dad suggested that he and Roy could handle it from there. We should hunt the rest of the afternoon. Roy suggested that we stay the night at middle camp as it was closer to "desolation" basin. So that's exactly what we did. We stayed there and hunted until dark then returned to middle camp soaking wet again.
Wednesday September 14
Dawn broke clear for the first time. I had high hopes for this day. After the snow and rain and overcast days I was sure that a little sunshine would have those bulls a bugling there heads off. We saddled our horses in the gray of predawn and where on our way at sunrise. We got to the base of desolation basin around 7 am and started our climb. Remember this is the climb that Jared had described as "a fair pull", well let me tell you it was near vertical. It took until 10:30 to get to our vantage point, and we weren't nearly to the top of the ridge let alone the head of the basin. If we spotted any game we would have to hike nearly 3 miles into the basin. It never ceases to amaze me how huge the country is in the west. You can see forever and walk till your feet fall off and still only cover a small portion of it.
I was soaking wet when we got to our vantage point. Between, the snow off the branches, wet leaves from the snow melt, and my perspiration I was drenched. After digging in my pack and finding a dry shirt I sat down to glass. Jared turned to me and said that he was shivering and wanted to build a fire. I said it was a good idea. While he was gathering wood I continued to glass and enjoy the scenery. At least that's what I told him, truth is that my legs where cramping up terribly. I guess it was the cold, because once a fire was lit and my legs thawed a little the cramps left.
After lunch & the hike the warmth of the fire made me really sleepy. I decided to take a nap. The high alpine air provides some of the best naps I have ever experienced. I cherish them nearly as much as the hunt itself. When I awoke Jared said that I had snored so loud that I probably had ran every elk in the basin off. I laughed and told him that it wasn't snoring but "bear calling." I reminded him that I had a black bear tag and that my "snoring" was a tried and true hillbilly method of hunting. He got a chuckle from that. He turned back to his spotting scope that was trained on the head of a basin and immediately said: "well it worked, only you called grizzly instead of black bear." I told him I wanted to see so he moved. There in the scope was a big sow with a couple of two-year old cubs. When I looked up from the scope Jared had his bear spray in his hand. I guess when he was leaned over the scope the bottle had dug into his side so he removed it. When I saw the spray in his hand I got tickled. I gave him a real good ribbing about being scared of grizzlies that where two miles away. We ended up seeing 6 grizzlies in that basin but not a single elk.
We decided to leave the basin, figuring that the grizzly had the elk moved out. On our way down the mountain it started to rain. It soaked us thoroughly before we got back to the horses. We hunted back to the main lookout above camp. We had what sounded like a nice bull answering us just before dusk that evening but never saw him and didn't have enough daylight to make a move. We returned to main camp at dark with nothing but memories once again. That evening dad told us about a nice black bear that they had made a stalk on but never got within range. After dinner we discussed our plans for the following day. We decided to hike into the unnamed basin directly behind camp.
Thursday September 15
Next to last day of the hunt, crunch time, started off drizzling rain. We didn't saddle any horses that morning, as we would be doing all our hunting on foot. We started in the gray of predawn up the mountain. 10am found us soaking wet a couple miles from camp on a ridge overlooking the basin behind camp. The scenery was amazing. I could see "grizzly basin" (the basin in front of camp) clearly. I could see over the backside of the lookout. I could see a high box canyon that reminded me of the pictures dad brought home from the Northwest Territories. Best of all we where in elk. We had seen several cows, a rag horn, and had two nice sounding bulls answering us. One of the bulls turned out to be a 5-point, nice but not legal. The other seemed to be in "grizzly" basin. We had a decision to make. Should we continued to hunt the basin we where in, we would have to leave the bull that was answering us. We where in elk though, and the basin looked very promising. I was torn to say the least, we had to make a decision. It was a couple hours hike back down the mountain and into grizzly basin. Conversely, we had another hour or better hike to get to the head of the basin we where in.
So I made the call. I said to go after the bull bugling in grizzly basin. Down the mountain we hiked. Halfway down I was pretty sure that I had made a mistake because the bull had shut up completely. We where committed at this point though, no turning back. We hiked into Grizzly fairly dejected. When got to where we thought we needed to be the fog rolled in. I was disgusted with myself. We had just hiked all day long leaving good elk country to walk into a fog bank and it was my fault. I turned around and the high basin above camp was clear. Not only that after a little glassing we found Mule deer, elk, and Bighorn sheep. Grizzly basin provides a terrific view of the high basin to say the least. It was nearly 6 pm less than two hours till dark. Certainly not enough time to make another move, so we sat down to glass the high basin. Tomorrow would be the last day of the hunt and we needed a "hail mary." As we were glassing I pulled out my bugle almost as a second thought. I gave a nice locator bugle not expecting any response. Almost immediately a growler let lose directly above us, full with chuckles and all. I looked at Jared and he was stunned. I moved quickly to find some cover. The fog had lifted and I could see the patch of poplars that the bugle had come from. It was approximately 300 yards away. We range a small saddle below the poplars at 275 yards. If he came there I could take him, if the fog held off. We worked that bull for two hours. We threw everything but the kitchen sink at him. At 5 minute to 8 Jared suggested that we sneak away and come back for him in the morning. I had a feeling that this was our last chance, so I said: "lets give him 5 more minutes, you bugle and I will cut you off with my bugle with Real short screams. Lets make him think that we're about to fight down here"
It didn't take five minutes, after the second time I cut off Jared's bugle with a scream he couldn't take it anymore. He had to get a look at what was going on. He stepped out into the opening. Only he didn't come out below the poplars he came out above them. I quickly estimated him at 350 yards severely uphill. I said to Jared: "I got him"
"Take him then"
I squeezed the trigger for a clean break. Boom
.Kawump
I knew I had hit him. Jared yelled: "you hit him
..hes going down." Just then the fog rolled in. Before I could get my rifle cycled, visibility was gone. A few seconds later the fog lifted a little and I could see him still standing there, so I shot again. The second shot missed. As he turned to leave I put another one in him. Then it was dark. It happened that quick. One second I could see the next I couldn't. I looked over the scope and saw the fog was back. It was nearly dark so we had to go back to camp and wait for morning. It was a restless night to say the least. I kept replaying it in my head, over and over. Maybe I missed, Maybe I shot over him, Maybe I shot under him
..
Friday September 16
The day dawned clear and beautiful. We had blue skies for the first day of the hunt. All four of us returned to look for my elk. We ranged the shot at 385 yards. After climbing the ridge to where he was I found him 50 yards from where I had shot.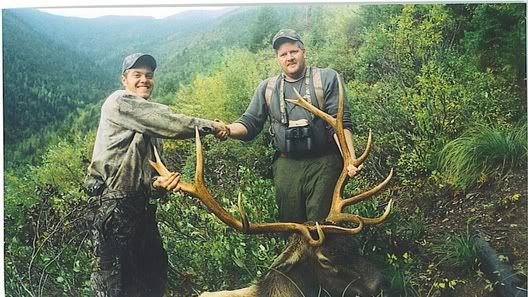 The first shot had busted his shoulder and the third shot quartered in from behind the last rib forward into the vitals. We where all excited to say the least. High fives where exchanged and memories where made. We all pitched in and quartered, and caped the bull. The pack off the mountain was treacherous but fun as well. Camp was filled with joy!
Saturday September 17
On the pack out 100 yards from the trailhead and the trucks we had the dreaded pack-string wreck. They strung gear for a half mile. One horse headed back up the mountain while the other headed down. It was interesting to say the least, and caused us two extra
hours of work.
03-27-2007, 07:36 PM
Join Date: Feb 2003
Location: aurora co USA
Posts: 49
RE: Best Elk Stories Thread
---
Two years ago my two hunting buddies made it out a day early, so by the time I made the 3 mile hike up to sattelite camp, they had already been scouting and located two nice bulls. The next day on opening morning we head out with the two of them in front and myself just behind. We are working our way around the mountain side about 100 yards from the crest and well above timberline. My buddy Tyler, who is in the middle, keeps lagging back. I keep telling him to close the gap, that things can happen fast, and mind you we are moving at a slow deliberate walk. I finally move past him and get right behind my buddy Andy. Five minutes later, Andy hits the deck, and asks me if I want to take a cow (we all have either sex tags). I say yes and away we go. Tyler is 50 yards back so he stays behind whil we make the stalk. Working on all fours and using the contours of the hillside, we work out way up to a finger ridge with a 3 foot high bolder right at the top.At this point I still haven't seen the elk. I come up over the rock... and look at a hillside about 100 yards away from me covered in elk. Right in the middle is a nice 5x5 bull. I center him up, and he drops before the gun can bark. I'm kneeling there in a daze when Andy shoves me out of the way " Nice shot, MOVE!!" Now he is in position and starts to pull on a cow, when I spot a6x6 silohuette itself on the next ridge over.I start frantically yelling "Bull,BULL, BULL!!!" He turns, and boom, game over!! Two bulls downby 7:15 opening morning!! It took us until Monday to get all of it packed off the mountain, but what an amazing hunt.
03-27-2007, 07:55 PM
RE: Best Elk Stories Thread
---
It was first season in Meeker, Colorado, I was sound asleep about 2:00 in the afternoon. My buddy called me on the radio to ask if I'd seen anything. I yelled at him for waking me up and told him not to bother me. It was about that time I saw a nice 5x5 that I was able to harvest. If he hadn't woke me up I probably would have slept right through it.
03-29-2007, 09:01 AM
Fork Horn
Join Date: Nov 2004
Location: Arkansas
Posts: 138
RE: Best Elk Stories Thread
---
I was hunting on private land with a guide. Waited in our stand thru a 2 hr snow storm until it cleared. A bull walked out of the aspens about 275 yards out. When he cleared the small brush I took a shot. Gun recoiled and I lost him in my scope. The guide said that I hit him. When I got the scope on him again he was standing in the opposite direction and I shot again. Lost him in the scope from the recoil. I looked up and saw him running back to the aspens about 75 yards from where I shot at him. Took a running shot but did not hit him.

The guide and I went out to see what things where like where I was shooting. After about 20 min of searching in timber fall I found my elk. A nice big 4 x 5. I hit him twice. Both where in the shoulder, one on each side.

The bull that I saw running back to the timber was a second bull that we did not see until he ran. Good thing I missed him.

04-01-2007, 07:16 AM
Spike
Join Date: Mar 2007
Location:
Posts: 67
RE: Best Elk Stories Thread
---
This must have been 15-16 years ago. This meadow I was in was about 3 miles long and about 200 yards wide with a stream in the bottom. We camped ata place where a finger of woods almost crossed the meadow completely. There was a 4x4 track along one side of the meadow for access. It was Sunday. opening weekend, my Dad and hunting buddy Rob had left that morning to go back home. I remember listening to the Bronco's game on the radio during the afternoon while practicing with an reed type elk bugle I hadbought. I had heard that elk may not bugle during first rifle season, but they do sometimes respond. After theBroncs whooped up on the Raiders, I decided on an evening hunt.Since I was by myself I just went tothe other side of the meadow to sit in the shadows. I could not bugle yet, but I could do the elk barks that you hear at the end of the bugle. So I let out about 4-5 barks, within 5 minutes, a beautiful 6x6 came out of that finger of woods into the meadow. I had him cold. He was out in the sunshine, I'm in theshade, uphill from him and he stops broadside and is lookingaway from me! Then I realized why he had stopped. Be-bopping along that 4x4 trail was a Suzuki Samari with 4 roadhunters in it. Theynever saw the bull, but for some reason stoppeddirectly on the other side of the elk from me. They were uphill from the bull as was I and there was no wayI would hit them, but I was not about to take that shot.Like Isaid, they could not see the bull, so they went on.As soon as they started moving, the bull started coming closer to me, I had a clear shot but missed his butt by a foot as he was moving pretty good. I saw the shot hitthe stream on the far side of him and in one leap, he jumped 30 feet straight at me!! He was running all out right at me as I jacked another shell in the chamber, he heard that noise, saw me and went full speed like only an elk can do straight up through the timber. Never saw him again, but I tell you what, I went back to camp, packed up and went home. I wasso tickled tohave called in that elk and to have a shot like that and to see him jump like he did, I considered it a successful hunt! Man what fun!!