Team 4 Gobbler Blasters
04-16-2016, 06:11 AM
---
04-18-2016, 03:45 AM
---
For you folks out there hunting I am hoping to hear how things has been going.. Yes I am in need of some hunting stories guys! I have to wait until may and would surely like to hear if you are seeing any birds out there and what not. If you are getting stuck on then responding or anything? Maybe someone could chime in with a few tips on how they have normally had some luck.. So lets hear a few stories anyways.. We love to hear how things are going.. Thanks..
04-18-2016, 10:56 AM
---
Glad to hear you got some good news Phil. That's awesome.
Today is opening day here in Iowa & I was able to have some luck. I setup within 50 yards of a gobbler in the roost, but unfortunately a hen kept him just out of range all morning and all I could do was watch. About an hour after flydown, a group of 4 - 2.5 year olds came up and put on a nice show. They worked their way into my setup, but were hesitant to come too close, likely because of my strutter decoy. This guy was strutting at 27 yards when I let the montec fly. He went about 20 yards before falling over & the other 3 toms started picking on him. 20 lbs. 9.625" beard. 7/8" spurs. Definitely a beautiful morning in the turkey woods.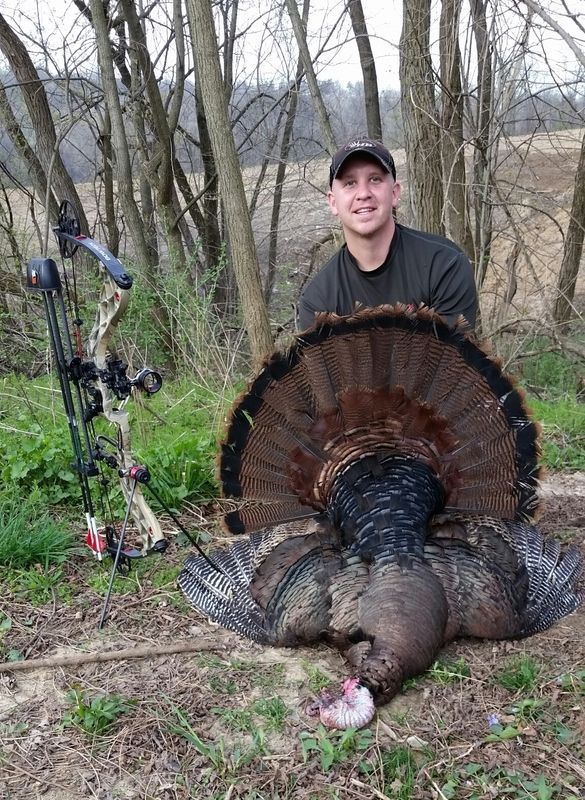 " />
04-18-2016, 04:52 PM
---
Way to go zubba !! You have now gotten us on board! Also it sure sounds like a nice hunt! This is what I have gotten for your bird zubba..
Total Score is 56.75

Updated score is Total Score is 58.125
---
Last edited by Phil from Maine; 04-19-2016 at

07:23 AM

.
04-18-2016, 04:54 PM
---
Well team this will be two from Iowa today. Congrats zubba.
Got in on a new piece of property before day light this morning and was waiting on a field edge for them to sound off and had one fire up where I had just walked in. set out the decoys and waited for fly down. As soon as I knew he was on the ground I started calling to him, cutting me off with every call he slowly made his way to me. Took him 30 minutes to cover 150 yards, never went into strut once. at 25 to 30 yards I ended the game.

Iowa, 6:55 am , 4/18/16
Shotgun, Eastern
18.36 lbs
11.250 beard
L-R spur 1.125

Phil is going to post pics.
04-18-2016, 05:13 PM
---
Congrats to the both of you!! Way to go camokenny!! Sounds like you had a nice hunt as well! Sounds like a couple of nice birds right there you guys .. We are on the scoreboard now! I will post your pics camokenny once I receive them! Also zubba we need a pic of beard and spur measurements.. Contest rules .. I just received your pics and will get them up shortly camokenny!
your score is

Total Score is 65.375
---
Last edited by Phil from Maine; 04-18-2016 at

05:27 PM

.