Returning Champs - Team Pass Thru - #7
12-30-2013, 01:10 PM
---
Well fellas, we're only a few weeks from wrapping up this years contest & we're only 70 points or so from taking this thing again. I apologizes for not being more active & not harvesting a deer for the scorecard but with the new baby girl showing up I haven't had the opportunity to get afield. Im trying to get things together for one last hunt this weekend during a backcountry camping trip. Don't know how good the hunting will be, but damned if Im not gonna try.
01-04-2014, 08:48 AM
---
I was thinking about going out to tomorrow and trying to tag a doe, but the weatherman is calling for -50 wind chills tomorrow so I think I will stay huddled up next to the fireplace and have a totty or three. I guess the half a beef, 1 antelope and 1 deer are going to have to be enough. Good season guys. Best of luck to all of you next fall.
01-07-2014, 01:10 PM
---
Well fellas, I went out this morning for some stalk hunting with the recurve & scored us one more buck. Though he doesn't have a huge rack, he does have antlers & he's a real trophy to me.
The temp when I hit the woods at 8am was 0 degrees & the wind chill was -11. The snow was deep & the tracks were everywhere. I picked a set of buck tracks that looked fresh & began following them. I soon found fresh scat on the trail & knew I had picked a winner. I slowed my approach down to a crawl & kept the movement to a minimal. A few minutes later I saw this buck bedded against a big deadfall chewing his cud with his back to me. I got low & crept up on him within 10 or 15 yards & then realized I had no good shot on him at all. After a second or two I went to full draw & went 'BAAA'. He jumped to his feet startled & when he did I jumped higher than he did & let my arrow fly out of pure excitement. My Montec hit him just behind his left shoulder quartering to me & ended up sticking out of him just behind his rear right haunch. Not a good shot, it was a terrible shot in fact & I felt horrible as he ran off staggering down the hill towards the creek. I literally sat down right there & began to pray & thought that I had ruined a great opportunity & was completely disgusted with myself. After about 20 minutes sitting there I started after him to see if I might have made a lethal shot. Low & behold I found him at the bottom of the draw piled up in his own blood dead. I was so relieved to find him, knowing that I wasn't leaving one of Gods creations to suffer in the cold. Again, he's not a huge buck but he is a great deer to add to my list of awesome hunting experiences.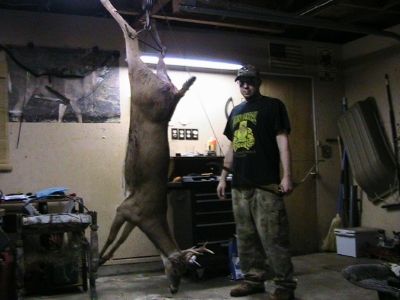 01-07-2014, 02:31 PM
---
Jason, everyone says any deer with a bow is a trophy, but I will be the 1st to say, stalking and succeeding a deer kill is grand! Congrats buddy on your hunt!! I have never experienced that and I hope I will but you are a true hunter in your feelings!! Job well done!!
01-10-2014, 05:42 PM
---
Maybe I spoke too soon lol, I guess this team can never be counted out. Congrats on that buck Jason, a deer stalked and taken with a recurve is something that few hunters can ever say they accomplished.


My dad is coming up to hunt with a muzzleloader this weekend and I do have a few days left in the archery season to tag a doe. I might be able to get out if we can get his muzzleloader tag out of the way first.