Team 2 Sunrise Shooters
04-17-2012, 07:17 AM
---
Here are some pics of my birds and a little story.
I doubled up with my shotgun on Saturday morning. I had about 15-20 gobblers around me in the roost, literally right above me. I packed along my bow and shotgun to the blind. I thought for sure they would pitch down into my decoys and in bow range, but half flew to the field top and the other half behind me where heading that way, so the closest they came was 35 yards. Not knowing what kind of weather was coming, I grabbed the shotgun. After I shot the first one, the second stood there looking at the first one, so I dusted him too for a double.
We hunted hard Saturday afternoon and Sunday morning, were on birds, but couldn't get one in bow range. On Sunday afternoon we were covered with with birds. To make a long story short, we had 3 hens bring in 2 gobblers strutting and and gobbling the whole way. When they reached 15 yards from the blind, I smoked one with my bow. I didn't get a full decap, but the broadhead did some damage on his head and he dropped. We got this hunt on video, it was textbook.
Here is my bow bird.
Weight: 21 lbs 2 oz
Spurs: 7/8" (L) 7/8" (R)
Beard: 9.75"
Score: 58.125
Here is my double.
Bird 1
Weight: 20 lbs 10 oz
Spurs: 3/4" (L) 3/4" (R)
Beard: 9.5"
Score: 54.625
Bird 2
Weight: 20 lbs 8 oz
Spurs: 3/4" (L) 3/4" (R)
Beard: 9"
Score: 53.5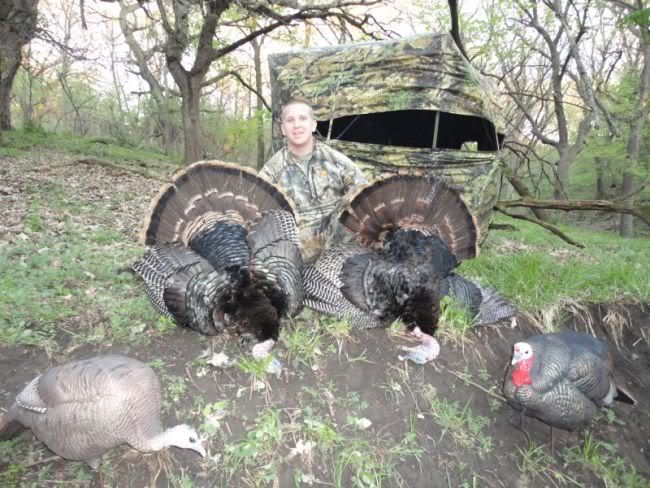 Here is the group.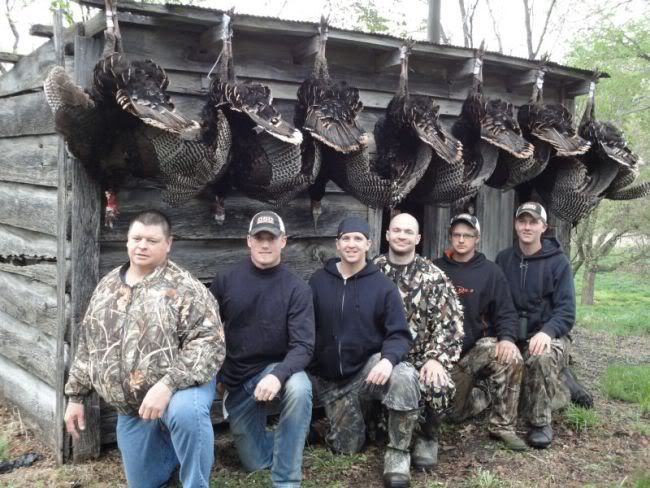 ---
Last edited by zubba; 04-17-2012 at

07:45 AM

.
04-18-2012, 04:57 AM
---
Good luck to ya Adrian! Our team has some serious catchin up to do! By the looks of things next week just about all of us will be out there. I'm sure the birds are gonna start pourin in by then!
Right now the forcast is callin for rain and a small chance of snow up til Fri. then sunny and low 40s thru the weekend and for the opener. Should be perfect!!
Might go out tonite and see if i can't put em to bed, wanna see if they are still roostin on my prop or not. If they aren't i know where they probably are, just around the corner on the neighbors which will be fine as long as they still are hitting my feild first thing in the morn. May be better if they roost around the corner, i've had problems tryin to get in position on em when they roost on my prop, been busted befor, no good way to get back there.
Think this yr i may try a popup blind, will be easier on my dad than sitting on the ground plus i've always had lots of problems with the deer on the prop, theres tons of them and maybe a freshly placed popup will keep them away.
Monday morn is pretty much all i'm thinkin about now and it can't get here quick enough!! Go get em guys!!!!
04-18-2012, 06:53 AM
---
Opening day was a little tough in MO. It was windy and I heard 1 bird on the roost. He didn't want any part of a call. Got on 2 other gobblers with 3 hens that were the same way. At 10 a.m. I got a bird fired up, long story short I we met up before I got set up. I hunted the next 2 hours without a gobble. At 12:15 I decided to go try the 10 o'clock bird. I came in on the opposite side of him and hit the call. He answered. I knew it was over then. He gobbled about 15 more times and strutted in to 30 yards and I let him have it. Was back in my truck at 12:48. In MO we have to stop hunting at 1 p.m. I used my whole day. He weighed 23 1/2 lbs, had a 10 3/4" beard, left leg didn't have a spur and the right leg had a 1/4" spur.