Team 11 Natural Bone Killers!
10-24-2010, 04:01 AM
---
Well done on the sika, whacker!
Busy day for me yesterday. Ruby and I tracked a friend's 9 pt buck 900 yds mid-day before we caught up to it a second time, and my friend dispatched it w/ML.
I then hunted yesterday afternoon, and watched 2 shooter bucks on EAB lands - I was still without a doe under my belt. Fortune smiled on me as the two bucks drove some does right to my tree stand, and I took one out w/a xx-lunger. I still took Ruby out on the doe for training. She was one tired pup last night.
-fsh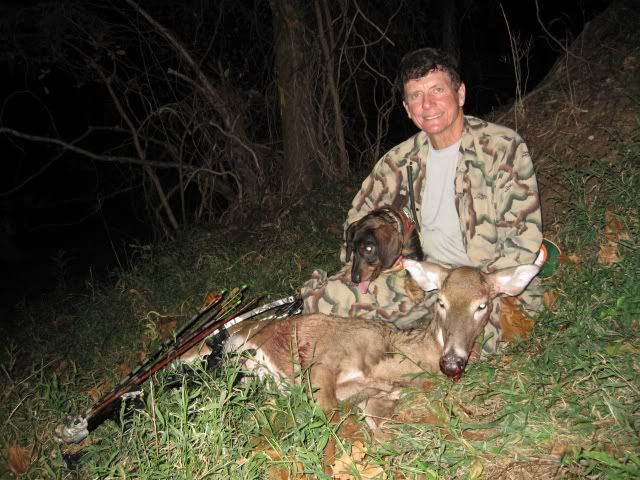 10-24-2010, 02:02 PM
---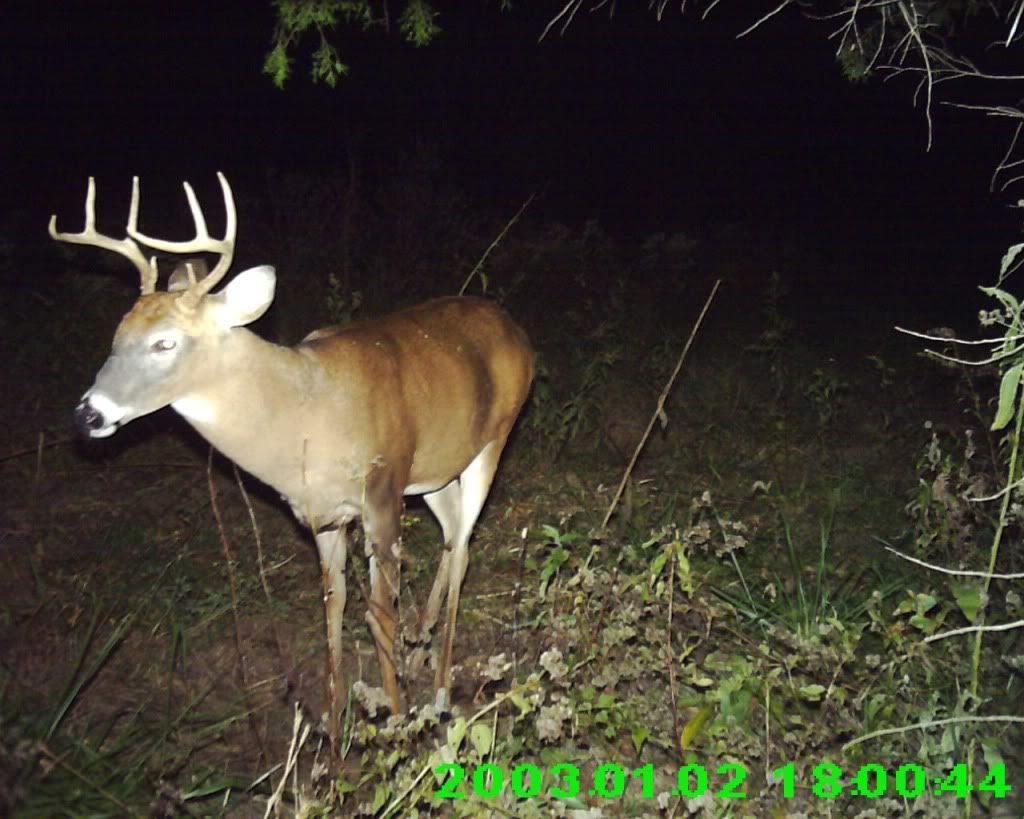 Good job guys! Good to see some more deer on the ground. Saw a lot of deer over the past few days. Even drew back on one,( I think this was him) but ended up letting him walk. When I saw him coming I counted points and was ready to let one fly. But the more I watched him I could tell he was a nice 2 1/2yr old 8 pt, probably a 90"-95". I reminded myself to quit looking at the rack and study the body - let's just say the last 2 yrs of bucks suffered from ground shrinkage....
I think he walked right down to my trail cam that was stationed at a scrape at the foot of the hill I was hunting. I got pics of 2 different 8 pointers about 2 hrs apart that night.
It's back to work Monday and Tuesday, then I'm headed back to the woods Wed-Sunday!
There is a turkey running around with a few less feathers though. Had 3 come in Thursday afternoon and got a shot off at one of them at about 20 yds but clipped a branch right in front of him that I couldn't see. I thought he was down at first, there was a flutter then nothing, just the other 2 taking off. When I turned for the binos he ran after the others leaving just a few cut off feathers behind.
---
Last edited by wallhangr; 10-25-2010 at

09:41 AM

.
10-25-2010, 05:51 AM
---
Hey guys - Congrats on the success! Glad to see some meat hitting the ground. I was out Sat. and saw a bunch of does and one small buck, I'm going to do my best to be out there as much as possible in the next few weeks... I'm going to try to get out one evening this week, then all day friday and hopefully sat...
10-25-2010, 09:44 AM
---
Here's the other guy from my cam the other night. Still not quite what I'm waiting for, but he's getting close!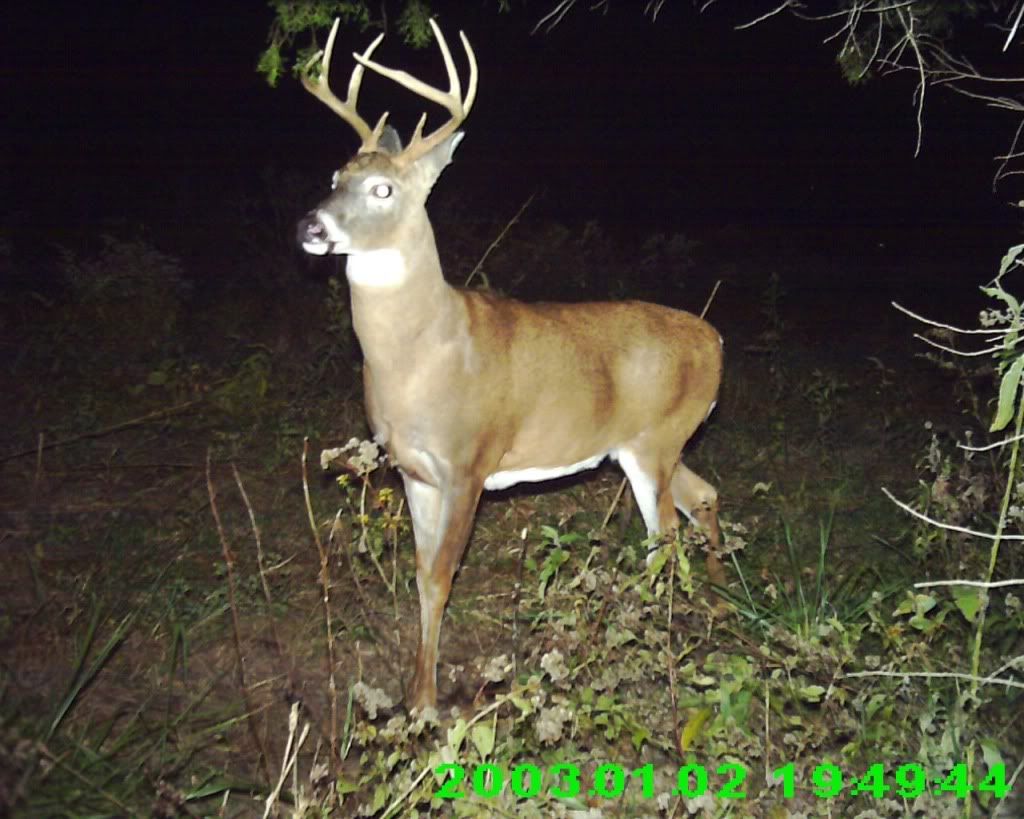 ---
Last edited by wallhangr; 10-25-2010 at

09:46 AM

.
10-27-2010, 06:23 AM
---
Hey guys, I'm gettin excited about this weekend, looking to be off Thrus and Fri for hunting! cold front moving thru friday so it should get interesting!
10-27-2010, 01:28 PM
---
Good luck Ed, I have my hopes on Saturday too. Ed and I have plans to get together for a hunt on my farm next week.

I'm going fall turk hunting tomorrow in VA, and then it's back in the saddle...

-fsh
10-28-2010, 05:48 AM
---
Grr... had to come into work this morning. Hoping to sneak out early atleast... I'll keep you guys posted.

Looking forward to coming down Andy!
10-29-2010, 08:20 AM
---
The dinks are moving........Hunted Tuesday after work, had a buck work past me that was prob a shooter but never had a good look. Hunted yesterday after work and grunted in a little spilker. Went this morning before work for about 2 hrs and called in a 3 pt and a 6. The 3 pt postured up and made a scrape while the 6 then tore up a sapling. After that they fought a bit and at times were right under my climber. I was hoping they would draw something bigger in but it didnt happen and I had to get in. I am going tomorrow to a spot where last saturday during ML season I found 6 scrapes in a 30 yard area. Planning on sitting till I have one down or have enough. This cool weather that blew in last night will hopefully get the bigger ones on there feet.
10-29-2010, 03:23 PM
---
No joy on the turks - messed with a few gobs in the early yesterday morning, but I think we were spotted on the move. We'll give them a try next week.

Ruby and I could not find a monster buck a friend had shot this morning - he showed me a trail cam pic of the buck. Bummer, we are all depressed.

-fsh
11-01-2010, 09:32 AM
---
Well guys, I picked the wrong days to take off for hunting this year! Wed and Thurs came with 20-30 mph winds and what little time I was out saw nothing. On Friday, I did see 3 does in the am. At lunch I pulled pics off a trail cam and had a nice 3 1/2 yr old 8 pt on it. I set up for him that afternoon with my decoy, but at around 5:30 a doe and a fawn were making their way thru when the doe saw the deke. She was entertaining - bobbing and weaving, stomping and dancing around for 15 minutes or so. Then she started blowing. She stayed in the general area till dark and must have kept blowing 6-8 times.

Saturday started off with hearing another deer blow as I walked in to the stand in the dark - saw nothing. Sat night, back in the blowing doe's area and saw nothing.
Sunday am I snuck in very quietly to a new stand close to a bedding area. I was taking a step about every 5-10 seconds and made it to my tree. I set my bow down and was reaching ito my pocket for my haul line when I heard the steps back and to my right (up wind). I stood still for a couple minutes, then heard the deer trot away.
Stood there a little longer to make sure, then heard the deer blow. Again not once, but numerous times w/o leaving the area. Again, no deer sightings that morning.

Did see a yote when it got light, but he never would stop for a shot.

I have never before had a deer stay around and continue to blow like I had happen TWICE this weekend.