Team 11 Natural Bone Killers!
10-08-2010, 01:52 PM
---
Good luck this weekend guys - it will be in the 80's here this weekend so no hunting on my schedule. Looking forward to the last 2 weeks of the month when I have 8 of the last 14 days off to hunt!
10-11-2010, 05:44 AM
---
Just reporting in guys - Saw a small 8pt sat morn and that was it. Checked my camera and had some photos of a super nice 10pt that I've been seeing all summer, he's been coming more regular to our fields so I'm gonna try to catch him on the approach one evening after work this week. Then I'm headed to VA for the weekend to get on some big ones and maybe a bear if I'm lucky!
10-11-2010, 05:59 AM
---
Went up to my parents house this weekend and hunted sat morning for a few hours. Nice and cool in the morning. I had a pretty neat sit. At daylight had turkeys in the trees above me. They stayed in the area all morning. At 7 had a bear come by at 30 yards. At 740 the turkeys started making all kinds of noise and i heard something come in to the woods from a field. A bobcat! only the second one i have seen in the woods. At 830 had 2 does come by. When I left the turkeys were still hanging around. It was a pretty cool morning. I will prob hunt 2 days after work this week and actually be back up in PA this weekend and should get to hunt Sat am. Good luck to everyone this week
10-11-2010, 07:14 AM
---
That's a great day in the woods Whacker! I've got a bobcat den not far from one of my stands. I've seen him once so far, hope to get a shot at him this season.

The managed hunt I got drawn for started this morning, I'll be hunting there after work tonight and a couple more nights this week. Going to try it from the ground since I don't have much time to get set up after work.
10-11-2010, 05:16 PM
---
I've only seen a few bobcats over many decades of hiking, pretty neat to see one from the tree stand!

I had a mature 4x5 w/sticker at 10 yds Saturday (but I still needed a doe where I was hunting) - I got to watch him spar with a heavy bodied 8ptr. This am, I grunted in two 8 ptrs, and they came right underneath my treestand - legal deer, but not shooters. Then nada this afternoon.

I took Ruby out on a gut-shot doe this past weekend, and she did a great job tracking it down - there was very little blood in the beginning. A surprise came when Ruby grabbed the doe and the doe got up! The doe was hurt pretty bad, and only went ~75 yds - the hunter easily dispatched her.

Let us know how you do on your managed hunt wallhangr -good luck!

-fsh
---
Last edited by fshafly2; 10-11-2010 at

05:34 PM

.
10-11-2010, 06:24 PM
---
finally got out saturday, it was 88 degrees seen 1 doe at last light

now have to wait till halloween weekend before i get back out
10-12-2010, 08:10 AM
---
I shot a nice doe this morning - lung/heart shot. Although I did not need Ruby, I used her to trail the doe as part of her training.
-fsh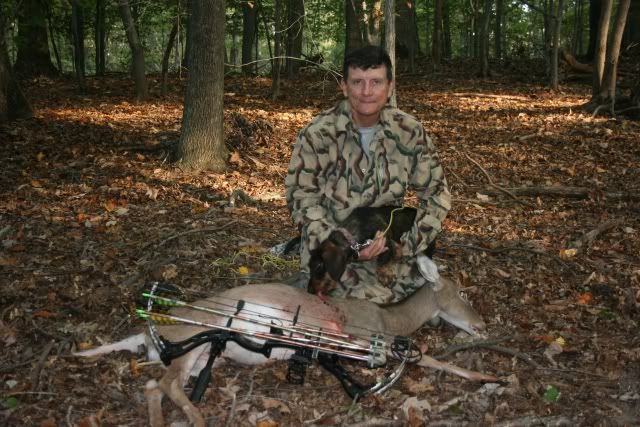 10-13-2010, 08:17 AM
---
Congrats on the doe Andy! Getting out of work early today to hit the woods, we got a good cool spurt today and supposed to rain all day tomorrow, hoping that gets the deer out and feeding.... And even if it doesn't get the deer movin, we had another layoff yesterday (I survived thankfully) but it was depressing, I need some tree-therapy
10-13-2010, 09:48 AM
---
Nice job on the doe! Saw a nice 8 pt last night out on Wye Island NRMA. Not very wide, maybe 15 but real heavy all the way out. Had him at a little past 30 but he never stopped. Ill be headed out in about an hr to hopefully catch one moving in front of the front....
10-13-2010, 05:10 PM
---
Just Just got back in from a sit at my managed hunt. Had a cut corn field that I wanted to hunt and to my suprise no one was parked there tonight.
Saw a total of 10 or 11 deer, hard to tell how many were at the other end when it was getting dark. Then after I packed everything up, I jumped one that was less than 15 yards behind where I was sitting in the open field.
Everything stayed out of range tonight, but tomorrow night I'll have a different wind and I'll be at the other end of the field.
---
Last edited by wallhangr; 10-13-2010 at

05:18 PM

.