Team "10" Most Wanted
10-26-2010, 06:44 PM
---
Well guys I blew it. I had the monster at 37 yards tonight and shot over his back by about an inch. He wasn't spooked though and he calmly walked out of the field. Heres the story.

I got on stand late (you can do that on this place and be ok) and nothing was in the field. I wasn't on stand for 10 minutes and some does starting coming in. They milled around for a short time and then left the bean field. I didn't see anything for about 45 minutes. I was glassing the far end of the beans and didn't see anything. I put the binos down and happened to look to my right and there he is. Casually eating beans. I have no idea on earth where he came from or how he got to 37 yards without me seeing him but there he was. I lost it fellas, I'm ashamed to say. I have seen a bunch of big deer on stand in my day guys but this is a true giant amongst giants. He's a main frame 12 with split brows that are 10 inches long. This deers horns are so wide that when he put his head down to sniff something on the ground he horns hit the beans on boths sides of the row. I have killed some nice deer and seen some nice deer and this is unlike anything I have seen. He might be a 190" deer no bs. So he is just feeding casually from my right to left. I get my bow up and get the range finder out, 35 yards. I draw on him and make a split second fatal decision. Instead of putting my 30 yard pin on him I put my 40 yard pin on him and let it fly. It sailed about a half inch over his back. He spooked and took a few quick bounds and amazingly settled back down and continued walking to the corner. I just held still and let him leave. I hung my bow back up and considered jumping out of my stand head first. I was packing up my back pack when something caught my eye and its a 140 8 pointer that I have seen several times. He was on a path walking right by me. I let him go. I was so disgusted and how can I shoot that deer with the giant looming somewhere close by.

I'll be back out there again guys on Sat evening. I have seen this deer in this same field 3 times now. Something has got to give. I am the only person who knows about this deer. He lives basically in town only about 600 yards from my garage. Amazing. I'll have a report this weekend guys. I plan to sit on a few different spots for a couple of evening hunts this week. I'll let you know. I love bow hunting.
10-27-2010, 12:39 PM
---
Damn Sugar what an evening, He will be back and you'll have your redemtion. Good lord a 190", I might just fall out of the tree just by looking at something that big. Is the rutt starting up around your way?
10-27-2010, 03:45 PM
---
Nothing really in the way of rutting activity yet. I did rattle up a young 130" 8 pointer the other night. He's a nice deer but a youngster. I have a bunch of scrapes and rubs everywhere but I think were over a week away from anything serious starting. I can't wait. That deer is a freak. He has this huge set of horns and probably only weighs 225 lbs. He's not a huge bodied deer by any means. Its gettin close boys.
10-27-2010, 05:34 PM
---
well guys .. .went out tonight, and climbing up my stand with my bow on the ground, when i got to the top i started pulling my bow up, and it was hung on the dead limbs at the bottom of the tree, so i tugged a bit just thinking the limbs would just release and it didnt. so i had to climb back down, and unhang it. i was not reset back up ten minutes, and here comes a doe getting chased by a lil buck. I knew it was going to be good. they run back up the hill, and another doe runs by with three bucks chasing her, but she never brought the boys in close enough to see exactly what they were. about that time to my left, another doe is running in, and behind her is big boy... i drew and shot quartering to at 15 yds. I put it right in the crease, but the shot hit him high, so high the arrow was hanging out above his spine. got down looked for blood and maybe found 8 spots over 30yds, and the arrow only has blood on the fletchings, and that greasy fat on the shaft. I marked the last blood and going back in the morning. So, on the way home i have been replaying the night from the beginning, and thought about that sight hung on the tree. I got home to check my sight, and the sight slid right off the rail. I am sick.... this is him... I will keep yall informed tomorrow to see what i found. Hopefully i hit something on that other side, or hopefully he is fine and already chasing another doe. .... But guys double check those allen bolts tonight on the sights...because you don't want to be feeling like i am right now....
date and time is wrong...top pic was last night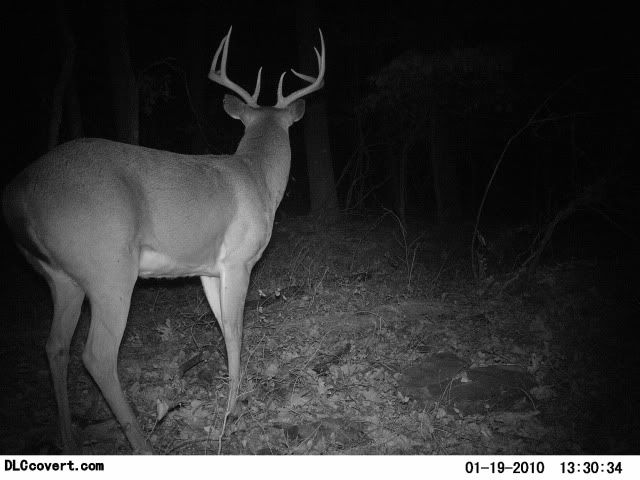 10-27-2010, 06:19 PM
---
That sucks but you'll find him. Keep after it and you'll find him. That's a nice deer. I look forward to seeing you behind him. Let us know.
10-28-2010, 11:03 AM
---
I'm pulling for you TH, hoping you'll find him today.


Sugar, one more week and it's gonna start getting good!!!
10-28-2010, 01:25 PM
---
TH - good luck on your search! Hopefully you find him! Little concerned about the comment that the arrow was hanging out above the spine - that would most likely mean you missed the thorasic cavity - so no vital damage.... Maybe you made a better shot than you thought...

Keep us posted!
10-28-2010, 03:48 PM
---
TH, There's even a good possibility this buck could live from this type of shot.
10-28-2010, 04:54 PM
---
I hear that kreager. Saw a little buck chasing some does this morning. They weren't interested in him at all. He was in love though. I was in a truck on the way to work.
10-28-2010, 05:38 PM
---