Team "10" Most Wanted
10-03-2010, 07:00 PM
---
well guys I have been away for a while, (marriage, & honeymoon)...and now back to deer hunting. Missed the Kansas opener , but Opening day in Arkansas was this weekend, hunted ark. friday all day, and sat. morning. Missed a buck that was on my hit list, shot right under him. Hit a limb in the tree that i am in. got down to check my arrow and it was clean, and a doe was standing ten yards away. I didn't have my bow, so told her i was going to kill her if i came back and she was there...she was still there so 1 doe down. Went to Kansas for the evening hunt and check cameras. Bucks have gone into lock down and not moving during the daylight hours. Hunted that evening but saw nothing but does. Well now to the good stuff... I hunted ark. this evening, and it was real quiet till the bucks started streaming in. they were walking down a trail 10yds from me. I seen the number 2 hit list buck in the back. He stopped and made a rub on a tree, and a scrap...then here he comes.... came through my little window in the woods...and needless to say he is dead. He is not a giant, but he is the second biggest deer that I have on camera this year in Arkansas. Think he is just over a 100", I will get the details posted. I wanted to get one of the Kansas deer first for the team, but I couldn't pass him up. The place I hunt in Ark. has a real bad problem of poachin, so if i didnt someone would of. .....

Were on the board team....
10-03-2010, 07:14 PM
---
The only measurements so far was the tall tines...8" g2 and 7" g3...
Spined him...so had to fling another striker in the pump station...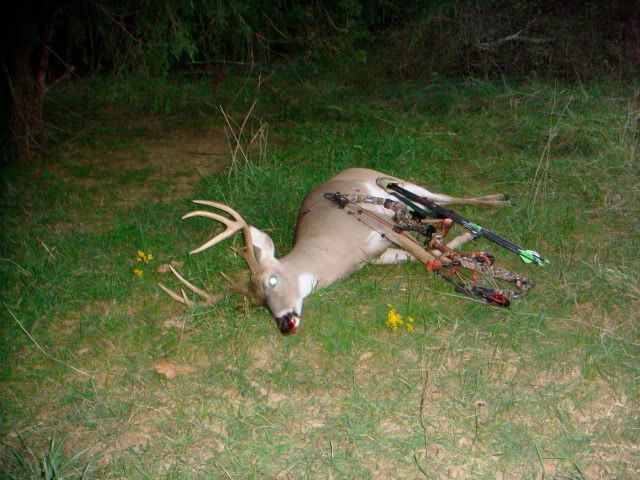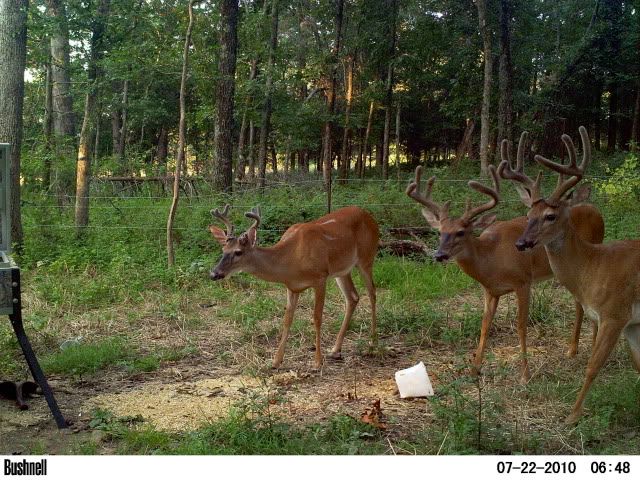 10-04-2010, 02:17 AM
Fork Horn
Join Date: Nov 2005
Location: Virginia
Posts: 281
---
WooHoo!! Way to go Tim. Congratulations on the marriage and taking the buck.
10-04-2010, 03:08 AM
Nontypical Buck
Join Date: Feb 2003
Location: Heaven IA USA
Posts: 2,597
---
Fine buck T. H., way to go. Congratulations!

Looks like team 10 is up and running! Good Job!
10-04-2010, 05:03 AM
---
Nice Buck. That's a nice deer anywhere. I think this team can get it done.
10-04-2010, 11:03 AM
10-04-2010, 12:38 PM
---
CONGRATS!! way to get us on the board early! My weekend was relatively uneventful.. saw many does and small bucks but nothing big really showed itself.. still a couple of big corn fields still in. I did manage to drop a coyote opening morning so i was stoked about that! Made me bloodthirsty!! I will be heading back to pike in 2 weeks to see what I can manage.. KEEP IT GOIN BOYS!!
10-04-2010, 04:25 PM
---
Way to go. Great job getting us on the board. I am putting in a lot of hours at work so im not sure when i will be back out. Anyone else seeing any?
10-04-2010, 05:37 PM
---
Thanks guys...figure i get the ball rolling...

here is the measurements...(captain can you make sure my math is good)

Total 107 2/8

Right ----- Left

MB 17 ----- 17 2/8
G1 3 ----- 2 4/8
G2 8 ----- 7 7/8
G3 6 6/8 ---- 6 7/8
G4 N/A
G5 N/A

H1 3 7/8----- 4
H2 3 2/8 ----- 3 3/8
H3 3 2/8 ----- 3 2/8
H4 2 7/8 ----- 2 7/8

Inside spread 11 2/8

Abnormal points
1. 0
10-04-2010, 06:08 PM
---
Awesome T.H. as said by all "GR8 job getting us on the board!! Very nice deer!!