Official Team Lung Lancer's Thread (3)
08-29-2009, 04:32 AM
BBD....hopefully this fall....
---
I'm likin' the name Team 3 Lung Lancers....creative. I know of a few good bucks that made it through last season that are still roaming around out there....and here are a few pics of those that did not..haha!
2008 Bow Kill 130" 9pointer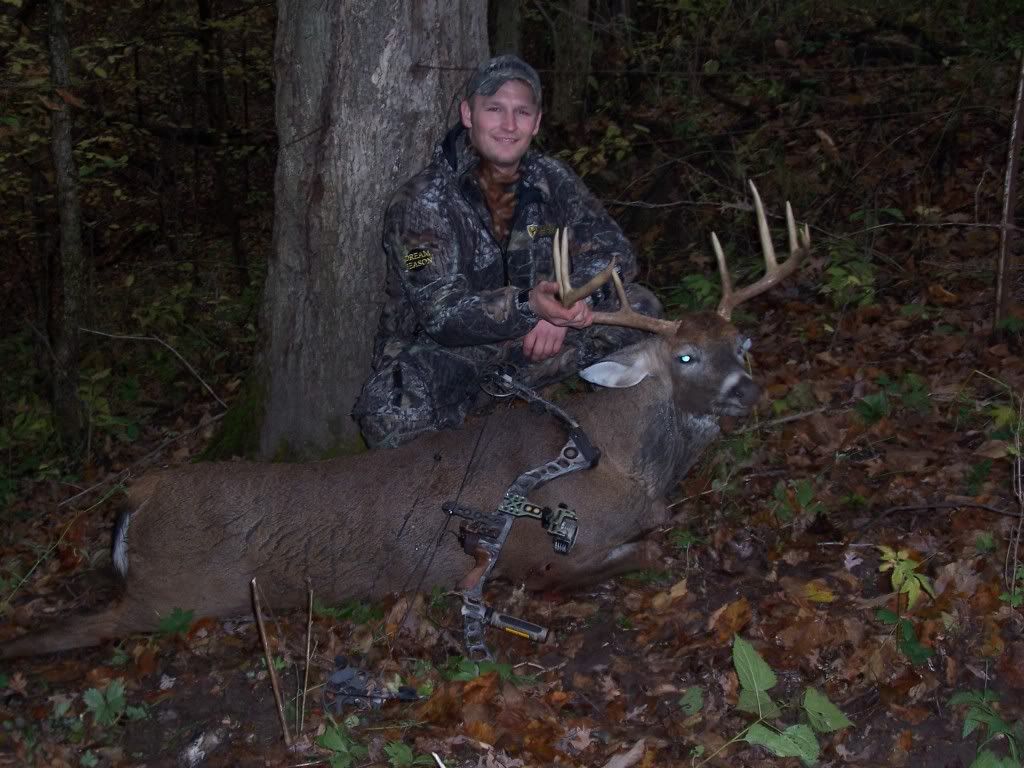 2008 Gun Kill 156" 13 pointer. Saw a big drop tine the night before but this dude came in that Saturday morning and wasn't going to let him go.
08-29-2009, 05:05 AM
---
Nice bucks bhunter,
I would have taken either one of them in a heart beat ! Looks like you have some great hunting land behind you in the second pic. Good luck to you this year !
08-29-2009, 08:09 AM
---
Hi Guys, I actually get to spend more time on here during the week,rather than weekends. Crazedbowhunter for Captain sounds good!! I agree with bhunter, I like the name Lung Lancers,it is original. Too many people would probably just say we borrowed Bone Collectors from the show. Just over two weeks to go for opening day in N.H. Hope the weather gets a little cooler !!
Looks like a fun team, looking forward to some good conversation and some good hunting stories!!! Good Luck to Team 3 !!!

By the way, GREAT looking deer bhunter50 !!
08-29-2009, 03:57 PM
Typical Buck
Join Date: Jun 2007
Location: central PA
Posts: 525
---
I like the name lung lancer's as well. Bh, great bucks you got last year. Hope this years is every bit as big as last years. lol Anyone have any ideas on a avatar for lung lancer's if that is gonna be our team name?
08-30-2009, 04:43 AM
---
I noticed Team 35 is The Lung Liberators; do you guys and Huntinlady think Lung Lancers is O.K., or is it too similar? My feeling is its O.K.; maybe Crazedbowhunter could make a decision?
08-30-2009, 09:45 AM
---
I think Lung Lancers would be ok, But it's up to the rest of the team I really don't care. I just like the contest it's fun and you get to know your team mates and make new friendships around the country. Huntinlady must be busy or ignoring us I've not seen her post since she checked in ?
08-30-2009, 10:02 AM
Fork Horn
Join Date: Nov 2007
Location:
Posts: 202
---
The name sounds fine 2 me
08-30-2009, 04:28 PM
Typical Buck
Join Date: Jun 2007
Location: central PA
Posts: 525
---
Ok guys, sounds like we are now the lung lancer's. Anyone got any idea's for a avatar for our team?
08-30-2009, 06:50 PM
---
Nice ones bhunter!!!! Can't wait to see what you put on the ground this year
btw, love the name!!!!!
08-31-2009, 07:47 AM
---
Well I got my last stand hung on Saturday. I do have one more I can hang but only if I find a place during the season that looks real good where I don't have one. I have 10 out right now. Anyway all is looking good. I have a couple of decent bucks on the camera but nothing huge. Lots of does and fawns though.

I got to shoot my bows with the broad heads. Both the AMax and Katera XL are hitting right on. Going to be using the Grim Reapers 1 3/4 inch cut and the G5 Montec CS this year. With the Katera XL I was hitting a 2 inch circle at 50 yards 3 of 3 times with both heads so that bow and I are HOT. Still have a little tuning to do with the AMax but that is not my main deer hunting bow. I purchased it for turkey hunting. I love having 2 great bows to use.

Lung Lancers sounds great to me. I have no ability to create any avator so I hope someone else on here can.

bhunter those are a couple of awesome bucks last year. Sure hope you can do the same or better this year.