Official Team Rut Nutz Thread (27)
10-03-2009, 09:05 AM
---
Congrats on the doe Caleb!
10-03-2009, 09:48 AM
Typical Buck
Join Date: Sep 2008
Location: South Dakota
Posts: 993
---
Great job Caleb! good to see someone having some luck!
10-03-2009, 09:58 AM
---
Congrats on the doe Caleb!

Went out again this morning. More skin heads and turkeys, just not in range. Heading out again tomorrow morning.
10-03-2009, 01:48 PM
---
Well my opening day in PA did not go so great today, on stand from 0610-1000 and did not see a tail. I think the heavy fog this morning and the full moon last night didn't help things. Will be back out on Mon for a full day of hunting.
10-05-2009, 03:52 AM
---
I had a great hunt last night. I saw several deer, does and little bucks, and at 6:15 I saw my first shooter of the season. He slipped out of a little finger about 80 yds. to the East of where I was sitting. He came out, ate some persimmons and made a scrape. I gave him one soft grunt that got his attention, but not enough to make him come check me out. He milled around a little while longer and then headed off. He is not huge, but he is a solid 140" class 8 pt.

I am heading out this afternoon if I can get away from work. I plan on taking my climber and trying to set up where he came through last night.
10-05-2009, 07:03 PM
---
Well boys, Went scouting and put a stalk on a 140 inch mulie last night. Didnt get within 200 yards before he was gone. Tonight went to a hay field I used to hunt 5 years ago, and saw a giant mulie. He came out with an hour of light left. I tried to get down to the plum thickets by the field where he was heading but they spooked before I got there. I got footage and dont know how to upload videos. I think i need some software but not for sure. Anyway about 26 inchs wide, and is a 5 x 6 I think. Definately in the 160's or 170's. Gonna go out tomorrow if I get off work early enough.

Matt
10-05-2009, 07:08 PM
Typical Buck
Join Date: Sep 2008
Location: South Dakota
Posts: 993
---
Sunday morning i went out, it was terrible, never saw a deer. Sunday evening went to a different property, hung a stand at the same place i shot a p&y from in 07' had about a 90" buck come by at 14yds, just too small. Went in 2nite to yet another spot saw 6 does the closest being 24 yds. The hunt continues............. take care all!
10-06-2009, 05:33 AM
---
Hunted on 10/6/09 the morning and the evening. The morning was rather uneventful with only two small doe coming through at first light. As for the evening hunt, I passed on a small 8 pt and saw another 8 pt out of range and at dark had 3 doe in the clover field. Headed out for the evening hunt today...will keep you posted.
10-06-2009, 08:56 AM
---
Fact.
My last bow kill was in November of 2007.
Since then i have missed a handful of deer, and lost 2. Im not proud, but it was a learning experience that i wouldn't trade for anything. Rewind to Wednesday evening, September 30th. Im on a newly hung stand overlooking a bean field and a pond. I have deer moving all night, and just before last light, a mature doe presents me a 30 yard broadside shot. I take it, and miss.
Great. More of the same.
Fast forward to Friday, October 2nd. I wake up to my pager going off for an MVA. After standing in the rain for 2 hours, i help my dad install a garage door on the fire department. 3 PM rolls around and i KNOW that i need to shoot my broadheads. I have to build up that confidence.
The results from 30 yards with the Rage practice heads: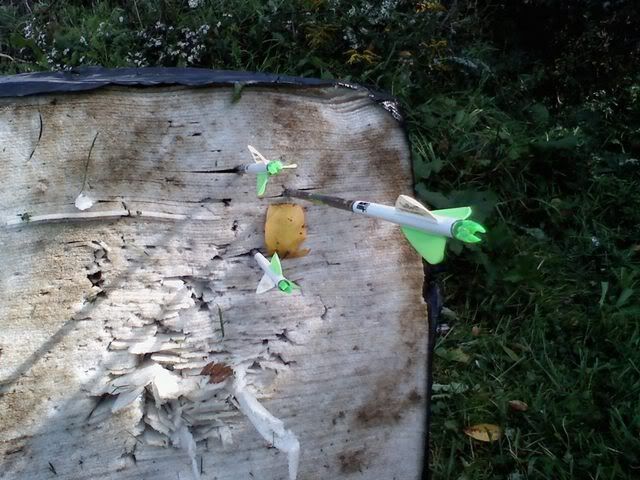 Now that im 100% certain that i can shoot, I head back to my bean field stand. Here is the video of the entire night:
http://www.youtube.com/watch?v=M0Pj3ykZnFA[/URL
]
To some it may be
JUST
a doe, but it was more then that for me. It was my first archery deer in almost 2 years, and only my 3rd overall. Probably the biggest confidence builder ive ever had
Also, the obvious secret to my success,
Hoyt bows, Sony cameras: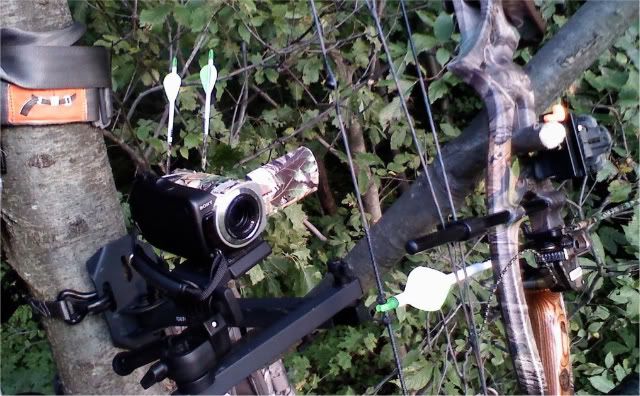 ...and facepaint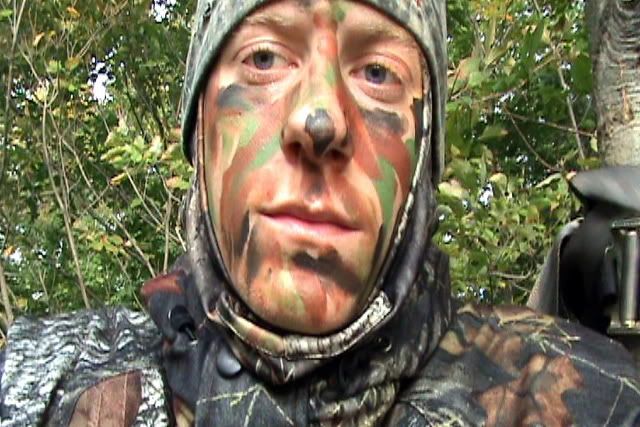 The success pictures: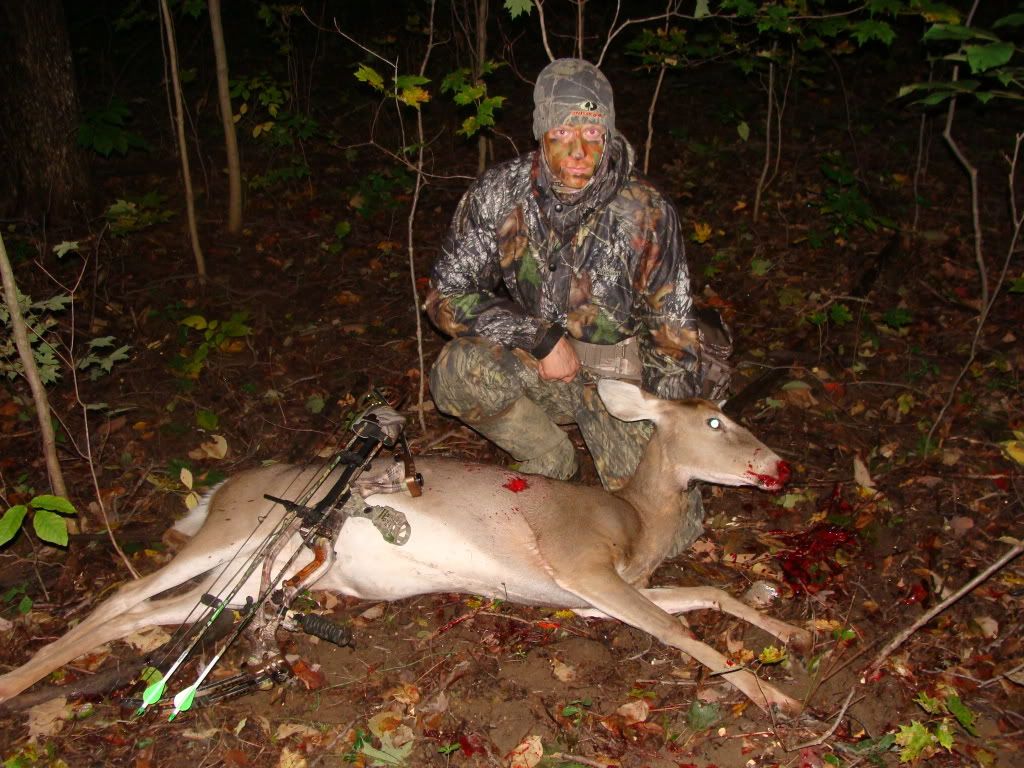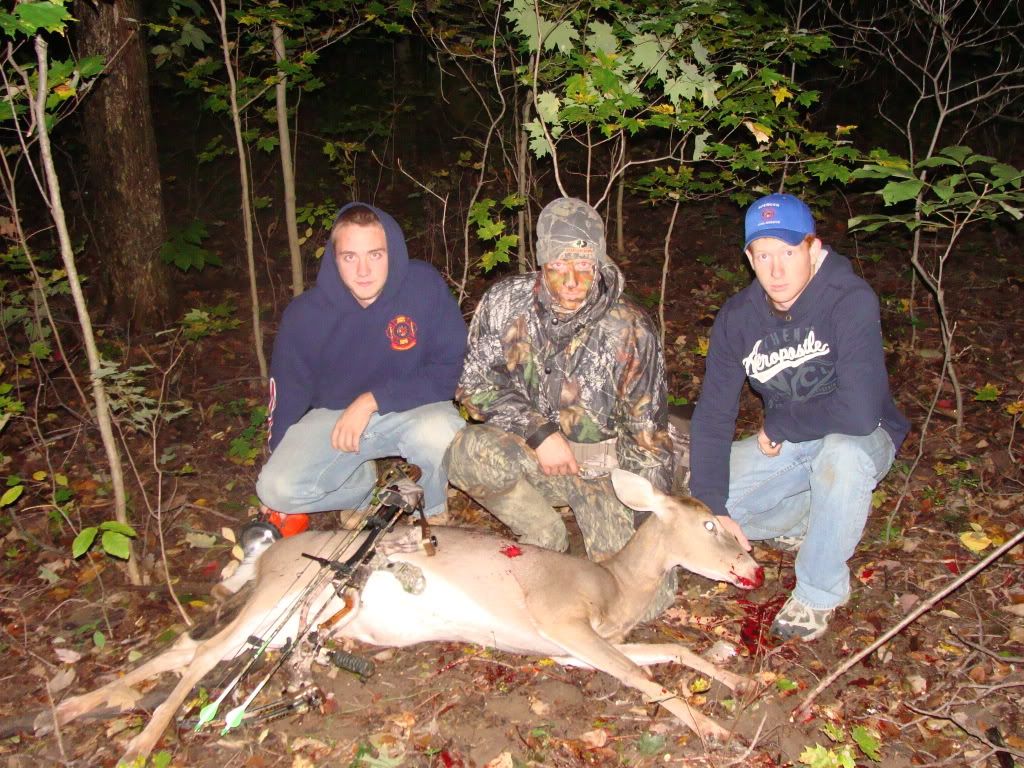 __________________________________________________ ________
Thats the story behind my kill....
After that hunt, my season totals read as follows:
4 hunts, 4 does, 4 fawns, 1 buck.
The next morning (Saturday), I hunted my ladder stand again and was disappointed with another deer-less sit. Thats now twice i have sat their and got skunked.
5 hunts, 4 does, 4 fawns, 1 buck.
On Sunday night, i hunted my "Funnel" stand for the first time. I had deer off to me left about 100 yards into the woods, but none came into view. I have never seen or heard more squirrels in my life then at this stand. It was ridiculous. On the way out i jumped 4 unknown deer, and then another unknown deer and a VERY NICE 2.5 year old buck. I watched him through my bino's for a bit at about 120 yards in the last moments of light before he bounded off. Looks to be in the 100-110" range.
6 hunts, 4 does, 4 fawns, 2 bucks, 5 unknown, 2 shots, 1 kill.
10-06-2009, 07:18 PM
---
Went after the mulies tonight and the big one didnt come by me tonight. He walked a ridge over and went within 80 yards of my brother. I saw about 8 mulie does and 3 whitetail does. Two mulie bucks, one a 2x2 and the other a 120 inch 4x5. Passed him up at 28 yards. Im gonna go out on thursday night and get home in time to watch the huskers at 8:00.

Good Luck to everyone.

Matt