View Poll Results: A poll
Voters: 62. You may not vote on this poll
Most Unique Deer Contest.
12-31-2007, 10:07 AM
RE: Most Unique Deer Contest.
---
Entered for Frank (KIDD642)
His 11" inside spread 143" PA buck. I don't think I've ever seen a deer with more character and unique apperance than this one......it was a monster of a body as well.[:-]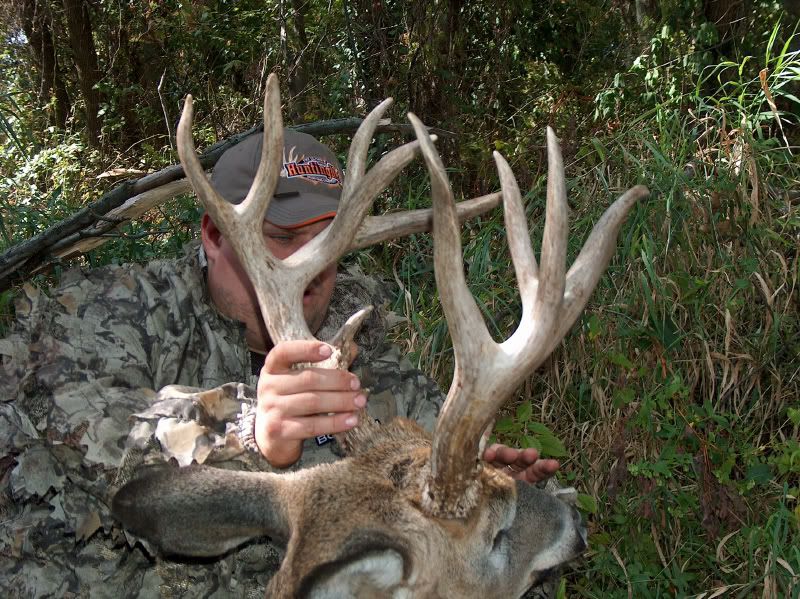 01-28-2008, 07:59 PM
RE: Most Unique Deer Contest.
---
Guys, I'd like to apologize but say that the entries for this contest need to be people in the contest. The ones shot by others and unfortunately the ones shot by new members who are not part of the contest cannot be considered.

We'll do the voting in a poll come mid Feb with the contest closure.

01-29-2008, 11:54 AM
RE: Most Unique Deer Contest.
---
ORIGINAL: Laserwizard
Hello everybody!
I just stumbled onto this website and it's incredible.
I thought I'd share some pictures of a Non-Typical 23 point that I shot Nov 10th @ 32 yds with a crossbow. This buck fits the title of this thread, "Unique".
The scorer could only rough green score him because he's so different, but preliminary measurements are in the low 160's. The left G2 is 11" long. Notice the mass on his left main beam. The 3rd circumference measurement is 6" even. Incredible mass. We're going to get a group of scorers together to establish something final. I could only imagine how he'd score if both sides looked like his left.
I hope you enjoy looking as much as I enjoyed this hunt.
Regards,
Jeff
WOW
A Rob Buck on Steriods!!!!!
Well done sir
Thread
Thread Starter
Forum
Replies
Last Post
Posting Rules
You may not post new threads
You may not post replies
You may not post attachments
You may not edit your posts
---
HTML code is Off
---