24-Official Team 24/7 Thread
09-15-2007, 07:48 PM
RE: 24-Official Team 24 Thread
---
Well guys went out this afternoon and didn't see a thing! I could hear them in the distance walking through the woods but by that time it was too dark! Maybe better luck next time I head out?


09-15-2007, 07:52 PM
RE: 24-Official Team 24 Thread
---
I got in the stand early this morning, not a thing moving except for a gang of turkeys -neat as I used my mouth to whistle and get the brood hen riled up over the "lost poult".
This afternoon, saw 2 bucks and 10 does. One 1 1/2 yr doe gave me a nice close, quartering-away shot, she's chilling down in my walk-in cooler now.
-fsh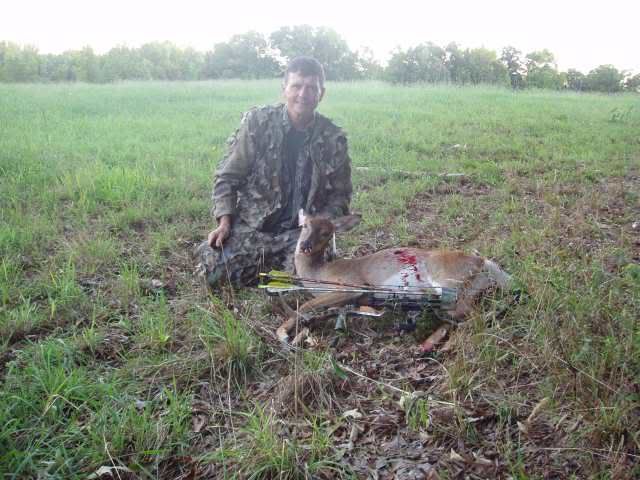 09-17-2007, 11:31 AM
RE: 24-Official Team 24 Thread
---
Hey Congrats on a nice doe!! They are good eatin!! 5 days from now Ill be out in my stand. Im a tree line between a small river and a few large corn fields, the deer tracks and sign around my stand are amazing. Cant wait to get out there.
09-17-2007, 05:34 PM
RE: 24-Official Team 24 Thread
---
I finally got some good bucks on film. I will post 2 pics. The first is 2 bucks with the one in the background not visiable. He is a good buck also so if someone wants to play with it go ahead. The second is a closer view of the buck in the pic.
09-17-2007, 06:53 PM
RE: 24-Official Team 24 Thread
---
Deerhunterpy
Nice buck! Hope you can gethim.That second buck is not too shabby either. I tried enhancing the pic, but what I could see (imagine?) would not likely post too well. Good luck and thx for sharing the pic.
-fsh

09-17-2007, 08:17 PM
RE: 24-Official Team 24 Thread
---
Well, no bucks over opening weekend. I passed on a young nine pointer, will be a nice one next year. I did however fill my doe tag. Going to try it again next weekend, still plenty of season left. Good luck to everyone who will be going out this coming weekend.
I am having trouble adding a picture to my post. The site tells me that the file is to large. If someone would help me with what I am doing wrong, I will post the pic.
Dave Bozarth