24-Official Team 24/7 Thread
09-19-2007, 07:27 PM
RE: 24-Official Team 24 Thread
---
Not much going on in my last outing Monday morning, but tonight was "interesting". I set up early afternoon in a deep woods oak flat - whiteoaks are just starting to drop around here. Around sunset, I heard deer approaching in dense understory and could barelymake outa racked buck scavenging acorns in the thicket about thirty yds away. I could hear another deer walking in the vicinity,but could not make him out. I wasn't too excited about the first buck until he fed away into a small opening and I could see good mass and a rack beyond the ears, holy cow! Unfortunately he left the area, but definitely an adult buck -- his companion got within ~25 yds, but stayed in the dense thicket and left to join his buddy - I could see thathe was branched, but could not tell if it was the other buck's grandson or granddad... that adrenaline rush iswhy we keep coming back for more, lol.

-fsh

09-26-2007, 11:40 PM
RE: 24-Official Team 24 Thread
---
Hey guys,

Just wondering how everyone season is going. Our season opener is on Saturday and I have plans for a morning hunt, not real sure about the afternoon yet.

Can't wait, I'm ready to go.

Take care,

Brian

09-27-2007, 03:48 AM
RE: 24-Official Team 24 Thread
---
I've been out almost every day in spite of the heat. Deer for the most part are hitting white oak acorns - nice becausenot all white oaks areproducing this fall. I'veseen two more mature bucks show up in acorn flats, but neither was a shooter - and I never had a shot opportunity anyway. I huntedEAB TDM property for the first time yesterday,just 2 does and 2 fawns passed~100 yds away.
Good luck on your opener Brian, let us know how it went. At least the cold front will have done its job.
fsh
09-28-2007, 08:25 AM
RE: 24-Official Team 24 Thread
---
The season here in SD started last weekend. Temps have been pretty warm and extremely windy. Im not a big fan of being 20 plus feet up a tree with 35mph winds and super warm temps. So I havent been able to go out yet. I did see a really nice buck about 400yds from the trees my stand is in feeding in a picked corn field. Im still waiting for the cornfield next to my stand to be combined. Good luck everyone!!
10-01-2007, 06:20 PM
RE: 24-Official Team 24 Thread
---
Well guys sorry to say no blood was drawn by me, but on saturday afternoon my buddy I was hunting with shot a good sized doe so with the weather rather warm I decided to help him with the gutting and dragging out process.
I also checked my game cameras over the weekend and here are a few pictures I got. I was pleasantly suprised with the bucks we filmed especially for heavily pressured areas I hunt. Hopefully I can score on one soon.[8D]
Enjoy, stay safe and good luck.
Brian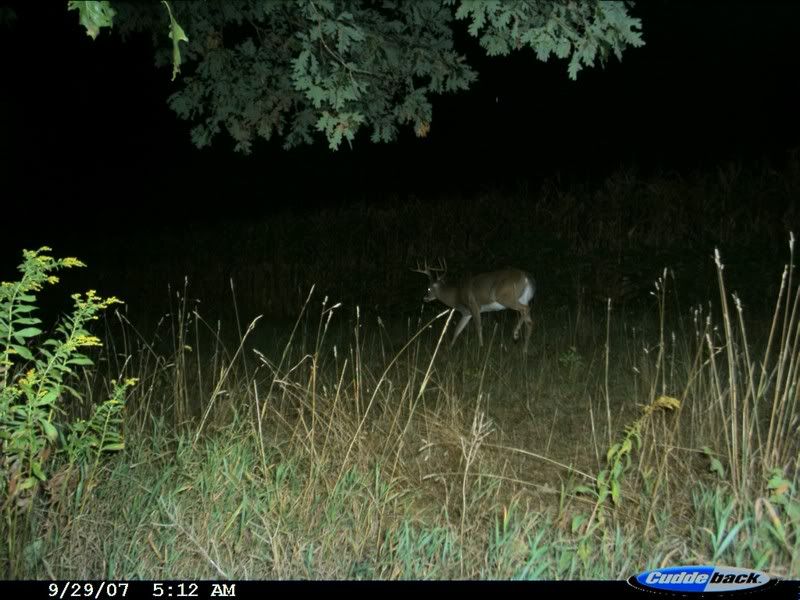 10-03-2007, 04:40 PM
RE: 24-Official Team 24 Thread
---
Brian
good luck on the buck, he looks nice.

I am still out there most days... got busted sitting down on the stand Tues morning after an early morning stretch by an unseen deer, oh well. I hope it wasn't "him". I have been after two absolute monster deer when the wind is right - I'll be after one of them tomorrow am if the forecast holds...

-fsh
10-07-2007, 10:04 AM
RE: 24-Official Team 24 Thread
---
Hey guys how is everyone doing? I havent been able to post much, I have been working/hunting hard. Haven't came across any monsters yet but just put a stand up in a new property and there are deer EVERYWHERE so we will see how it works out.

10-07-2007, 10:07 AM
RE: 24-Official Team 24 Thread
---
I went 1 time and seen 2 does and a fawn. Not a good excuse but it is hot. I got up Sat. morning and went for a ride and seen a good 8-10 pointer cross the road. Looked in the 130"-140" range depends on if he is an 8 or 10. I also got this pic of a weird deer is it a buck or doe? Good luck everyone. Waldo