24-Official Team 24/7 Thread
09-02-2007, 04:35 PM
RE: 24-Official Team 24 Thread
---
Good luck to both you guys on your hunts, bring back some pics if nothing else...
I had a great dove hunt Sat on my farm. My brother came over from VA, our last dove hunt together was ~25 yrs ago. A few other of my fellow hunter safety instructors rounded out the effort, with one young newbie in tow. I've been planting wildlife fields, and still have 4 more to go. I hope to knock those out by this week.Two more dove hunts, and then shifting gears with our bow opener 15 Sept. Here are a few pics from yesterday:
Setting up Jezzie for the hunt:
Anda pic of the crew, all limiting out (except the youngster):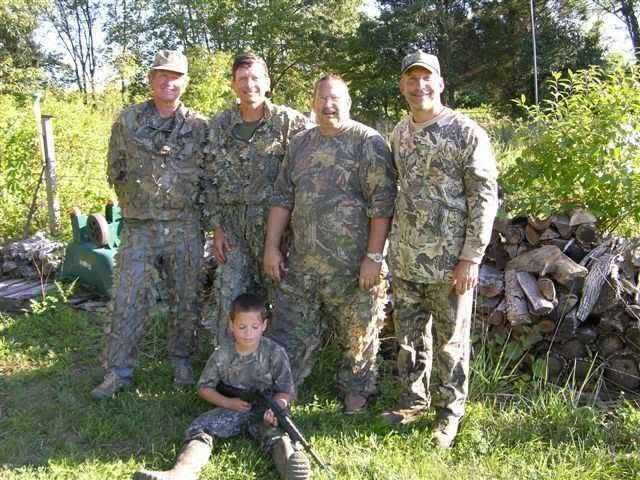 -fsh
09-02-2007, 08:33 PM
RE: 24-Official Team 24 Thread
---
When my brother over from VA to dove hunt, I asked him to bring a mounted 10 pt buck I shot in '93 so I could get some pics-- the agreement was if he mounted it, he could hang it.
My general bow hunting goal is to try to get a buck that would rank in my top three, the bar is set pretty high now...
-fsh
09-02-2007, 09:30 PM
RE: 24-Official Team 24 Thread
---
GOOD LUCK ON YOUR ELK HUNT
VERY NICE LOOKING DEER CONGRATS .....DO IT AGAIN :-)
WELL I HAVE BEEN DELAYED ON MY TRIP SOUTH AND PROBABLY WON'T HUNT ALBERTA ON THE TRIP SOUTH. AND WILL JUST HUNT IN NOV ON THE WAY NORTH. GOT 25 MILES FROM HOME HAD TWO FLATS ON THE TRAILER FAIRLY NEW TRAILER AND GOOD TIRES THEN NEW SPARE WAS WRONG BOLT PATTERN. MY SON CAME TO RESCUE AND POPPED TIRES OFF WHEELS AND POPPED TIRES OFF WRONG WHEELS AND PUT OTHERS ON THOSE WHEELS. BUT WITH NO SPARES I RETURNED HOME AND WILL LEAVETUESDAY .....NOT LIKELY TO FIND ODD WHEELS AND TIRES ON LABOR DAY[:'(][:@]

09-03-2007, 07:13 PM
RE: 24-Official Team 24 Thread
---
Fsh,

Great looking mounts, I hope you reach your goal this year that would be awesome. Looks like you had a great time dove hunting, haven't hunted doves since I was a kid. All I remember isburning through a box of shells very quickly and not having much to show for it.[8D]

AK sorry to hear about your troubles, hope you get things sorted out and back on track soon.

Well, we hung 3 stands today and I need to replace thecables on another and will hang that one later this week. The property I hunt has a small food plot of soy beans and corn and bothshow signs of heavy brows. Hopefully I will get a shot at a decent buck when the season roles around. I have some game cameras out, and am anxious to see what the pictures will show.

Well have to help the kids with some last minute homework.

Take care,

Brian

09-05-2007, 06:01 PM
RE: 24-Official Team 24 Thread
---
10 days till opening day for me! Cant wait it's winding down quick. Just went out and was finally getting some of my broadhead tuningdone and dropped off 75 pounds of corn in my little spot so I can get my 2 doe out of the way and hunt for some bigguns!

09-09-2007, 10:29 AM
RE: 24-Official Team 24 Thread
---
Hey guys, no deer yet here for me. Moved back to university now so won't have much time left to hunt this fall. Got some good pics and video of bucks but just nothin i really felt like lowerin the boom on. Got my elk back home last thursday, spike bull pretty bambish but will be nice to eat. Headed to idahothis thursday for a week long elk hunt to that should be a great experience for me. Maybe get out after whitetail around thanksgiving(oct 8th or so)
09-10-2007, 06:55 PM
RE: 24-Official Team 24 Thread
---
09-10-2007, 07:07 PM
RE: 24-Official Team 24 Thread
---
Hiawatha - Thanks for the pics and congats again!
Here are a few pics of some of the deer visiting my apple orchard. (I had an apple tree fall over.I stripped the apples off it, and piledsomein front of the camera).
-fsh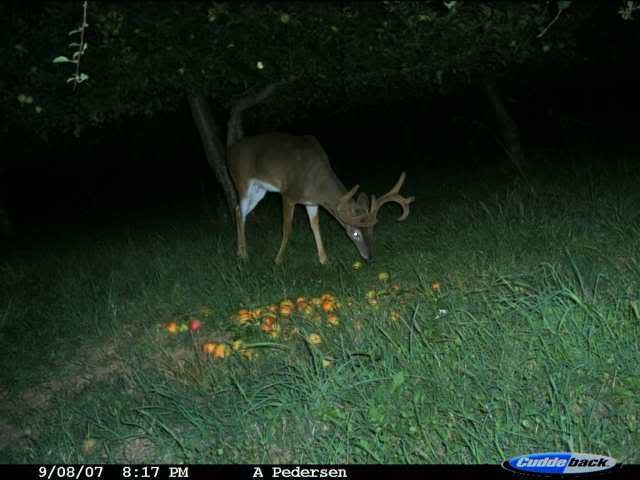 09-10-2007, 07:57 PM
RE: 24-Official Team 24 Thread
---
Hiawatha,

Congrats and thanks for sharing, really appreciate it.

Good luck on the rest of the season, hope you put a monster whitetail on the ground.

Take care and again thanks for the pictures.

Brian